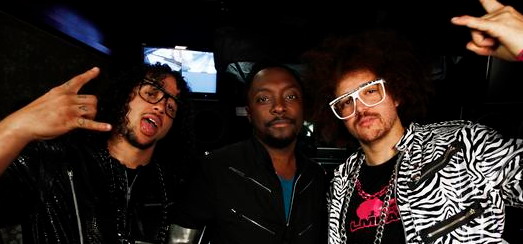 Will.i.am has confirmed that LMFAO will perform with Madonna during the Half-Time Show at this year's Super Bowl in America.
The duo, who are signed the Black Eyed Peas star's Will.i.am Music Group, had been rumored as one of the surprise guests at the event on 5th February.
Speaking to Capital FM about Madonna's set, Will.i.am, who performed last year's Half-Time Show with Black Eyed Peas, said he was going to attend the game to watch LMFAO.
He said…
I'm going to the Super Bowl this year to see my group LMFAO perform with Madonna
Check that out, Will.i.am Music Group is pretty freaking two for two. One year the Super Bowl the next year another group part of the Super Bowl in collaboration with Madonna. That's still happening.
Nicki Minaj and M.I.A have also been linked to Madonna's Half-Time Show performance as they feature on her new single 'Give Me All Your Luvin'.
But Madonna has so far refused to confirm the acts, only hinting recently that the performance will feature pom-poms.
The Super Bowl, which consistency attracts one of the biggest global TV audiences, will take place on 5th February at Lucas Oil Stadium in Indianapolis, Indiana.

Madame X is available in Box Set, CD, Vinyl and Cassette!
Get your copy HERE!