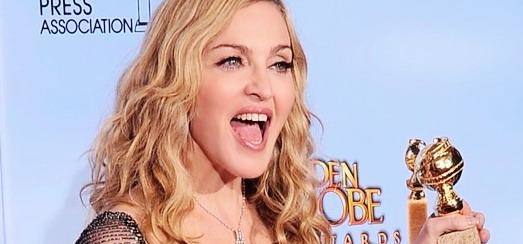 According to David Furnish, "Madonna is desperate and embarrassing".
Elton John's husband attacks Madonna for beating Elton John to Golden Globe win.
He took to Facebook to blast her and said…
"Madonna. Best song???? Fuck off!!!"
He continued…
"Madonna winning Best Original Song truly shows how these awards have nothing to do with merit.
Her acceptance speech was embarrassing in its narcissism.
And her criticism of Gaga shows how desperate she really is.(sic)"
Collaborators, friends and celebrities took to their Twitter account to celebrate the Queen of Pop… or joke about her accent or looks.
William Orbit congratulated Madonna…
I think capital letters are in order at this illustrious moment: CONGRATULATIONS M !!!!! YOU'RE THE VERY BEST!!! x x x x
Katy Perry reacted to her beauty on Twitter…
"Madge looks goooooood. I'd tap that"
LeAnn Rimes wrote…
"Kinda digging Madonna bringing back the one glove … w/ lots of bling of course!"
Dixie Chick Natalie Maines joked…
"Madonna … seems to have picked up … Siri's speech cadence"
Perez Hilton commented…
"It's so nice that Madonna is embracing her American accent again!"

Madame X is available in Box Set, CD, Vinyl and Cassette!
Get your copy HERE!