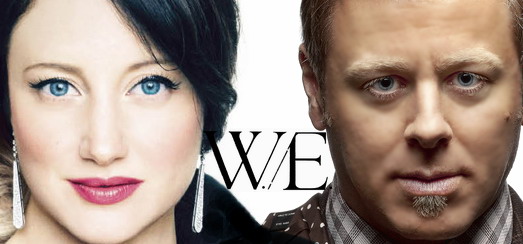 MTV News recently interviewed composer Abel Korzeniowski after the Golden Globes announced the 2012 nominations which included his work on W./E. for a Best Original Score nomination.
It's quite difficult when a movie is not really in theaters. So far we've had only the qualifying run which was one theater in Los Angeles so almost no one had seen the film. It was even more surprising because we have no ads anywhere, not on the Internet, not in newspapers so I thought it wouldn't be possible.
In short: "It's a big surprise."
The Polish composer, whose most recent work was the score for "A Single Man," went on to say that becoming involved with "W./E." in the first place was an even bigger surprise.
One day I got a call that Madonna wanted to contact me and I just couldn't believe it. 'What do you mean Madonna? The Madonna?' She wanted to send me a script and I got it and in the script itself there were already references to my music.
This was really flattering. Most of the time after our initial meetings we had to work on the phone, which is not ideal situation but at least when we spoke on the phone she was able to sing a little to me which was really thrilling, if you think about it. Madonna is singing my music on the phone and hearing this and she doesn't need auto tune, it was just great.
Korzeniowski explained that this particular scoring experience, for which he employed a 60-piece orchestra and various piano, violin, cello and viola solos, as well as the appropriately anachronistic inclusion of a Sex Pistols song, was unique in that Madonna flew out to Los Angeles to work with him at his studio and he composed music on the spot.
This was a really great adventure because basically I had to compose having her behind my back. It was a very stressful situation because it's unusual. A lot of time it's not such an immediate process, but at the same time it was really thrilling and it worked well. The most surprising thing about working with Madonna? Well, the tempo of work. The four months we worked together felt like the final stage of any other movie, the stage where everything speeds up and you have to work to your fullest ability. I loved it, she's such a perfectionist and she cares about every little detail, how it affects the story and I think this was the biggest thrill and challenge.
—
The stunning images featured at The Little Black Gallery exhibition are taken by 24-year-old Anthony Souza, who was appointed the stills photographer on the film W.E.
He told the Sunday Express…
Madonna asked me to re-create some of the classic images of Wallis and Edward.
I wanted to approach the photos as artistic works, not just publicity stills.
So how was it for a young man starting out on a photography career to work with a media icon?
I really never had any problems in accessing any areas of the set; I just tried not to get in the way of the cameras.
Madonna wasn't the sort of person that the media normally portray her as. I found her really warm and nurturing. All that she expects of the people she works with is that they do their best, as she does herself.
In another interview for the Independent, Anthony Souza said…
I remember my first day on the film set as the stills photographer. I was a little nervous as it was my first ever job on a feature film. But Madonna was immediately approachable. Somebody gave her a first-day shooting gift of a water bottle with 'Keep Calm and Carry On' printed on it. She held it up and asked me to photograph her.
It was the start of a beautiful photographic project between the two of them. Souza approached the photographs as "artistic works" and not just "publicity shots" on Madonna's orders.
"Madonna wanted me to capture the style of Cecil Beaton's original photographs of the couple," says Souza.
A new show of Souza's photographs from W.E. and personal works from India are now exhibited in his first ever solo show at the Little Black Gallery in London. These largely black-and-white shots include Madonna sitting behind the camera, wearing black lace, on set of W.E. in London's Stoke Newington.
He recalls…
She was always supportive and inspiring and very hands-on.
Images of Riseborough and D'Arcy in their roles as Simpson and King Edward VIII show the lovebirds dancing, sailing in the Mediterranean and kissing romantically.
How did Souza, whose style has been compared Steve McCurry and Henri Cartier-Bresson, get the job?
Madonna had seen my portfolio of photojournalism from all around the world. I'd tried to get a job as stills photographer on her documentary I Am Because We Are. But then when she emailed me to ask me to be the stills photographer on her feature film – I was obviously very excited.
Souza was present at every single scene of W.E. for three months.
I had to capture the essence of each scene using a sound blimp – a sound proofed box to put the camera in – so the movie camera didn't pick up the camera click. It meant that I had to do all the light and speed settings before each scene started.
—
Andrea Riseborough, who plays Wallis Simpson in W./E., gave an interview to MovieLine…
Madonna is known for being able to choose forthcoming trends, own them, and bring them to the pop culture fore. Before you met her, did you have any idea what would impress her, based solely on your knowledge of her before W.E.? Did you use that insight to get cast in the film?
My desire was not to impress; I wanted to see what fueled her passion for the story. I wanted to know what her vision was for it, and whether she would respond to what I could her offer her as a potential duchess. I think it would've been — I would've been somebody else, actually. It's not who I am, I suppose. I was interested to see what our complicit working relationship would be. That was exciting to me. The story of the duchess was something I thought would be potentially interesting to excavate. I wanted to see within what framework that might possibly happen. She, very fortunately, responded to what I had to bring to her. Really, we were artistically complicit from that point on, from the outset really. She'd seen me play Margaret Thatcher and this other character before, so she had a good grasp on the reality that I could inhabit somebody who existed and somebody who was young and innocent — this other character was young and innocent.

One interesting thing about W.E. is the sheer continental difference in knowledge about Wallis Simpson. In the U.K., everyone knows. In the U.S., plenty of people know nothing about that era of British history.
Oh, don't do yourself down!

I'm trying not to! But there's definitely a gap in awareness about who Wallis Simpson was. How do you feel addressing that with different markets for the film?
I think, really, the story transcends any historical context you might feel you need to put it in. Interestingly, of course, it was a reality. But what we have portrayed is our perception or version of the truth, Madonna's version and vision of a woman who really existed. The heart of the piece is the thing that'll tap on the door of the common man, if you will. Because, I hope, that was the thing that originally tapped on the door of the common man — every one of the working class areas that Edward visited, the working men so very much appreciated him, took him into their homes in a way that a prince had not been taken in before. It's that same honesty and love and truth, I think, that people will feel and respond to. Wallis, she'd seen the writing on the wall. She ended up being as trapped as she imagined she would be, if he should abdicate, which he did as you know. It's impossible for any one person — I mean, let's not even reduce it to gender — it's impossible for any one person to live up to the responsibility of the kingdom. How does one man fulfill a partner who has given up such an awful, awful lot for their relationship?

Lastly, I heard you say that you and Madonna connected deeply in researching the "geeky" minutia of Wallis Simpson's life. How deeply did that fixation go?
Oh my gosh, that is such a long answer, Louis. Her fastidious research has no bounds! And that's where the answer lies. When you approach something that you're ignited by and are passionate about in such a way, really, until it seems to you're getting to the point where no stone is unturned, only then can you stop. When you imagine chronicling an entire woman's life from age 29 to 70, everything that went before 29 — since it must be taken into account — and everything that went after, you can imagine that's no small feat. I ferociously lapped that up. I enjoyed it so much. But none of that is worth anything if you can't just trust that it's been inside of you so you can be present when you're living out what might've been their life.
She also had an interview with Jamie Painter Young for Backstage…
[Madonna] was very helpful, invaluable. There was no page unturned. She was so passionate about the story. She'd been working on it for 10 years. So it really was just a huge labor of love, and there were so many images, quotes, anecdotes from dinner parties, deeply personal letters that we had at our disposal. It was quite wonderful.
I could not have enjoyed more working with her, because she's so prepared, and every moment had to be vital and was, and that's exactly the way that I feel about my work. We met in a very artistically complicit place. It was a really truly fulfilling experience.
She told the Sunday Express…
From the moment we first had a cup of tea and talked about it. I really wanted to play the role with Madonna directing, because she has such an affinity with Wallis.
I think she understands her in a very specific way in relation to her own life. I just knew she needed to tell the story and I can't say enough good things about her as a director.
—
Laurence Fox, who plays King George VI, had a small Q&A session with Digital Spy…
You also play King George VI in Madonna's film W.E. – how was that?
Very enjoyable – I liked it a lot. It was hard work, because I was shooting Lewis at the same time. That was in June last year. And yeah, [Madonna] was a really good director. I enjoyed working with her and hopefully the film will be good. The Weinsteins have bought it [for US distribution] so we'll see what happens. I think I read that on Digital Spy!

Madame X is available in Box Set, CD, Vinyl and Cassette!
Get your copy HERE!