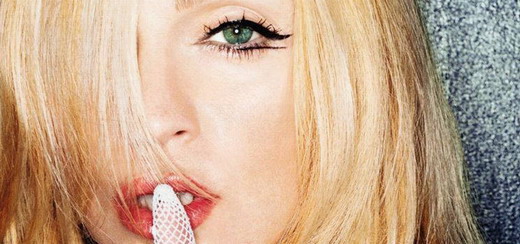 Masterpiece available on iTunes
The "Oscar Talk – In Contention" podcast uploaded Madonna's "Masterpiece" on the US iTunes store and is available for free.
Download here!
Nicki Minaj confirms Super Bowl appearance
Nicki Minaj released a new track from her upcoming album "Pink Friday: Roman Reloaded" set for release on Februay 14, 2012.
At around 2min30 she makes a reference to the Super Bowl.
Put ya cape on, you a super hoe
2012, I'm at the Super Bowl.
This seems to confirm Nicki Minaj will be one of the guests on stage with Madonna during here Super Bowl halftime performance.
Listen to the track…
Madonna featured on Martin Solveig's latest mixtape
Martin Solveig uploaded his latest mixtape "Martin Solveig's Radio Smash mixtape Annual 2011" on his Soundcloud. The first song is a mashup of Phoenix vs Madonna, titled "Music like a sunset (MS edit)".
Listen…
Martin Solveig's Radio Smash mixtape Annual 2011 by martinsolveig
Katie McGrath talks about Madonna and W.E.
Have a look at an interview by the Digital Spy with the amazing Katie McGrath…
LMFAO feels like Madonna
Lion-maned DJ RedFoo from LMFAO told the Daily Star…
We wanted to be No 1 this year. We had been doing LMFAO for three or four years and were big in the clubs but not in the pop world.
We never experienced being No 1, but always wanted to be mentioned in the same sentence as Michael Jackson, Madonna and Lady Gaga.
Now with two No1s in a row and a killer album that is full of hits we've done it. We know what it feels like to entertain the world like Lady Gaga or Madonna.
Comeback Brands Of 2012
Jenna Goudreau wrote an article for Forbes in which she asks herself the follwing questions…
So which consumer brands and personalities will make a splashy comeback in 2012? Branding and marketing experts make their predictions for the New Year.
According to Forbes, Madonna is one of those splashy comebacks of 2012…
Miriam Quart, president of ad agency Madison Avenue Consortium, calls the one-name legend "the original Gaga factor" and predicts she will return to prominence in the New Year. Love her or hate her, Madonna remains a household name. According to The Marketing Arm's Celebrity DBI, an independent index that quantifies consumer perceptions of celebrities, 99% of U.S. customers are at least familiar with her. Considering her recent hiatus, that makes the Material Girl ripe for a major comeback. She will release a new single, "Gimme All Your Luvin," in January. Then she will take to the nation's biggest stage on February 5, headlining the Super Bowl's halftime performance using a theatrical Cirque du Soleil concept. In March, she will release her first album in five years through Universal Music Group's Interscope Records–just the first in a reported three-album deal.

Madame X is available in Box Set, CD, Vinyl and Cassette!
Get your copy HERE!