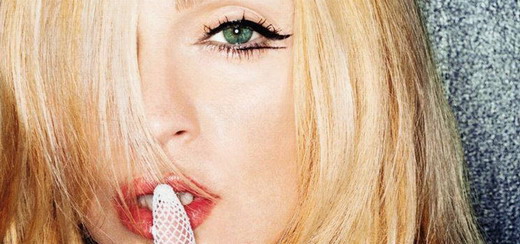 Madonna's Masterpiece not nominated for an Oscar
Thirty-nine songs from eligible feature-length motion pictures are in contention for nominations in the Original Song category for the 84th Academy Awards®, the Academy of Motion Picture Arts and Sciences announced today.
Unfortunately, Madonna's song "Masterpiece" for the movie "W./E." was not nominated.
The song that received a Golden Globe nomination last week, did not qualify for Oscar contention because of its placement a minute-and-a-half deep in the final credits. AMPAS rules require an end-credits song to be "the first music cue" in those credits to qualify.
Nicky Minaj and M.I.A.
M.I.A. recently tweeted the following picture.
Could this be from the set of "Gimme all your Luvin"?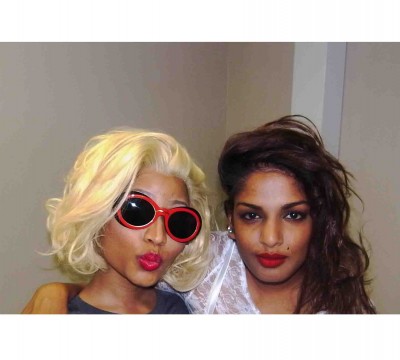 The official Madonna store update
Dear Madonna Fans,
A year is about to end and a brand new Madonna era is about to begin. To celebrate this special moment, the official Madonna store has been updated with a new design, new products and now supports multi-currencies! Time to find the perfect gift for you or for one of your fellow Madonna fan friend!
True Blue 25th Anniversary t-shirt
Let's get True Blue again with this vintage t-shirt, celebrating the 25th Anniversary of the album's release! Featuring a stunning Herb Ritts photograph, paired with the album's original logos, this special edition takes us on a trip down memory lane and also is a great way to show our love for one of Madonna's most successful studio albums to date.
Limited Edition Photo Prints by Mert Alas and Marcus Piggott
Who didn't instantly fall in love with Mert Alas and Marcus Piggott's amazing Madonna photos created for Interview magazine? We did too, and that's why we are happy to offer two different 18″x24″ photo prints, which are limited to 100 copies each! Every print comes with a certificate of authenticity, and each is individually hand-numbered.

Since these will be gone in the blink of an eye, everyone deserves a chance to get his/her copy of them, and that is why both prints will go on sale by Noon PST/3pm EST/8pm GMT on December 20th. Visit the "New!" section of the store this Tuesday for a chance to get your copy and remember, once they're all gone, they're gone forever!
Madonna wishes a Merry Christmas
Madonna prays for Molly Meldrum
On 15 December 2011, Meldrum was taken to the Alfred Hospital in a critical condition after being found unconscious in the backyard of his home in Richmond. He is believed to have fallen off a ladder from a height of around three metres.
He was placed under intensive care in a sedated state and had surgery for his head injuries. As well as the head injuries, Meldrum had a broken shoulder, broken ribs, a punctured lung and cracked vertebrae.
Madonna told the Sunday Herald Sun…
He is a one and only. I've always adored Molly and I'm praying around the clock.
She said Meldrum had been an inspiration throughout her career.
Cirque du Soleil and Madonna
Montreal acrobatic choreographer Debra Brown has made people fly with Cirque du Soleil for nearly 25 years, but when she had to do the same for Madonna, she felt like a student again.
She currently choreographs the Cirque touring show "Quidam" that runs at Toronto's Ricoh Coliseum Dec. 20-30 and said…
Madonna's impressive. Her discipline and her talent — I learned a lot.
Most Anticipated 2012 Album
At the beginning of December, Billboard.com was hosting multiple polls. Amongst those, Madonna "Most Anticpiated Album of 2012".
Now the results are finally in…
1. Madonna (42%)
2. Nicki Minaj (18%)
3. No Doubt (11%)

Madame X is available in Box Set, CD, Vinyl and Cassette!
Get your copy HERE!