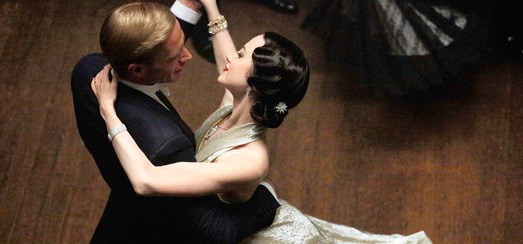 It was a love story between two fashion icons for the ages. Wallis Simpson, the chic (and twice-divorced) American cast such a spell that, in 1936, her lover, England's King Edward VIII, gave up the throne to marry her. Together, as the Duke and Duchess of Windsor, they lived in exile in France, where they indulged their expensive tastes in haute couture, magnificent jewels and furnishings to the hilt.
Simpson is remembered for a sleek silhouette (she coined the phrase "you can never be too rich or too thin") and a simple approach to dressing that contained a dash of wit. "She elevated sobriety to an art form," Elle magazine said at the time of her death in 1986.
Edward pushed the boundaries of fashion in other ways, with easy, double-breasted Prince of Wales check suits, whimsical socks and, on the weekends, eccentric baggy golfing pants and Fair Isle sweaters.
Costume designer Arianne Phillips ("Walk the Line," "A Single Man") was charged with bringing the couple to life on-screen for the film "W.E.," which opened Dec. 9 in limited release and opens in wide release Feb. 3. Directed by Madonna and starring Andrea Riseborough as Wallis and James D'Arcy as Edward, the production was as lavish as the subjects' lifestyle, with precious jewels loaned from Cartier and Van Cleef & Arpels.
Los Angeles Times caught up with Phillips on the making of "W.E.," which has two intersecting plot lines — the factual, period story about the duke and duchess, and the contemporary, fictionalized story about a young woman named Wally Winthrop (Abby Cornish), who becomes obsessed with their love story during the 1998 auction of the couple's estate.
LA Times: You have worked with Madonna for a long time doing her wardrobe for stage and screen. What kind of research did the two of you do for the costumes in this film?

Arianne Phillips: She sent me a box of research 2 1/2 years ago so I could get a head start. And since she actually wears couture, she understood the kind of attention to detail needed to create these costumes. I spent a lot of time in fashion departments at the Metropolitan Museum of Art's Costume Institute in New York, the Musee de la Mode et du Textiles in Paris and the Victoria & Albert Museum in London. And in L.A., the Way We Wore's Doris Raymond opened up her personal library of 1930s couture. I also watched a lot of newsreels from the UCLA Archives. And during shooting, I was living in Madonna's guesthouse in London. We would have dinner and watch the dailies in her screening room. So I really lived and breathed it.

LA Times: How did Wallis Simpson use fashion to her advantage?

Arianne Phillips: She was not a beautiful woman. Fashion was her facade and her veneer. She was all about presentation. And she made daring fashion choices, whether it was the Elsa Schiaparelli lobster dress, or Christian Dior couture suits (she was one of his first clients). But she also evolved with the times. She was very interested in what was current.

LA Times: Tell me about re-creating the jewelry that the duke showered her with.

Arianne Phillips: Well, she was definitely not a minimalist! Cartier re-created 10 pieces of jewelry owned by Wallis, including the emerald engagement ring, the panther brooch and the cross bracelet, which was lost in the surf when we were filming in Nice. We were also able to use archival pieces from Van Cleef & Arpels, which came with a revolving door of security guards. The jewelry schedule was very complicated, because pieces had to go from Switzerland to Paris, and the shooting schedule was changing constantly. It was really a house of cards. There were a couple of times we got caught, scenes got moved up, and lucky for me, Madonna was able to make available her personal jewelry. When you see Wallis spraying the flowers with perfume, her black and white pearl and diamond Bulgari earrings are Madonna's.

LA Times: That lame halter gown that Wallis wears to the party where she first meets Edward is stunning.

Arianne Phillips: Luckily, the house of Madeleine Vionnet has been resurrected and wanted to participate in the film. That gown was a re-creation of a Vionnet original. I spent time going through their archival files and ledger books. Two of the dresses we re-created were ones that Wallis Simpson actually owned.

LA Times: The daytime looks are amazing too — that mitered stripe dress she wears with the diamond bow brooch at the neck and the wonderfully graphic zigzag three-piece suit.

Arianne Phillips: The dress we made. It is light as air with an organza skirt that wafts as she walks. The suit is a lovely original I found in the depths of Cos Prop, the famous London costume shop.

LA Times: Edward was very specific about his clothes, too, right?

Arianne Phillips: Yes, he was raised to be king, so he only ever had clothes made for him. And there was a lot of protocol about what he wore when. His father was very stern about it. So there were certain things that Edward did to (anger) him … like famously wearing navy blue tails, rather than black ones, as formalwear. I was able to see the original ones he owned at the Costume Institute. He also wore a lot of texture and pattern. And although the Windsor knot is named for him, it's not something he created.

LA Times: How did you re-create his look?

Arianne Phillips: I needed a partner, so I reached out to Dunhill, which has an understanding of Savile Row tailoring. They gave me my own tailor, and wools and fabrics from the mills that had created the original fabrics for Edward himself. In the 1930s, men's suits were very baggy. But we tailored the pants for a more contemporary eye. Everything was handmade, including the shoes from Church's. Wallis had 60 costume changes, Edward had 30.
Source: LA Times

Madame X is available in Box Set, CD, Vinyl and Cassette!
Get your copy HERE!