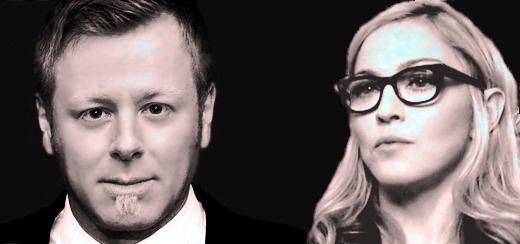 Abel Korzeniowski recently tweeted…
Breaking News: A joint interview with Madonna and Abel Korzeniowski in Daily Variety, Dec 16 Issue!
Today is the day.
Read the full article…
Madonna has more than a few things in common with Tom Ford beyond their mutual love of fashion. Both took on the challenge of filmmaking from the pinnacle of other creative expressions: his from couture, hers from pop. And Ford's influence on Madonna's sophomore directorial effort, "W.E.," about the scandalous love affair between King Edward VIII and Wallis Simpson, is evident in the film's Vogue-magazine visuals, exquisite costumes and Abel Korzeniowski's hypnotic music.
Madonna knew she wanted Korzeniowski to score "W.E." — which alternates between the royals circa '30s/'40s England and a modern-day New Yorker, Wally (Abbie Cornish), obsessed with their romance — from the get-go. After all, she had temp-tracked Korzeniowski's music from Ford's "A Single Man" into the film's rough cut, and the "Single" score had already been referenced early on in the screenplay she co-wrote with Alek Keshishian. So when Korzeniowski got the call last December, as "W.E." was in the early stages of post-production, it was a fait accompli.
Korzeniowski recalls about their initial meeting in L.A…
She basically interviewed Tom about me, how it is to work with me, and apparently she got a greenlight from Tom.
Madonna tells Variety when she saw Ford's film, she was struck by the score's "bittersweet" qualities, "this melancholic, romantic, sweeping emotional kind of heartbreaking beauty."
These very qualities are evident in "W.E." — concerned as it is with obsessive romance — with its aggressive use of strings accented by electric guitar, harp, viola and, in its quieter moments, piano. This combination of traditional and modern instrumentation seamlessly bridges the movie's two worlds.
Korzeniowski, who recorded a 60-piece orchestra at London's Abbey Road Studios, says he concentrated on "purely emotional states," and didn't concern himself too much with differentiating the periods.
He says…
It was rather the other way, so that for the scenes with the duchess I tried to be even more modern than for the scenes with the modern character.
Being a musician herself, Madonna provided the yin to Korzeniowski's yang by trying to keep things simple and direct.
Korzeniowski adds…
It is not the type of score where you go through crazy harmonic changes and modulations. This was one of the very precise notes I got from Madonna, that I was not supposed to over-think this music.
Madonna concurs:
(Korzeniowski) is a trained classical musician, and a lot of times classically trained musicians are too cerebral in their approach; they need to make you feel that they've really written a score; they do too much. Sometimes I had to say to him, 'stop thinking like a musician — simplify.'
Check out the amazing W./E. score by Abel Korzeniowski at twcguilds.com
Source: Variety

Madame X is available in Box Set, CD, Vinyl and Cassette!
Get your copy HERE!