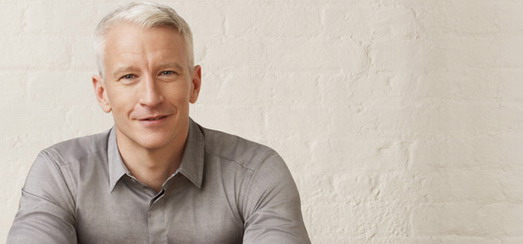 UPDATE
Anderson Cooper's official website has been updated…
Madonna sat down for a one-hour interview with Anderson today, discussing her new film "W.E.," her upcoming performance at the Super Bowl, and in this show preview, the superstar shares her exclusive reaction to the film's two Golden Globe nominations for Original Song and Original Score.
Madonna tells Anderson…
I am so proud of Abel Korzeniowski, who did the score of my film. It was a great way to wake up this morning.
The "Anderson" episode will air in February 2012.
—
Madonna just finished taping her interview with Anderson Cooper for his new daytime talk show 'Anderson'.
Matthew Rettenmund, from Boy Culture, shares all the details…
M looked stunning in an all-leather dress with huge bow that squeeked into the mic the entire hour. Huge leather heels, pretty gold jewelry…
She seemed to be having a good time, laughing, kidding about Anderson's suit, singing little songs about how they passed time on the set. Her publicist came into the picture once to fix M's pose so she wouldn't flash the camera. Andrea Riseborough was the only (other) star there, but hardly got any attention. I don't think this will air until the week before the superbowl.

It lasted about 1.5 hours. It was mostly WE, but she also talked about adoption, empowering women, being nervous about the super bowl performance, and said there might be a concert next year cause someone has to pay for all this!
Stay tuned for more info…

Madame X is available in Box Set, CD, Vinyl and Cassette!
Get your copy HERE!