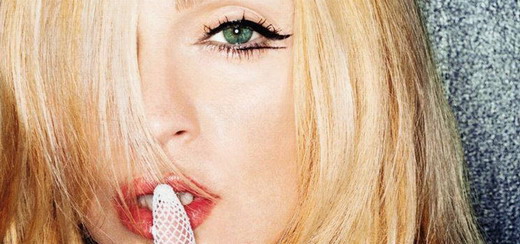 New Madonna album released in March 2012?
Swiss website CeDe has Madonna's upcoming album up for pre-order and shows a release date of 9 March 2012.
Nothing confirmed yet…
Men's Health – Hottest women of all time
Men's Health has put together their top 100 of "The 100 Hottest Women of All Time".
Madonna has been ranked 5th hottest women of all time…
It's been a long time since the Material Girl was like a virgin. In fact, 30 years after she made her debut, Madonna—through more costume changes than a one-man stage production of Ben Hur—has captured the world's heads, hearts, and hormones with startling consistency. She's like a flip-book of fashion, gyration, and melody bonded by a Zeitgeist-defining compunction for incessant, provocative reinvention. It's as impossible to imagine pop culture without Madonna as it is to guess what a light bulb would do without Benjamin Franklin. From shredded wedding dresses to cone-shaped bras, fascist military fatigues to, uh, absolutely nothing, being faithful to Madonna—who has sold some 300-million albums worldwide—is getting to love a million women at the same time, and that's something we cherish.
Madonna and M.I.A. sing for Nicki Minaj
We posted it on our Facebook and Twitter page, but for those who haven't heard it yet, listen to Madonna and M.I.A. singing happy birthday to Nicki Minaj on the set of 'Give me all your Love'…
Monte Pittman Joins Madonna for the Super Bowl
Jarrell Guitars, creator of award winning top quality instruments using only the finest components, revealed Monte Pittman will be joining Madonna on stage during the Super Bowl hafltime performance.
Monte will also be premiering his own signature guitar, the MPS. Read more…
According to fansite Axe-Static_Process, Sticky & Sweet Tour drummer Brian Frasier-Moore and musical director Kevin Antunes, will also join Madonna on February 5th 2012 for the Super Bowl.
Madonna Tweets
Don't forget to follow us on Twitter to stay up-to-date with all the latest Madonna info.
Here's an overview of past weeks tweets concerning Madonna…
Giovanni Bianco, creative director who's collaborated with Madonna in the past…
I'M SO HAPPY TO BE DOING MADONNA'S ALBUM COVER FOR THE 3RD TIME! PHOTO BY MERT&MARCUS AND STYLING BY @AriannePhillips
Nicole Winhoffer, Madonna's personal trainer and choreographer for the 'Give me all your Love' video…
@TheMegaforce I miss you guys already!!!!! #GiveMeAllYourLove lockerz.com/s/164334568
Abel Korzeniowski, composer of the score for W.E…
Breaking News: A joint interview with Madonna and Abel Korzeniowski in Daily Variety, Dec 16 Issue!
IMG Global, distributor of W.E…
Madonna's W.E. comes out this weekend for it's Oscar-qualifying theatrical run. Come see it in theaters now !!
Arianne Phillips, Madonna's stylist and costume designer for W.E…
W.E opens in 1 theater today to qualify for awards consideration The Archlight theater in Hollywood. https://www.arclightcinemas.com/Movie/WE

Madame X is available in Box Set, CD, Vinyl and Cassette!
Get your copy HERE!