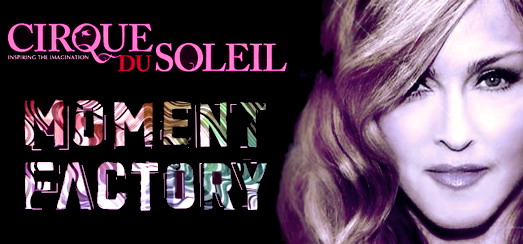 This week we got the official confirmation that Madonna will perform in the Bridgestone Super Bowl XLVI Halftime Show at Lucas Oil Stadium in Indianapolis on Sunday, February 5, as announced during tonight's game on NBC!
She decided to collaborate with a creative team from Cirque du Soleil, Jamie King, and multimedia artists from Moment Factory.
Eric Fournier, the executive producer at "Moment Factory" said…
This is one very, very challenging project for us. You've got to make sure everything works perfectly. 'Moment Factory' and 'Cirque' have cooperated on many successful projects and truly enjoy working together.
From what I get, she's a very rigorous and very professional person. Very cool to work with.
Our work has been done mostly to help magnify and create an environment for the artists.
We have in Montreal all the talent necessary for these kinds of things.
When asked if he's a Madonna fan, Fournier laughed…
Yeah. Who's not?
Sakchin Besette, Partner and Creative Director, "Moment Factory", shared…
We are extremely excited to be working with someone as creative, talented and visionary as Madonna.
Our team is comprised of artists whose expertise ranges from software development to motion design and all of us are absolutely delighted to be working with an artist whose creativity continues to astound us. 'Moment Factory' always looks to engage audiences with something they have never seen before, and we are certain that this show will thrill spectators.
This is the first time we will be working with Madonna, Jamie King and the 'NFL' and we are very excited to create the best entertainment for millions of fans who will be watching live and via broadcast.
Jacques Methe, the Cirque du Soleil's executive producer in charge of special events states…
Madonna is the leader.
What we're doing there is contributing to the creative process that will lead to the creation of this very special moment. For us, it's an interesting opportunity. It's not something that we do very often, working with other stars.
We have experience with the NFL and they're very, very, very good at managing these kinds of things. They know how to build a crazy stage in six minutes.

Madame X is available in Box Set, CD, Vinyl and Cassette!
Get your copy HERE!