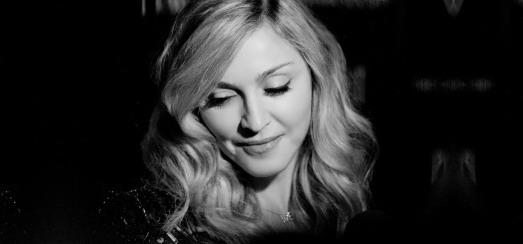 Last night Madonna attended the Cinema Society and Piaget's screening of W./E. at the Museum of Modern Art for 450 guests, including Patti Smith, Francisco Costa, Olivier Theyskens, Rachel Roy, Valentino Garavani, Sarah Jessica Parker, Donna Karan and many more…
Before the screening, Madonna gave a small interview to Extra's Jerry Penacoli and revealed some info on W./E. and her upcoming album.
Here's a transcript by Madonnarama…
Jerry Penacoli: Masterpiece, a new song, it's going to be in the ending credits.
Madonna: Yes.
Jerry Penacoli: It's supposed to be great.
Madonna: I think it is (laughs).
Jerry Penacoli: Is it part of the new album coming out in the spring?
Madonna: Yeah, it is.
Jerry Penacoli: What can we expect? Nicki Minaj? M.I.A.? Collaborative?
Madonna: Yeah… they're both singing on my record… and me, a lot of me. I'm singing on it too (laughs).
This confirms what we at Madonnarama revealed last week.
Don't forget to check out the amazing W./E. score by Abel Korzeniowski at twcguilds.com
Vogue.com also posted a report of the evening…
Patti Smith gave Madonna's film W.E. (Wallis and Edward) a standing ovation at the Cinema Society and Piaget's screening for 450 guests at the Museum of Modern Art last night. Director/cowriter Madonna was gracious in her opening remarks: "Harvey Weinstein and I have been working together since Truth or Dare. I think it says we are going toward embracing the idea of unconditional love." The fashion world—represented by Francisco Costa, Olivier Theyskens, Rachel Roy, Valentino Garavani, and Giancarlo Giammetti (who were seated in the row in front of Madonna)—came out to see what I felt was a beautiful achievement of two love stories intertwined. Weinstein, whose studio is releasing the film on February 5 (the week of the Super Bowl, where Madonna is scheduled to perform at halftime) was equally generous in his praise of what he called "a Renaissance woman."

Madonna was moved by the screening's museum locale. "When I was a young girl growing up in Detroit, I used to escape to the Detroit Institute . . . into the Diego Rivera paintings," she recalled. "I learned about Frida Kahlo, and those paintings gave me the inspiration to believe I could come to New York and create my own revolution with my work."

Sarah Jessica Parker and Lee Daniels were there, as were Stella Schnabel, just back from Paris in an Azzedine Alaïa redingote over jeans, and Parker Posey and Chloë Sevigny, both in red silk. Donna Karan congratulated Andrea Riseborough, wearing a short white-and-black lace Oscar de la Renta dress, on her amazing performance as Wallis Simpson. "I hope you enjoyed doing the film as much as we enjoyed watching it," said Karan.

"It was seven months of my life, and I am happy with the journey," replied Riseborough, who was almost in tears at the audience's response to W.E. "Madonna had seen me play Margaret Thatcher for the BBC. I had to read once for her, in her living room. When I received the script, I thought it was one of those special screenplays."

"She transcended the character," said Posey. Pat McGrath loved Madonna's lighting, calling the film "gorgeous. It was gorgeous." "She had such beautiful details," Valentino told me later at the standing-room-only after-party at the Crown restaurant. Valentino would know, as he and his entourage had viewed the film four times, first at his French chateau, where Madonna was a guest this summer, and later at the Venice and Toronto film festivals with her.

Madonna, with her friend Alex Keshishian, came up with a nuanced screenplay, and her editing with archival footage and historical flashbacks never derails. It's all so breathtakingly elegant, yet it has the modern brittle quality that will lure young audiences. To me, her message is to find refuge in love and make your own happiness. Two elements help navigate the film: the costumes by Arianne Phillips and the dramatic music composed by Abel Korzeniowski. Phillips gets right the Schiaparelli and Mainbocher chevron-striped walking suits and summery hostess dresses, as well as a seventies, at-home tunic and capri trousers for a dramatic deathbed scene. The Duke of Windsor, dying of throat cancer, wearing an oxygen mask, is propped up on pillows. The Duchess asks, "Do you want me to read to you, to rub your feet?" The Duke, in pain, responds, "I want you to dance, Wallis." In her slightly askew Alexandre de Paris Kabuki-bow coiffure, puts on Chubby Checker and dances the Twist. Madonna's second directorial effort is brilliant. Her aesthetic sensibility is akin to the refined style of George Cukor. She magnificently hones detailed exuberance into a marvelous feast for the eye and the spirit.

Madame X is available in Box Set, CD, Vinyl and Cassette!
Get your copy HERE!