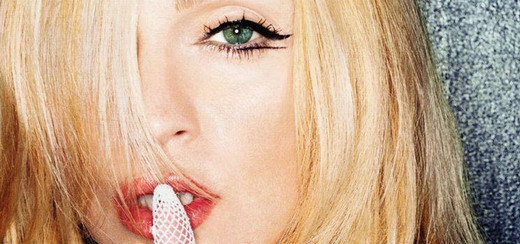 Lady Gaga on Madonna
During the "Children in Need Rocks Manchester" event the Mirror columnist Dean Piper interviewed Lady Gaga and asked her about Madonna.
She said…
Madonna is a wonderful ­influence on me. I feel blessed to have grown up with a ­powerful, blonde woman to show us the ropes. It's all down to her that I'm able to do what I do.
I really like her new single too. The one that was leaked. There's no problem between us.
Martin Solveig and Madonna
When asked to reveal more information on Madonna's upcoming album, Martin Solveig tweeted the following…
I would luv to but can't right now. In time I'll have a lot to say, Guy Oseary will say when
That might explain why Benassi recently denied his collaboration with Madonna!
New Madonna video or documentary in the making?
Jonas Åkerlund was spotted filming Madonna during the Smirnoff Nightlife Exchange Project at the Roseland Ballroom in New York. Some even say it was for a special Madonna documentary. We believe some footage might be included in the video for "Give me all your love."
Andrea Riseborough on W.E.
Monday, November 21st 2011, Andrea Riseborough will be a guest on BBC Radio 4 at 10am, where she will be talking about playing a young Margaret Thatcher, her latest role in the film "Resistance", and what it was like to work with Madonna on her forthcoming movie "W.E.".
Danny Aiello not a big fan of Madonna
Oscar-nominated actor Danny Aiello was interviewed by The Associated Press for his latest album release and also talked about Madonna.
AP: Who are some of your favourite contemporary singers?
Aiello: Although mechanical, I liked Madonna for a time, her voice, and I love the way she performed. But there's a lot about her that I don't like. … I did "Papa Don't Preach" (in 1986), which was a video with Madonna. It was the first real acting video that was kind of done, and I wasn't a fan of hers. … But I did it, and it was Sean Penn who was a buddy of mine … he asked me if I would play her father in the video, so because he did I said, "All right." But today, I love Celine Dion. I don't want to make myself corny, but I love a voice like that. … I like Michael Buble. … I think I like Britney (Spears), but it was a little mechanical, you know the noises that they make behind her, the echoes and so forth. I'm not into that.
Marc Jacobs and Madonna
Rolling Stone made a top-5 list of Marc Jacobs' Best Musical Moments.
On number three we have "Madonna Models for Louis Vuitton Under Jacobs' Creative Direction, 2009"
They wrote…
The same year Jacobs courted Gaga, he employed the Original Queen of Pop for a two-season flashy campaign for Louis Vuitton that ultimately raised questions about the prevalence of Photoshop in fashion shoots. But Vuitton's wheelhouse is inventive decadence, and in these particular ads, it was obvious Madge and Jacobs as a unit were out to create a libertine and slightly surreal fantasia, something worthy of album cover art. And since when has that legacy ever been anchored by earthly limits?
Neil Patrick Harris and Madonna
When Neil Patrick Harris was interviewed by MoviesOnline, they asked him if he ever played a gay character in film or television…
Yeah, for sure. I was Rupert Everett's gay best friend in that Madonna 'Next Best Thing', Rupert Everett/Madonna movie. You know, that classic. I sang 'American Pie' at my boyfriend's gravesite. Yeah, poignant. Poignant and awkward.
Alan Carr wants to interview Madonna
According to British tabloid newspaper "The Mirror" English comedian and television personality Alan Carr wants to get Madonna on his show…
I would love Madonna, but she doesn't do anything, and she's not that much fun these days.
I think I'd be able to get a good interview out of her, though. I look back at those old Madonna clips and want the really naughty Madonna, who wants to talk about sex and touch herself.
Now she's all about Malawi and all that. Maybe a Lambrini on the show would loosen her up, and she'd be great.
Kelly Rowland doesn't want a Madonna accent
Kelly Rowland is worried she will get a British accent like Madonna, if she stays in the UK too long.
She told BANG Showbiz…
If I went back to the States and I took some these accent moments with me, my friends would cut me down!
They'd be like 'Oh, Madonna, really?!' Like they would go in on me, and I love Madonna, but yeah. I would need to be over here for years in order to get a British accent, not a couple of months.
Madonna on Youtube with partner DanceOn
YouTube recently released a statement on more talented creators and original entertainment joining YouTube's existing channel lineup.
The Google Inc.-owned video site said Friday that it's launching more than 100 new video channels. The partners include an array of Hollywood production companies, celebrities and new media groups that will produce mainly niche-oriented videos.
Madonna is one of those participants and is partner with the dance channel DanceOn.
The channels will roll out beginning this month [November], though most will premiere next year. YouTube says the channels will add 25 hours of new original content daily, with dozens of Web series debuting at scheduled times.

Madame X is available in Box Set, CD, Vinyl and Cassette!
Get your copy HERE!