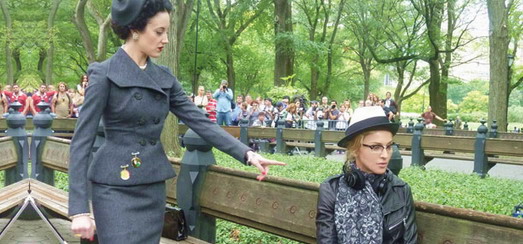 Have a look at the "Gowns, Jewels, Glamour! On set with Madonna" spread on Madonna's movie W.E. featured in the upcoming 2011 November issue of W Magazine.
Oscar-nominated costume designer Arianne Phillips annotates images from Madonna's new Wallis Simpson biopic.
In W.E., a cinematic study in style, Madonna, who cowrote and directed the movie, animates the hidden life of Wallis Simpson, the scandalous, twice-divorced American expatriate who ­married—and dethroned—Edward Windsor, the King of ­England, in 1937. The movie, which uses fashion to inform the characters, splits its time between the past and present day: Wally, an unhappily married wealthy woman (sleepily played by Abbie Cornish), becomes obsessed with the duchess (portrayed with elegance and wit by Andrea ­Riseborough). When Simpson's clothes and jewelry are on display at a Sotheby's auction in Manhattan, Wally's fascination with these stunning artifacts—among other beauties, a charm bracelet of gem-encrusted crosses, by Cartier; a gossamer silver chiffon gown by Vionnet; a gray wool flannel Schiaparelli day suit that Simpson idiosyncratically accessorized with medals on the peplum—offers her a window into the duchess's private world. Interestingly, Madonna views the magnificent clothes and jewels with a conflicted eye: Simpson's possessions may have been lovely, but they did not guarantee happiness. Or even admiration: While always well dressed, the duchess was ostracized and a rather tragic figure.

"I started doing research in 2009, a year before we began filming," explained Arianne Phillips, who's been collaborating with Madonna for 15 years. "To me, Wallis Simpson was a style icon, but I didn't know she was a couture client well before she met Edward. She was also a hungry whore for jewelry. Edward gave Wallis jewelry to make her feel royal. My first task was figuring out how to re-create those famous gifts."

Phillips forged relationships with Cartier and Van Cleef & Arpels to replicate the cross bracelet and 10 other iconic pieces. For the gowns, undergarments, and dresses needed for the 60 costume changes in the film, Phillips scoured the Vionnet and Schiaparelli archives and then, with the cooperation of both houses, redesigned and (often reimagined) Simpson's clothing. "Some of the pieces that the duchess actually ordered I thought were hideous," Phillips said. "Those wouldn't work for the movie, so we modified and invented. Wallis wasn't pretty; she was handsome, at best. In England, it was noted over and over how unattractive she was. But Wallis was a lot of fun—very entertaining. She had a freedom to her that was definitely reflected in her clothes; the duchess was all about presentation. And that became her refuge, and her prison."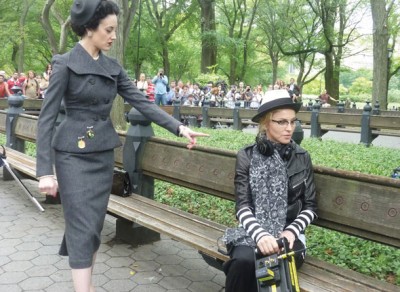 "Andrea Riseborough [as Wallis Simpson] is wearing a Schiaparelli 'minute' suit with Cartier pearls and medals. Cartier re-created the medals and pearls for us. Once the film comes out, Cartier will destroy all the copies it re-created for the production, so the originals will not be devalued."
—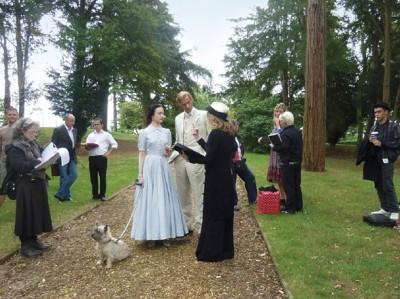 "The man in the background with the red tray is Cartier security. Madonna and I had a ritual: We would place the jewelry on Andrea together. Some of the jewelry in the film belonged to Madonna. Madonna said to me from day one: 'Use me in whatever way I can help you.'"
—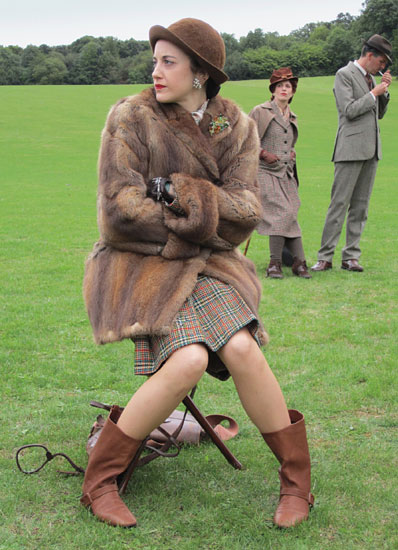 "This shot is from a hunting trip the duke and duchess took in the forties. She's wearing a Schiaparelli hat (re-created by Stephen Jones) and Roger Vivier boots. Designers were a big part of Wallis's story. She loved fashion and was famously quoted as saying, 'You can never be too rich or too thin,' and she definitely lived by those words!"
—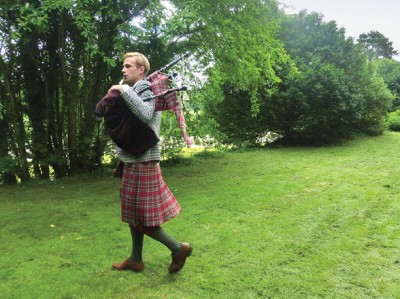 "Edward was a man of incredible style. He liked to bend and even break the rules; he was very punk rock about how he dressed. Edward was 5′ 6″, and our actor, James D'Arcy [shown practicing between takes], is 6′ 3″. In terms of pattern and texture, you have to be careful with a tall man. For this scene, with Dunhill's help, we re-created the duke's jacket and waistcoat, as well as the kilt."
—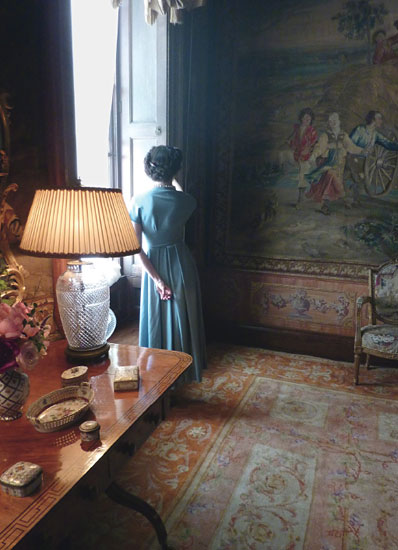 "Mainbocher was an American designer Wallis favored. This shot is of her looking out her bedroom window at the Bois de Boulogne, in Paris. Since we only had black and white images of Wallis in this dress, I chose to make it in Duchess Blue, a color she made iconic."
—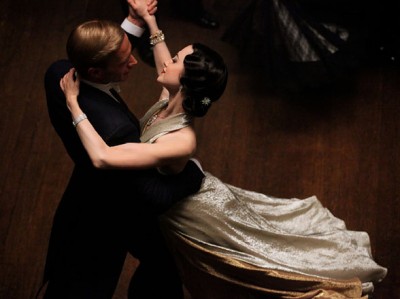 "This scene is the first time Wallis meets Edward—at a party he was throwing. She is wearing a dress made by Vionnet, bracelets from Anna Hu, hair jewels from Stephen Jones, and Madonna's personal necklace. He is wearing a navy tuxedo with tails—his signature."
—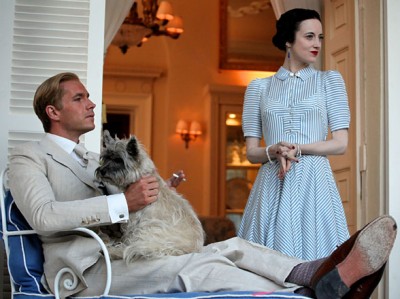 "This scene is in the South of France, so I wanted a really striking day dress. This one was inspired by a lot of the photographs we had of her. It had this beautiful organza petticoat that just made it waft and float when she walked. We had more than 15 fittings because Andrea had so many costume changes. We were fitting clothes until the very end."
—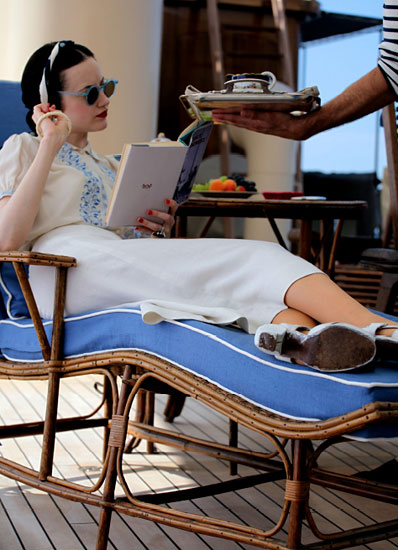 "Wallis wore clothes beautifully and she understood them. This look is part of a montage of a holiday with Edward before they were married. I worked a lot with a company in London called Cosprop, which has provided costumes for everything from Merchant Ivory productions to The King's Speech. They were kind enough to let me dig through their stock."
—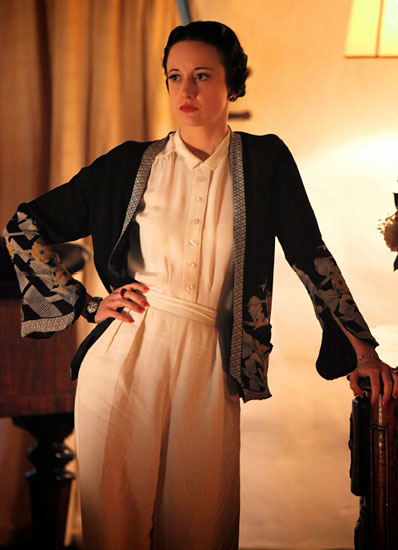 "Wallis looks so glum because this is when she listens to Edward's abdication on the radio while she's lying low in the South of France. Everything is vintage—the handpainted kimono-style jacket, the linen trousers—though the black bracelet was custom made for us by Alexis Bittar. On her left hand is her engagement ring—a large square-cut emerald, re-created by Cartier."
Photographs by Arianne Phillips

Madame X is available in Box Set, CD, Vinyl and Cassette!
Get your copy HERE!