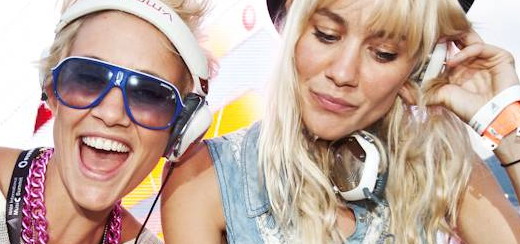 Back in September The Nervo Twins revealed in an interview for allexclusivemusic.com that Madonna has expressed a major interest in recording one of their songs for her new album…
MTV just posted an interview with the Nervo girls where they talked about Madonna…
Here's a transcript by Madonnarama…
MTV: I saw another thing recently that you guys might be working with Madonna? Is that true?
Nervo Twins: That one, you know, it's another one of those we'll see if the stars align, but she's expressed interest in a song of ours and she's working with William Orbit, who's an incredible producer, and who she's worked with in the past. She did "Ray of Light" with him.
He actually was the one who heard the song of ours – pitched it to Madonna – and fingers crossed!
Now that we've spoken about it, of course, it's not going to happen. We totally jinxed it! (laughs)

MTV: Do you know what song… obviously you know what song… You can't say?
Nervo Twins: We don't. We jinxed it already this far, so… (laughs)

MTV:What would that mean to you if she chose one of your songs?
Nervo Twins: Oh, that would be amazing. Madonna is iconic… ICONIC!

MTV: You don't really get bigger than that.
Nervo Twins: No. It would be amazing. It would be an absolute career highlight!
Watch the interview…

Madame X is available in Box Set, CD, Vinyl and Cassette!
Get your copy HERE!