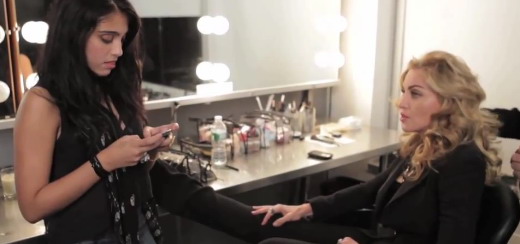 Madonna and Lola are currently looking for the next face of Material Girl, the clothing line created by Madonna's daughter Lourdes.
There will be five different open castings at New York, Miami, Chicago, San Fransisco and Los Angeles. For more information and contest rules, visit www.MaterialGirlCollection.com
"MG Icon", the joint venture among "Iconix Brand Group, Inc.", Madonna and Guy Oseary announce today its spring 2012 marketing initiatives for the Material Girl™ brand, which is available exclusively at Macy's in the United States and "The Bay" in Canada.
The brand's advertising campaign will take on a new direction for spring by hosting nationwide casting calls for the next "Lucky Stars" to appear in the national marketing campaign.
The "Lucky Stars" model search will launch on Wednesday, November 2nd, 2011 at Macy's Herald Square in New York and will culminate on November 21st, 2011 online at www.materialgirlcollection.com.
A celebrity-driven panel of judges, led by current "Material Girl" spokesperson Kelly Osbourne, will be searching the country to find the next "Material Girls".
"Lucky Stars" casting calls will be held at five of Macy's flagship locations in the United States including…
Herald Square, New York – Wednesday, November 2nd at 5:00 p.m.
Dadeland, Miami – Friday, November 4th at 6:00 p.m.
State Street, Chicago – Tuesday, November 8th at 5:30 p.m.
Union Square, San Francisco – Saturday, November 12th at 2:00 p.m.
Beverly Center, Los Angeles – Saturday, November 19th at 2:00 p.m.
Madonna and Lola commented…
"This is not your standard model search.
It's more about attitude.
We are looking for a stylish, adventurous, creative, free spirit.
We're both looking forward to meeting the ten finalists in New York in December."
Kelly Osbourne commented…
"There is a material girl inside of every girl. She is brave and confident in herself and what she aspires to be"
Dari Marder, chief marketing officer, "Iconix Brand Group", explained…
"We are excited to be able to engage and interact with our 'Material Girl' consumers on such a personal level. The 'Material Girl' brand is symbolic of every girl, every style, encouraging girls to be true to themselves. We all can't wait to meet the contestants.
The top contestants will have the opportunity to work with Lola at the photo shoot, be photographed by a fashion photographer, appear in a national marketing campaign and hopefully create memories for a lifetime"
"The 'Material Girl' casting call is a fun way to reach the millennial customer who is eager to find new ways to express herself through fashion and technology", said Martine Reardon, Macy's executive vice president of marketing.
"This unique opportunity allows 'Material Girl' and Macy's to find the next 'Lucky Stars' among this growing customer group who will represent the energy and individuality of this brand."
"Material Girl" contestants should bring a photograph of themselves and be prepared to tell the "Material Girl" judging panel why they should be the next "Material Girl".
Contestants can also upload their photograph to www.materialgirlcollection.com and explain in 100 words or less why they should be selected as one of "Material Girl"'s "Lucky Stars."
The judging panel will narrow all entries down to 36, which will be placed online at www.materialgirlcollection.com to be voted on by the public, narrowing it down to 10 finalists.
The top 10 finalists with the highest votes will be flown to New York City, where Madonna and Lola will choose the winners and the new faces of "Material Girl"'s spring 2012 campaign.
The "Lucky Stars" winners' ads will debut in fashion and lifestyle magazines and be part of a digital and outdoor campaign and in-store Macy's marketing collateral and receive a $5,000 cash prize.
In the meantime, have a look at this hilarious promo clip of Madonna and Lourdes discussing the search for the new Material Girl…

Madame X is available in Box Set, CD, Vinyl and Cassette!
Get your copy HERE!