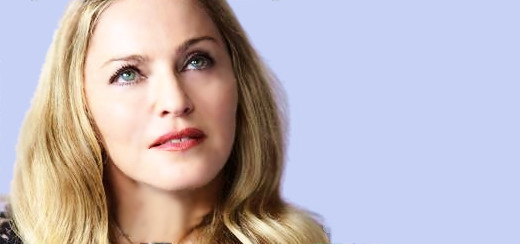 The Daily Mail confirmed that Madonna's "W.E." received a ten-minute standing ovation following its world premiere in Venice, but by then the film had sharply divided film writers. According to the publication, some critics gleefully tore it apart; others, like Baz Bamigboye – Columnist Archive for the Daily Mail – found much to praise.
Madonna gave an interview to Bamigboye wearing a stunning "Dolce & Gabbana" little black dress — waving a black silk fan.
On having a relationship a family and a career…
"I have all three; love, children and work. Lucky me.
You can (have all three) — but what you can't then expect is a good night's sleep.
The older I get, the more I understand about the nature of relationships and how to have a successful one.
The more I realise that it has to do with compromise and sacrifice, and that's just the way it goes. And unless you want to be alone for the rest of your life you have to realise that.
Either the kids aren't going to be getting all your attention, or the man isn't or the job isn't, and I can't contemplate living without all three.
I can't imagine not having children. I can't imagine not being in love, and I can't imagine not being creative and doing the work I do.
You can't always get what you want, but compromise pays off in the end, right? Give up a little bit here to see if you can get something there. It's about trade-offs and give and take."
On getting what she wants…
Madonna has to beg sometimes.
Madonna doesn't get everything she wants.
When I was shooting in New York's Central Park and was just about to shout 'Action,' a band started up. I asked if the band's soundcheck could be delayed. I really had to beg, absolutely."
On seeking advice from her ex-husbands…
"They didn't knowingly help me, but certainly I learned by being around them. I mean, they're both talented film-makers and intelligent human beings, so I think, without knowing it, they gave me advice.
I was paying attention to what they were doing and watched. I'm a watcher and a learner.
I think Guy's a very stylish director, and he does things with cameras that are unconventional and certainly pushes the envelope in that area — and in terms of visualising things, he's a ground-breaker.
When I was married to Sean, I was amazed at how seriously he took his parts and how far he was willing to go
When I was with him, I didn't know I was going to be directing films, obviously. That wisdom I observed and witnessed stayed with me."
On the importance of research when directing a movie…
"Those letters (the ones the Duchess sent to her Aunt Bessie) are key to her character.
To be loved the way she was by the King. What a great act of romance, self-sacrifice.
Every girl loves the idea a man would sweep her off her feet, give up everything for her, only to find out that she is self-imprisoned by that love because if a man is willing to give up a kingdom, then you're going to have to spend the rest of your time together making that man feel like a king, aren't you?"
On eating, cooking and keeping fit…
"I don't eat as much pizza as everybody else, that's number one. I exercise even when I'm too bloody tired to.
I try to stay away from fried foods, although I had French fries at one o'clock in the morning, because that's all there was to eat, but I would never eat any the next day, because I have to pay for those calories somehow. So I also try to stay away from cheese, creamy sauces, and I try to eat a lot of fish and vegetables.
Sticky toffee pudding with the sauce, obviously, is my weakness. No custard.
I like bangers and mash. And mushy peas.
(Seeing the look on Baz Bamigboye's face, she screams) I do! I'm sorry!
I like 'Bubble and Squeak', not often because it's fried, but I love it.
Cooking is not in my DNA. My kids all cook really good. I could cook if you put a gun to my head, but after a long day at the office I want to come home and find my dinner on the table
Oh, my gosh, everyone prepares it, but me. Sometimes my daughter Lourdes likes to cook my food. They all help.
I can boil an egg, scramble eggs, cook pasta, make coffee, whip up a round of sandwiches and — get this — concoct 'Rice Krispie' treats.
I'm not that hopeless — it's just that cooking requires time and there was never time to prepare a Sunday lunch for Guy [Ritchie,] who loves a good Sunday roast. I'm sorry I didn't, but I could have if I'd put my mind to it."
On making changes in "W.E."…
"I would like to think that the film is finished, but I did watch it the other night and thought: 'Um, maybe it needs a bit of this and a bit of that. Maybe it is still a work in progress'?
For God's sake, I hope it's over with soon."
Madonna found a surprising fan in director Darren Aronofsky.
He called the film Madonna-esque, explaining it flowed with a rock 'n' roll sensibility, and made the point that most period pictures are often static and dull.
Madonna has plans to write and direct another movie, but isn't ready to divulge what it'll be about just yet.
But a new album will come first.
She's writing songs and seems determined to have it released next spring — she may tour off the back of it.
"A girl does have to make a living", she declares.
— Adapted from an article in the Daily Mail.

Madame X is available in Box Set, CD, Vinyl and Cassette!
Get your copy HERE!