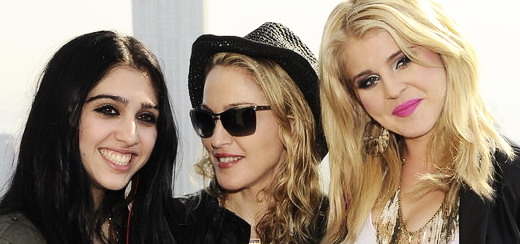 Since Kelly Osbourne has been the muse and face of Madonna's red-hot clothing line, "Material Girl", she often mentions her name during interviews on a regular basis.
In Toronto on August 30th, 2011 to meet her fans, she tells website The Star what it feels to be working with the Queen of Pop…
The Star: Is it ever daunting for you to be representing "Material Girl", to know that you know that you're working with Madonna?
Kelly Osbourne: Yes! It's one of the biggest honours of my life to work with somebody I admire so much and to have also gotten to work with Lola (Madonna's daughter) is just incredible. She's so smart, and she really knows what she's doing. It's so interesting to see how somebody so young can be so clued in and self-confident. She and Madonna have a beautiful relationship, and it was really lovely to see that. That gets missed by a lot of people: They have a perception of Madonna being quite a hard woman. But she's not. She's a smart woman — she's a businesswoman, and she's a good mom.

The Star: What have you personally gleaned from the relationship thus far?
Kelly Osbourne: Watching a 14 year old girl put together clothes and design…this isn't just something they've attached their name to. This is the real thing, and they work together on it, and it's just so nice to see that. And I think 'Oh my god! I'm so much older than you, and you are so together!' I find that really inspiring.

Madame X is available in Box Set, CD, Vinyl and Cassette!
Get your copy HERE!