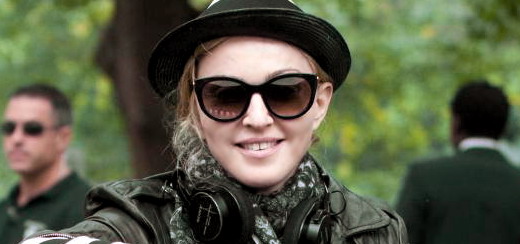 As we all know, W.E., Madonna's romantic drama inspired by Wallis Simpson, will premiere at the Venice Film Festival in a couple of days. Madonna has released an official statement about the movie…
"I was always intrigued by the story of the King who gave up the throne for the woman he loved.
Why did he do it and what was so special about Wallis Simpson?
I wanted to tell it from a modern day point of view, so I created the story of Wally — a young woman trapped in an unhappy marriage. She knows she has to change her life and begins this journey from darkness to light with Wallis as her spiritual guide.
Wally's obsession with the love story of Wallis and the King is ultimately what saves her. She lives vicariously through this historical romance. Though it seems childish and obsessive, it forces Wally to ask questions, take risks and take charge of her life.
To take the road less traveled.
And eventually find freedom."
Venice Film Festival director Marco Müller said…
"It is very important because she is a very interesting filmmaker and very personal filmmaker.
She already proved that with her first feature.
Even more so in her sophomore film, 'W.E,' you would feel like it is such a celebrated love story, the love story of the century."
Synopsis – W.E. is a romantic exploration of the mysterious connection across decades between two women confronting the consequences of desire. Caught in a loveless Manhattan marriage, abused and frustrated Wally obsesses over Wallis Simpson, the stylish American divorcee who captured the heart of Edward VIII who abdicated the throne as King of England. As the Duchess of Windsor, Wallis spends the rest of her life in the glare of celebrity exile. Inspired by the Duchess' determination to pursue love in the face of social exile, Wally escapes into the arms of another man whose love sets her free. Madonna and a world-class team of collaborators present a passionate tale of the search for love and the meaning of happiness. W.E. (for Wallis and Edward, forever entwined in the love story of the 20th century) is a rich, cinematic portrayal of two strong women resolved to find romance.
W.E., which stars Andrea Riseborough, Abbie Cornish, James D'Arcy, and Oscar Isaac, will be shown out of competition Thursday. It is scheduled for theatrical release in the U.S. December 9.

Madame X is available in Box Set, CD, Vinyl and Cassette!
Get your copy HERE!