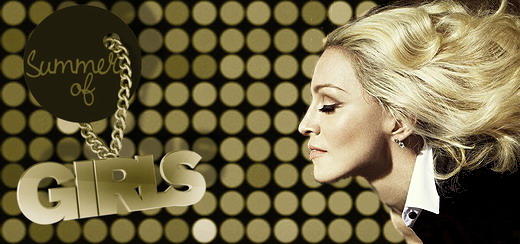 Franco-German channel ARTE shows how a serious music documentary should be done with their latest Madonna episode of the "Queens of Pop" documentary series, produced by Jürgen Schindler.
The almost 30-minute documentary contained plenty of interviews with big names like Nile Rodgers, Debbie Harry, Donna Summer, Cindy Lauper, Stuart Price, Boy George, Robyn, Kate Nash and more.
Here's what they all had to say about Madonna…
Donna Summer…
"Madonna is a good example of someone who doesn't want to stop growing.
Whether you agree with her or not, whether you like her, you don't like her, whatever, she continuesly morphes herself and keeps trying something different.
She'll never be stuck with one thing, she keeps going."

"She's a phenomenon.
We have to give her props because she's still around and she's doing pretty good.
So, you know, hats off to Madonna."
Nile Rodgers…
"She's at that point where she doesn't have to make a record ever again.
When she walks into a room, it's like Marlène Dietrich making an entrance…"

"Madonna is undeniable the queen of pop.
Undeniably!"
Robyn…
"She's made some of the greatest pop songs I know."

"I think I was attracted first to her music and later on when I saw the videos, I was of course blown away by her presence.
She just demands that you look at her.
She's very much in her own world when it comes to that."

"I think that Madonna did lot of things for women liberation mostly by just by never being apologetic, doing what she liked.
I think that's inspiring about her, that she doesn't ask for your acceptance."
Kate Nash…
"She's kind of survived through the different generations, the different eras.
I always really like that when an artist can stay relevant for every different decade."

"She's like 'You don't wanna fuck with me'.
She really seems like powerful."
Diane Warren (US songwriter)…
"She's a great entertainer.
Her work ethic is outstanding
I really respect her. I respect her longevity.
She's quite distinctive too."

"She's cool.
You always wonder what she's going to do next."
Marina (& the Diamonds)…
"Her role for me was someone who was a real pioneer for female sexuality and for feminism and for not being apologetic about who she was and what she believes in.
For me, in a way that's a very good thing for female sexuality, because if females being sexual isn't shocking, that means that it's accepted that females have a sexuality, just as much as men do.
So maybe she really reached her goal, in that respect."
Amber Riley (Glee)…
"Madonna was all about women being empowered.
Express Yourself was our statement to boys, because we didn't think they weren't very respectful of us."
Debbie Harry…
"Basically she was doing what I was doing, but she did it better.
So that was sort of the frustrating part of it.
She became such a huge success."
Cyndi Lauper…
"She hadn't won [the American Music Award] and I felt really guilty and bad, because I think she should have won one too.
I met her afterwards, she had Like a Virgin and I thought that track was awesome… and I told her."
Boy George…
"Well my mother was particularly impressed [Like a Prayer video].
It worked. So I think that was really the point.
In the world it made front page news."
Maripol (designer)…
"She was always so full of life, really funny and nice… lots of love.
Very charming, very flirty…
Whether it was girls or boys, it didn't matter."

"When I first met her, it was at the Roxy Club, I was picking up some girls from the crowd to go on stage with Fab Five Freddy.
I approached Madonna and asked: 'Would you like to go on stage and dance? Do you have a nice bra?'
I wanted all the girls to take their top off…
I am French… (smiles)"

"She did not take drugs, barely drink.
She went out a lot and danced, like us.
She did not participate in destroying your life.
She participated in going all the way to the top.
And I think that it wasn't only a lot of luck, but a lot of cheer power of work."

"Madonna doesn't need to prove anything anymore.
She's done it all and done it all really well."
Reverend Robert Smith Jr. (New Bethel Baptist Church, Detroit)…
"I didn't think of Madonna of doing nothing but being creative, being true to who she is.
She's always been very edgy."
Stuart Price…
"It's in Madonna's nature to be provocative.
She feels she's sometimes crucified for her messages.
At the same time, controversy is part of the reason she's so relevant."

"She's a really intelligent woman, probably one of the most intelligent women I've met.
I think the survival mechanism inside her, which is so strong, which I think is probably related to part of her growing up and losing her mother when she was young.
Leaving her city, moving to a new city and making it happen from zero to everything."

"If you stand back and take an overview of it, it's hard not to see the way she changed our perception for a lot of different things. Whether it's for women in general, whether it's for charities or whether it's for what can be achieved in within culture.
If you look at all of this, you'll have to admit she is a role model."

"The interesting thing for me is not her fame, it's her personality.
There's like a bright spark of creativity, there's fun and there's determination as well.
If you look at pop music of the last 25 years, touring of the last 25 years, music videos of the last 25 years and if you look at culture, Madonna is at the center of all this, and is still pushing it forward.
That's why you'd have to call Madonna the "Queen of Pop", but… there's a lot of other princesses (smiles)."
Transcript by Madonnarama

Madame X is available in Box Set, CD, Vinyl and Cassette!
Get your copy HERE!