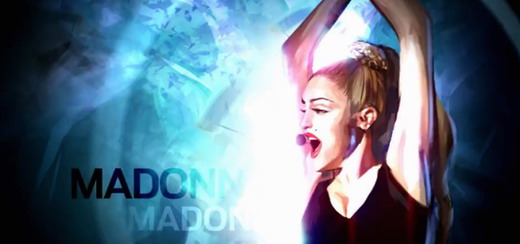 Madonna's "W.E." Official Release Date
It was already mentioned on IMDB, but today, The Weinstein Company (TWC) announced officially that it will release Madonna's "W.E." on December 9, 2011 in New York and Los Angeles. The film will expand to additional markets in December, which is in the middle of oscar season, with wide release anticipated by mid-January.
Weinstein said…
"Madonna beautifully interweaves past and present in W.E. It's a very smart film, and a stunning feature directorial debut.
I'm incredibly excited about this movie and I wanted to give it a prominent release date."
Madonna to open Malawian orphanage
Madonna wants to redouble her efforts to aid orphaned children by opening a new centre as well as giving financial support to current ones.
Speaking in new TV documentary American Revolutionaries: The Hitmakers', she said:
"My short term goals are to build an orphan care centre that will service and reach at least 1,000 children and I'm also actively involved in funding several orphanages that already exist."
However, Madonna's aspirations for the country were dealt a blow earlier this year after her plans to build a school for girls were "discontinued". She had pledged to build an academy following her adoption of David in 2006, but the $3.8 million she had put into the project through her charitable foundation Raising Malawi failed to develop into an educational establishment. Madonna admitted she was "frustrated" at the development because of the lack of education in the country. She said in a statement…
"There is a real education crisis in Malawi, 67 per cent of girls don't go to secondary school.
Our team is going to work hard to address this in every way we can."
American Revolutionaries: The Hitmakers
Musical risk takers, rule breakers and chart toppers are taking over the July schedule at Ovation, the only television network dedicated to arts culture. "American Revolutionaries: The Hitmakers" is Ovation's three-week programming event (from July 1 – 24) dedicated to some of pop music's most influential artists. Included are world premiere documentaries on Madonna, Bruce Springsteen, Elvis Presley, D.M.C., Justin Timberlake and Beyonce.
Kris Slava, Ovation's SVP of Programming explained…
"The artists featured in American Revolutionaries: The Hitmakers have repeatedly turned popular music on its head, pushing the envelope on innovation, artistry and imagination. You think you know these stars because they are so popular, but this collection of documentaries shines the spotlight on aspects of their lives and careers that will surprise you."
Is Lady Gaga Really Turning Into Madonna?
AOL UK wonders if Gaga isn't officialy morphing into Madonna. Check out these recent pictures of Gaga on stage in Japan paired with some of Madonna performing live from a different era. Similar outfits, similar dance moves,…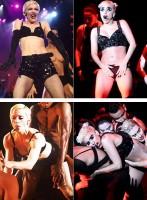 Also this performance of "Born this Way" on French show Taratata is similar to some of Madonna's past live performances (Express Yourself VMAs 89 meets Bye Bye Baby VMAs 93 vs. Keep it Together BAT)
Guetta Isn't Working With Madonna
David Guetta discussed his upcoming album and superstar collaborations with Lil Wayne, Nicki Minaj and Snoop Dogg, as well as shot down rumors about working with U2, Britney Spears and Madonna when he sat down for a Live Q&A with Billboard.com. He clarified that he is not working with Madonna or Britney Spears at the moment, and neither pop star will be featured on his new record — but he hopes they can work together someday.
Sarah Palin Calls Madonna 'Full of Hate'
Sarah Palin lashed out at some of her Hollywood detractors featured in the soon-to-be released pro-Palin documentary, calling the likes of Madonna, Leonardo DiCaprio, and David Letterman "full of hate."
In an interview with The Hollywood Reporter, she says hearing the nasty comments leave her questioning…
"what would make a celebrity, like you saw on screen, so hate someone that they'd seek their destruction, their death, the death of their children?
What would make someone be so full of hate and, I guess, a sense of being threatened that they would want to see that person destroyed?"
Check Out This Incredible Madonna Vinyl Collection
Whether you collect Madonna items or not, there are some mind blowing items in this collection…

Madame X is available in Box Set, CD, Vinyl and Cassette!
Get your copy HERE!