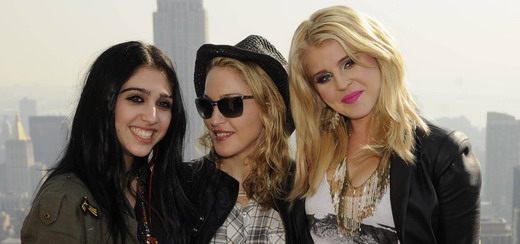 Kelly Osbourne was brought in as the new face of Madonna and daughter Lourdes' Material Girl line earlier this year, replacing Pretty Reckless singer Taylor Momsen. Kelly will continue to rep the line for fall.
Kelly shot an entirely new campaign that will debut in September issues of People StyleWatch, Seventeen, Teen Vogue, Nylon, and more, as well as online and in Macy's stores and promotional materials.
The campaign, titled "MG + NYC," sees the 80's-inspired collection, and Osbourne, hit the streets of New York, including shots in Times Square, Soho, Rockefeller Plaza, Chinatown, and more.
Madonna and her daughter Lola said…
"We have both enjoyed working with Kelly and are thrilled to have her on board for the launch of the Fall 2011 collection."
Kelly Osbourne stated…
"I'm really enjoying being the face of Material Girl. I love being part of a brand for girls and having the opportunity to work with Lola who has an amazing fashion instinct. Added to that is the fact that Madonna has been a big influence on my style over the years."
Dari Marder, chief marketing officer, Iconix Brand Group, commented…
"Kelly has been an amazing partner for Material Girl; she has truly embraced the brand and our consumers have reciprocated.
The essence of Material Girl is all about your own personal style and individuality.
The new fall campaign, 'MG+NYC' reflects all the different sides of our Material Girl, from uptown to downtown."
Martine Reardon, executive vice president of marketing and advertising, Macy's, said…
"Today's 'Material Girl' really relates to the fashion independence and individuality of Kelly Osbourne.
We are so excited to continue with Kelly for the fall season, as we look to bring fresh fashion and inspiration to our new generation Material Girl."
In addition to appearing in the campaign, Osbourne will make personal appearances on behalf of Material Girl brand at Macy's.
To stay up to date with the latest news from Material Girl, follow @MaterialGirlCol on Twitter and use the hash tag #MGNYC. Become a fan of Material Girl on Facebook at www.facebook.com/materialgirlcollection.

Madame X is available in Box Set, CD, Vinyl and Cassette!
Get your copy HERE!