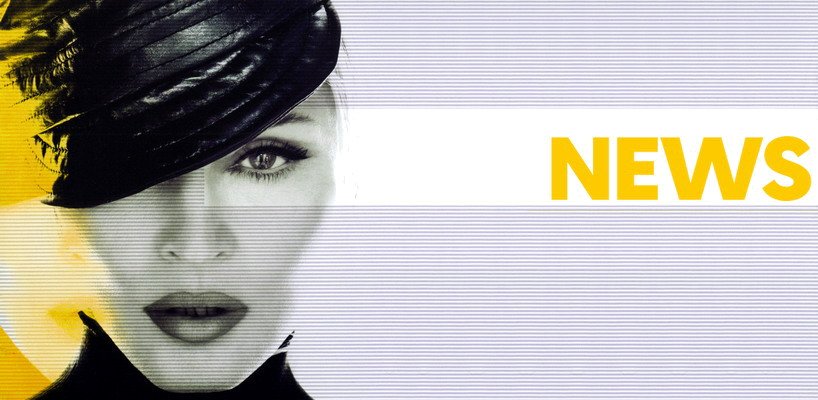 D&G fanmade outtake magazine
Last week an unknown Dolce & Gabbana "book" hit the web and everybody was wondering what it was. Even Stefano Gabbana had no idea.
The magazine was actually created and sold on ebay by a Madonna fan, who's an avid Madonna outtake collector and who has spent thousands of dollars on Madonna pictures. It seems like he's trying to get some money back by selling plenty of outtakes on ebay.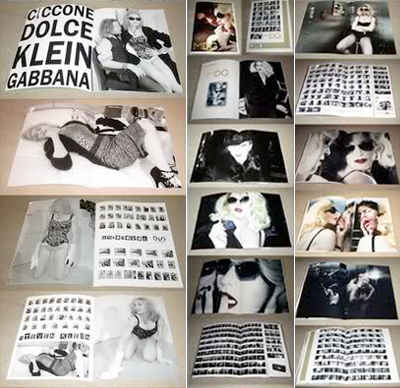 Swide, Dolce & Gabbana's official online magazine is still trying to found out it's origin and posted the following:
Thanks, now we're depressed as well. We actually had no idea that this book existed! Actually, we checked and unfortunately we don't know anything about this book: it's not a Dolce&Gabbana book… YET, we do have a brilliant idea. If you happen to find a copy of this, we can exchange it for a whole Dolce&Gabbana collection of your choice (so you send us the book, we send you EACH and EVERY single piece from our SS 11 collection, FW 12 one, or whichever you prefer!)! We hope to hear from you…
Chris Ciccone Disapprove the Idea of Madonna Launching a Career for Lola
Madonna's estranged brother Christopher Ciccone isn't sure if it's a good idea for Lourdes to launch a music career like her famous mom.
According to the Sun, Madonna has collaborated with her 14-year old daughter, Lourdes to record the song It's So Cool, which may appear (or not) on her next album on the soundtrack to her new movie, W.E.
Now Ciccone said he remains skeptical about the idea behind the rumour. He told RadarOnline.com…
"To tell you the truth I don't know if Lourdes is a good singer or performer, and I don't know if it's a good idea.
We'll just have to wait and see how it pans out.
I guess it would be good if they had a hit, and Madonna seems to be passing on the torch to her daughter now.
One thing I do know for sure is that Lourdes seems to have inherited the famous Ciccone work ethic, that's for sure."
Again, we think this rumour about Lourdes collaborating on W.E.'s soundtrack or on Madonna's next album is absolute bullshit.
But we firmly believe the two have recorded a demo of "it's so cool" together, back in 2002, with Mirwais.
Madonna would look hot in a G-string
On the Today Show Meredith Vieira and Salma Hayek talked about g-strings on the beach Cannes. Here's what Salma Hayek had to say:
There was a lady wearing a g-string on the beach and I think after 50 you should not wear a g-string on the beach.
By the way I'm sure there are some women over 50, like Madonna for example, she would be hot on that beach, but not this particular one. I take my word back, maybe if you are 60 you can still wear a g-string on the beach. If you can work it, do it.
Britney Spears inspired by Madonna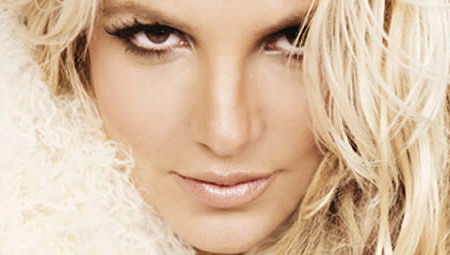 For the promotion of her latest album, Femme Fatale, Britney Spears gave an interview to American website Extra TV where she revealed the powerful female singers that have made an impression on her since she started her pop music career aged only 15.
The most powerful females that have influenced me over the years have been Madonna, Whitney Houston… I love Barbra Streisand, I think she is very theatrical and I love the way she speaks to people through her music.
Jolin Stai's Vogue performance
During her 'Myself' World Tour, Taiwanese singer Jolin Stai performs a cover of Madonna's Vogue.
Have a look…
Blond Ambition 2011
Jean-Paul Gaultier, whose early work in the 1970s earned him the nickname "enfant terrible of fashion," is unquestionably one of the most important fashion designers in recent decades.
The Fashion World of Jean-Paul Gaultier:From the Sidewalk to the Catwalk is the first retrospective ever devoted to this couturier, who designed his first ready-to-wear collection in 1976 and founded his haute couture firm in 1997.
Madonna has worked plenty of times with Jean-Paul Gaultier during her career and has lent him the infamous Blond Ambition cone bra for this exposition.
After a few touch-ups, here's what it looks like now, 21 years later!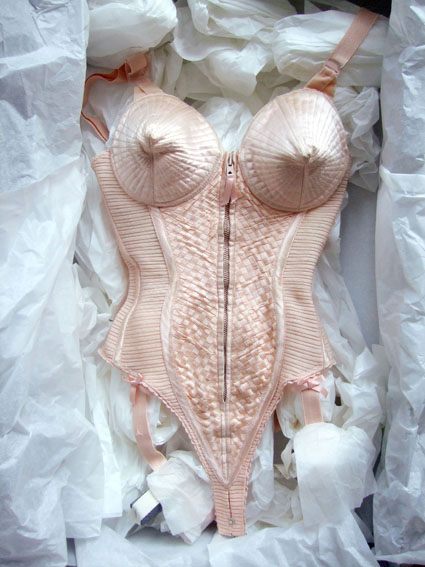 Madonna donates signed Chanel boots
For the annual fundraiser of LaGuardia Arts High School, where Lourdes goes to school, Madonna exclusively donated some Chanel thigh-high black and white leather boots right out of her closet.
Madonna boldly and beautifully signed each boot along the sides, "Love Madonna," in black sharpie pen.
All proceeds will go directly to LaGuardia's school programs and materials for their students.
Auction: click here!
Songs For Japan Earns $5 Million For Relief Efforts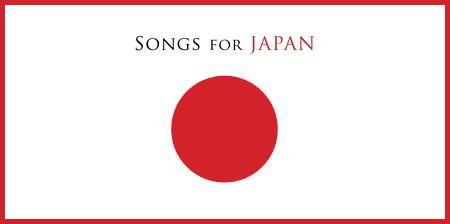 Songs For Japan, the charity album to benefit Japan Earthquake efforts has raised more than $5 million since being released. The album features Madonna's Sticky & Sweet Live version of "Miles Away", has sold more than 500,000 albums since dropping last month.

Madame X is available in Box Set, CD, Vinyl and Cassette!
Get your copy HERE!