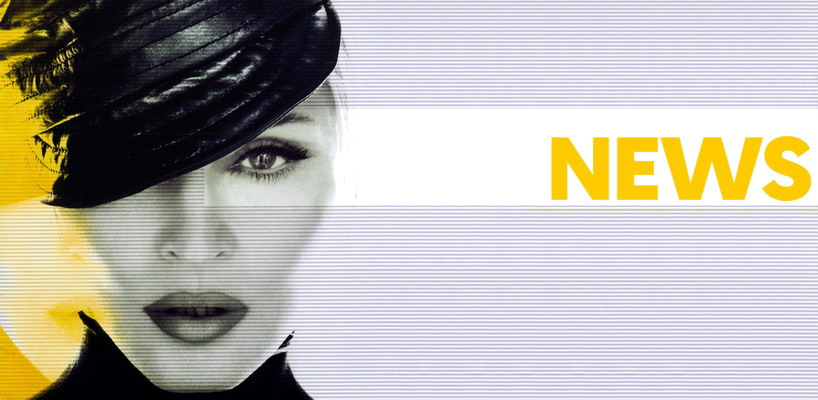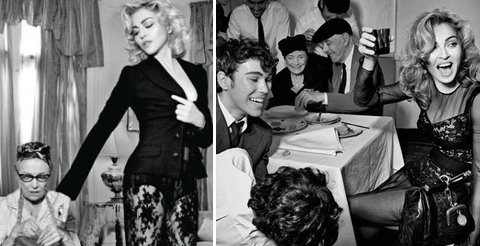 From Icon Magazine
3 Things you didn't know about the latest D&G ad campaign:
– The elderly woman featured on one of the photos is actually a real seamstress.
– Madonna brought her own wine glasses for the dinner scene as they were true italian ones. A good real wine for the takes.
– At one point, Madonna was doing the chicken wrangling as they flew all over the place.
Lea Michele Met Madonna At Oscars
Glee star, Lea Michele stated that she met Madonna at the Academy Awards…
"Got to meet some incredible people.. including the queen herself…Madonna! And ended the night eating pasta with Tom Hanks! So unbelievable!!"
Vivian Reed: Madonna puts in a fantastic show
American actress, singer, and dancer, Vivian Reed gave an interview to SeattlePi.com, and mentions Madonna in the process…
"When you consider singers like Madonna, Jody Watley, or Paula Abdul, these are singers that are not necessarily considered great vocalists; but they have that commercial sound that works on record.
Madonna puts in a fantastic show. Is she considered a great singer? No. But she's a stylist, and she works on production. She makes sure that she gives her audience everything that they're paying for."
Liz Smith on Madonna
Liz Smith recently posted an article about the Oscars on wowowow.com.
Here's what she wrote about Madonna…
MADONNA DID not attend the 83rd Academy Awards ceremony last Sunday. She has never been nominated for an Oscar, but she did win a Golden Globe for "Evita" and performed twice, memorably, on the Oscar telecast itself.
However, as usual, Madonna did appear at the Vanity Fair after-party. Sometimes she lingers, sometimes she just goes to be photographed and lure VF partygoers to her own soiree. The latter was the case this year.
Madonna Louise Veronica Ciccone showed up at the Sunset Towers hand in hand with her tall, beautiful 14-year-old daughter, Lourdes. The younger Ciccone wore an adorable miniskirt. She has great legs. Mama Ciccone was got up in what resembled a semi-transparent negligee with a faux-fur chubby (as we called them back in 1940's) thrown over her shoulders. Mama has great legs, too. The gown was iffy — though I'm sure it was couture and cost a fortune. Still, I would have enjoyed seeing Madonna strut her peek-a-boo nightie across the Kodak Theater stage. Why not? Most everybody else was playing it so safe. (Except for Cate Blanchett.)
I will say that from the neck up, Madonna looked gorgeous. Everybody talks about the "work" she's had. Maybe. All I know is at age 52, she's more beautiful than she was at 25. And now that she is not touring, she's put on a couple of flattering pounds.
The icon is still busily editing her film "W.E.," which presents a new and intriguing look at the legend and influence of the Duchess of Windsor. I can tell you that they loved what they saw of it in Berlin recently.
Madonna is an inventive, inspired director.
Madonna and Make-up
James Kaliardos is L'Oreal Paris's international make-up artist. He worked with Madonna, Linda Evangelista, Julianne Moore and Michelle Williams.
He recently mentioned Madonna in an interview…
"I got a great tip from Madonna, who taught me to use a short-haired rounded brush for applying lip colour (previously I had always used a long, retractable brush) for an intense finish."
Guy Ritchie to Be a Dad Again
Film director and Madonna ex-husband Guy Ritchie is to be a dad again – his girlfriend Jacqui Ainsley is pregnant, reports Britain's News of the World.
Interesting Links
SHANNON PISER CHIO: MADONNA, THE FORGOTTEN IMAGES
TORONTO SUN: Spectacle alone can't keep Gaga going
ASTROFIX: 4 Things that Madonna and Lady Gaga Have in Common
IDOLATOR: How Many Madonna References In Gaga's Video?
VANITY FAIR: It's Morgan In America
BBC: Wallis Simpson's 'sensuous' style up for auction

Madame X is available in Box Set, CD, Vinyl and Cassette!
Get your copy HERE!