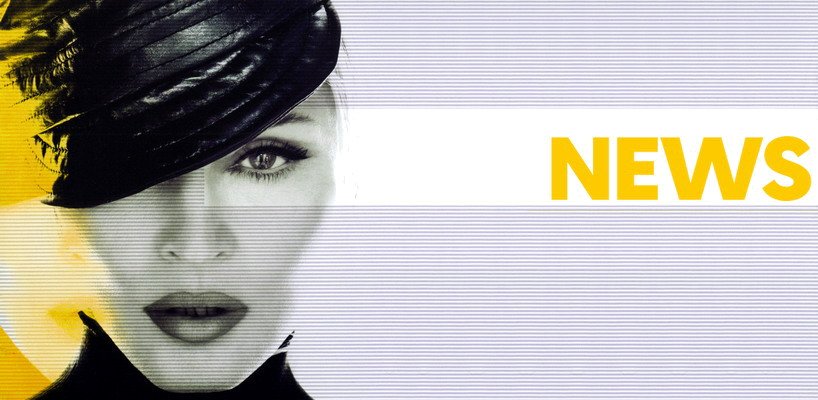 Rumour
The UK Sun reports that Diagram of the Hearts is in the running to collaborate with Madonna on her next album!
On their Twitter, they confirm…
Feb 26th, 5:13pm: Nice mention in the sun today about us working with Madge……..
Feb 26th, 5:14pm: And yes she is still hot!!
Feb 26th, 6:11pm: Yes. Have some great ideas for her
Feb 26th, 9:15pm: Thanks for all ur Madge tweets. Can't say too much but thanks for all the love! Diagram
Feb 27th, 11,17am: was up all last night working on some beats for the queen. Have some nice ideas for her….
At Madonnarama we suspect the whole thing to be just a way to create some kind of buzz around the group possibly to get more followers on Twitter…
Gaga by heart
Lady Gaga does it again, this time for the Chicago Sun-Times. She learnt her lesson by heart, and pretends once again that Born this way is only in "the spirit of the early '90s"
Q. The hubbub about Madonna — do you have a point of view on that?
A. Everyone knows how much I love and adore Madonna. What a huge fan I am. I don't think there is a female on the planet that is not inspired by Madonna. I was honored to hear from her. I've met her in the past and worked with her, and she was so supportive and loving, and I think what people are hearing, to be precise, is the spirit of the early '90s. It's not just Madonna, it's Whitney Houston, it's En Vogue, it's TLC. It was a '90s-dance-early-gospel-fusion-with-pop-music.
Charo on Lady Gaga
María del Rosario Pilar Martínez Molina Gutiérrez de los Perales Santa Ana Romanguera y de la Hinojosa Rasten, better known as Charo, is a Spanish-American actress, comedienne, and flamenco guitarist, best known for her flamboyant stage presence, her provocative outfits, and her trademark phrase "cuchi-cuchi". She recently appeared on Good Day New York, and gave some pointed criticism of current pop star Lady Gaga…
"I see Lady Gaga like Madonna with diarrhea.
The voice is gifted because she is so powerful with the voice…but why does she have to remind people of Madonna?
Why don't she go her own self? I never copy nobody,
I was me and I created something that was me. I can not feel comfortable being a copy of other people."
Femme Fatale
Britney Spears manager Larry Rudolph told MTV News about her forthwoming album Femme Fatale
"In my opinion, this is her strongest album ever. It's somewhat of a departure from what she's done. It's more mature. It's more of a dance record. … This really is Britney's Ray of Light album."
Who cares?
Everybody talks about this so called war between Madonna and James Franco over their Oscars After After parties…
Franco, who is co-hosting the Oscars with Anne Hathaway, is hosting his party at The Supper Club in Hollywood…
Meanwhile, Madonna has enlisted famous disc jockey Paul Oakenfold to help launch her party. Her party will also have a royal theme.
However, many experts expect that the bigger stars will attend Franco's party. Franco is not only hosting the ceremony, but he is also nominated for Best Actor. His personality should help make his party popular.
"Glee Encore" DVD
Glee musical performances are being released on a new "Glee Encore" DVD. The hit musical television series now has more Billboard Magazine Hot 100 chart entries than any other artist, topping Elvis Presley and James Brown and to celebrate Twentieth Century Fox Home Entertainment is releasing Season One's most sensational musical numbers including songs by Madonna, Lady Gaga, Journey, and much more. The DVD on both Blu-ray and DVD arrive in stores April 19.
Queen of Controversy
Website MusicRooms charted the most controversial pop antics by pop singers…
1. Madonna, oh, well, everywhere
Madonna can barely cough without causing some form of controversy. She shows Rihanna's got a lot to learn if she wants to shock, and keep her career flying high. Whether it's Catholics, conservatives, parents, fashionistas or TV execs, almost everything Madonna has done has caused headlines somewhere, to the extent that writers almost seem to look for controversy in her every move, even if it's the news she borrows her daughter's clothes. But if we're talking using sex to sell then there's only one No1. Only once has sex seemed to override Madonna's talent. In 1992 she released 'Sex' a picture book depicting her in various sexual positions, often naked, with various celebs including Vanilla Ice (he was big then) and Naomi Campbell. She then released the album 'Erotica', the first video of which was banned by MTV for being too explicit. Hot on the heels of the scandal came 'Body of Evidence' a raunchy film that has more often become a punchline than a cultural calling card. It's the only controversy that threatened to destroy Madonna's career because, for the first time, the sex was so in your face it became boring. She was being shocking for the sake of being shocking, rather than thought-provoking in say 'Like A Prayer'. The only thing that saved her was a Golden Globe winning performance as Evita two years later.
Superstars take note, sexy scandal is all well and good as long as you can fall back on real talent to see you through.

2. MTV Music Awards. Bringing sexy back
In 2003, the papers were rife with who would take Madonna's crown as Queen of Pop. The likeliest contenders, the music press decided, were Britney Spears and Christina Aguilera. The three stars decided to address this in their own inmitable style at that year's MTV Video Music Awards. Opening the show, Britney appears in a wedding dress and veil, emerging from a cake. She begins to sing 'Like a Virgin', Madonna's 80s smash hit, only to be joined by Christina Aguilera. Then Madonna joins them on stage singing Hollywood. She greets both girls with a lip-locking smooch on the lips. In what was probably the best example of camera work ever, the show cut to a stony-faced Justin Timberlake, who'd recently split from Spears. Outrage, criticism and controversy barely begin to describe the ensuing furore. Yet despite the complaints it's become one of the defining moments of pop culture.

3. Britney Spears and animal magic
4. Nena Hagen in a hair-raising controversy
5. Christina's Dirrty
6. Holly Valance looking for more than a 'Kiss Kiss'?
7. Shakira's a She-Wolf
8. Tine Arena's sexy reinvention
9. Katy Perry's knowing wink
10. Janet Jackson is a bit of a boob
Gaga Vs. Madonna in Canada
Wanna go to a Gaga Vs. Madonna dance party in Toronto on March 4, 2011?
Get the Flyer…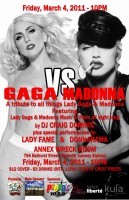 Cuckoo for Coconut
Last year, Madonna, her manager Guy Oseary and pals Matthew McConaughey, Demi Moore Anthony Kiedis put a total of $10 million into Vita Coco, the coconut water company.
Today, Vita Coco's valuation has risen to $200 million, up 40 percent, according to industry analysts.
Well, the same celebs are said to be bellying up to the bar for a second sip of the private firm. According to sources at the water fountain, this same group has just sank another $14 million into the fruity drink company.
Vita Coco competes with other coconut water brands, including Zico and ONE. Vita Coco co-founder Michael Kirban plans to use the investors' cash to expand production, infrastructure and marketing. Vita Coco has six flavors and will launch a new "tropical punch" flavor, as well as new packaging, this year.
New Yorkers are going through 750,000 units a month, according to the company, and is the biggest market in the US for coconut water.
Vita Coco will be backstage at the Oscars tonight. Oscar winners Halle Berry, Anna Paquin and Gwyneth Paltrow have all extolled their love for coconut water, as has Oscar nominee Jake Gyllenhaal.
Some cool links…
Billboard: 10 Awesome Oscar Live Performances
MTV: Madonna 'Bows' At Number One: Wake-Up Video
MTV – Madonna Making Out At Her Son's Gymnastics Competition
Independant Woman: Iconic Fashion in Film: Madonna in DSS
Huffington Post – Anne Hattaway does Evita

Madame X is available in Box Set, CD, Vinyl and Cassette!
Get your copy HERE!