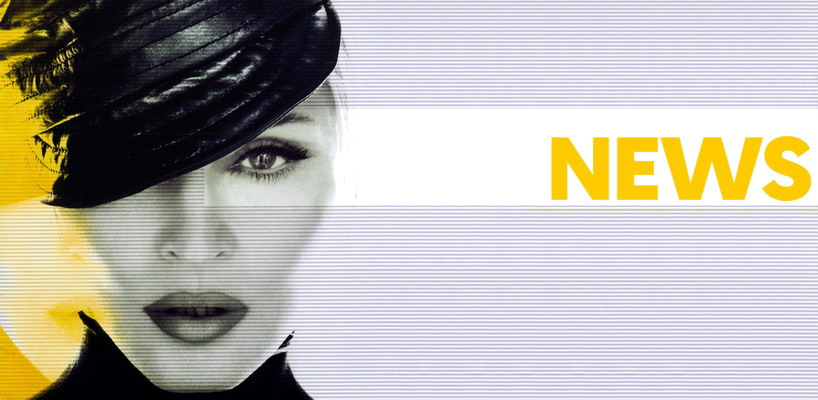 Lea Michele: Madonna would be great on Glee
Lea Michele who is now well known for her performances as Rachel Berry in Glee, is a massive Madonna fan and she even though of the perfect role on the programme for her.
She told new! Magazine…
"That [a cameo] would be great – she would be amazing!
I think she could be the health teacher or something.
Maybe the sex education teacher!"
Venus D-Lite, the Madonna impersonator
In season three of RuPaul's Drag Race, Venus D-Lite was introduced as a performer with ten years experience and a reputation for pulling off outstanding celebrity impersonations including Madonna.
Unfortunately he was eliminated from the show. Here's what he had to say…
"I'm just as confused as everyone else, I would say.
I thought that my drag credentials would have tickled RuPaul's curiosity to what I could do creatively."
I would have loved to have shown a little more of my bubbly personality and my creativity.
My make-up skills, my costumes My Madonna impersonation.
That's the one thing I regret, not being able to show it, being able to show my creativity as Madonna.
(Her Confessions on the Dancefloor album) was so popular when I was performing it that I had to have all my costumes and shoes replaced. All my leotards were ripping and shoes were breaking on stage," Venus recalled. "That was the most memorable time of me performing Madonna…
I even dislocated my pinky finger performing it at Arena."
Another Glee Rumour
It's all over the web and it's ridiculous. According to News of The World, the Glee cast could be touring with Madonna at some point in the near future.
However, Gossip Cop confirms through Madonna's people that there are no plans to have the "Glee" cast on her tour.
Sharon Osbourne is Sorry
According to UK tabloid, Now Magazine, Sharon Osbourne apologized because she slammed Madonna in the past.
In 2005, she told GQ magazine that she 'would like to punch her'. She minced no words a month later when she griped about Madonna's changing image:
"One day you're in gun gear, then you're in horsing gear, then you dress like a dyke, then you dress like a hooker, then you're in a flowery dress reading kids' poetry looking like a librarian, then you're back looking like an old hooker again."
According to Now, Madonna didn't want Kelly Osbourne to be the face of the Material Girl line because she's sill mad at her mother. But Sharon Osbourne was apparently keen to bury the hatchet so that Kelly could be a serious contender. She tried to phone her, but Madge wouldn't take the call, so Sharon wrote a nice letter and sent flowers.
At Madonnarama, we don't believe a single word in this story…
True Blue in Lego by Aaron Savage
British artist Aaron Savage loves music as much as he loves Legos. He has recreated dozens of the iconic album covers with the help of these childhood toys.
Have a look at his version of Madonna's album "True Blue" cover…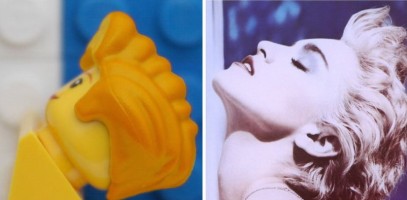 Brian Einersen: Madonna should sing jewish
According to comic Brian Einersen, Madonna should revisit and re-record her hit songs in a Jewish way!.
So Brian says Madonna should sing:
"You must be my lucky star of David."
"Rabbi Don't Preach. I'm keeping my condo."
"Neurotic, neurotic. Take your hands off my body. Or I'll sue."
(And to the tune of "Vogue") "Come on and sue, sue. Let your lawyer fill out the paperwork. Oy vey."
And how about "Like a Prayer (For The Dead)"?
Watch the video:
Jewels for Madonna
Jewellery designer Hanut Singh revealed he designed skulls for Madonna…
Apparently she was sent almost 15 pieces of jewellery to choose from before she asked for a pair of skull earrings to match her eyes.
He confessed…
"Designing for her was the biggest deal for me."
Lady Gaga, Queen of Youtube
Lady Gaga is winning the high tech battle over the internet while Madonna falls far behind her and the likes of Taylor Swift, Rihanna and Shakira.
According to social media chart groovecount, Madonna ranks at a lowly 60th place, with less than 1/10th of Lady Gaga's online youtube viewership.
Ray Caesar couldn't say yes to Madonna
At 52, Canadian artist Ray Caesar revealed that Madonna has requested commissioned pieces from him, but he couldn't says he works too intuitively to oblige.
"I desperately want to, but how do I do it?
People want portraits. I don't do portraits."
Kylie Minogue ditched for Madonna?
Priscilla Queen of the Desert, the musical, is to have a few changes for its Broadway debut.
According to the totally unreliable Mirror, the West End show features numerous mentions of Kylie Minogue but bosses of the hit musical are replacing Kylie with Madonna's name in the US version.
'Revolver' Remix Nominated For A Grammy Award
As we previously annouced before, David Guetta's remix of "Revolver" is nominated for a Grammy Award in the 'Best Remixed Recording' category.
The 53th Annual Grammy Awards ceremony will take place on February 13th. Make sure to watch!
Madonna listed as one of the Least Desirable Celebrity Wives
In a poll by My OK! Wedding magazine, in which readers were asked who would be a terrible spouse, Madonna came at #8.
And the results are…
Least Desirable Celebrity Wife:
1. Amy Winehouse
2. Lindsay Lohan
3. Britney Spears
4. Heather Mills
5. Gwyneth Paltrow
6. Katie Holmes
7. Lady Gaga
8. Madonna
9. Nicole Kidman
10. Sarah Jessica Parker
Causing a Commotion: Madonna and the Pop Explosion
"Women Who Rock" are going to be highlighted at the Rock and Roll Hall of Fame and Museum with a groundbreaking and provocative exhibit, featuring female superstars like Madonna and Britney Spears.
"Women Who Rock: Vision, Passion, Power" are about to take visitors through an interactive journey highlighting the firsts, the bests, and most memorable moments of 60 pop culture icons and female artists who have played important roles in rock and roll. The exhibit, which will fill two floors of the museum, will feature video, listening stations, artifacts, and more. A recording booth will be feature, where visitors can record or film their own moments inspired by women in rock.
Through the eras and leading up to the present day, the exhibit even takes a closer look at some of the female pop princesses who not only used their talent but their sexuality to become some of the most talked-about performers in history in a portion of the exhibit called "Causing a Commotion: Madonna and the Pop Explosion."
"Causing a Commotion" explores the controversial female artists who pushed the boundaries of what's expected of female pop singers, including Madonna, Britney Spears, Cyndi Lauper, Janet Jackson, Christina Aguilera and Gwen Stefani.
The "Women Who Rock: Vision, Passion, Power" exhibit begins at the Rock and Roll Hall of Fame Museum in Cleveland on May 13th.
Lourdes is one of the most stylish children on the planet
Madonna's teenage daughter Lourdes Leon and Suri Cruise have been named the most stylish children on the planet.
The children topped the survey of 2,400 adults, conducted by superstore Woolworths.co.uk.
The poll was carried out to rank celebrities and their famous offspring based on style.
Unlike her on-trend daughter, Madonna was named the least stylish celebrity parent with just 1% of the overall vote.
Madonna's official VEVO channel
A few days ago, a Madonna VEVO channel appeared on YouTube and is being updated with all of her music videos…
Real or fake?
Have a look: MadonnaVEV0
Thanks Agustin

Madame X is available in Box Set, CD, Vinyl and Cassette!
Get your copy HERE!