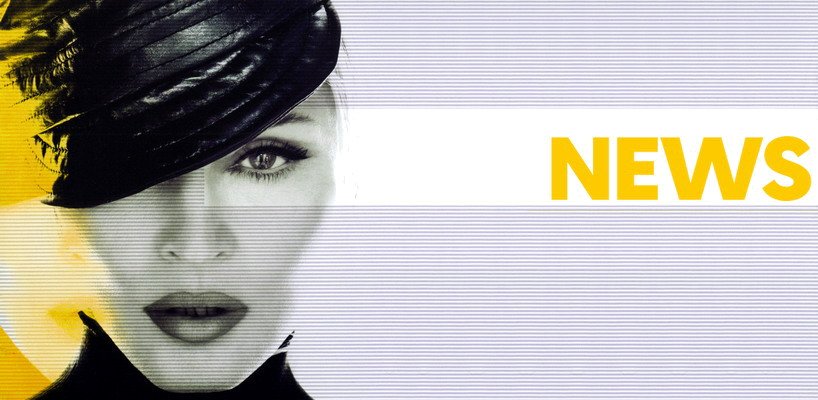 Pharrell confirm to be working with Madonna Again
New rumour apparently coming from The Herald Sun Australia (even though it's nowhere to be found on the paper's website)
Speaking from a Miami studio, Williams talks about his jam-packed calendar for 2011.
"I've just been all over the place from project to project. Right now I'm working on lil' Neptunes music. And there's another Despicable Me. We've also got some stuff going on with Madonna."
The most-mentioned celebs in UK over the last decade
Madonna has been crowned the most talked-about celebrity of the noughties. She has had her name mentioned in UK print media more than any other star since 2000.
Brian Merron, of researcher Kantar Media, said: "This shows why she's hailed as a legend."
Decade's top 10:
1 Madonna, 46,017.
2 Simon Cowell, 29,888.
3 Robbie Williams, 28,563.
4 Kate Moss, 28,056.
5 Britney Spears, 27,588.
6 Victoria Beckham, 25,833.
7 David Beckham, 24,953.
8 Michael Jackson, 24,688.
9 Paul McCartney, 21,556.
10. Kylie Minogue, 19,694.
Ozzy Osbourne "Lady Gaga could be the next Madonna"
The metal legend and unlikely reality star sat down with Us Weekly to talk about Gaga being the next Madonna…
"I do think Lady Gaga should take a break for a little while. She's getting too much. And she doesn't watch the the exposure of her clothes. She's just too overexposed. She could be the next Madonna if she played her cards right."
Too Hot For MTV: Ten Controversial Music Videos That Got Banned
Billboard made a chronological list of the 10 truly controversial videos deemed too hot for MTV (at least during daylight hours) — four by Madonna alone!
Duran Duran, "Girls on Film" (1981)
A series of erotic vignettes, including suggestive pole dancing, pillow fights, sumo wrestling and one very oily massage, was more than enough to get Duran Duran's breakthrough hit banned by the BBC, and that's before anyone factored in full-on nudity (see the six-minute uncensored version here). Shot just weeks before the launch of MTV, the band savored the controversy, which didn't just give them exposure, but anointed them music video pioneers.

Mötley Crüe, "Girls, Girls, Girls" (1987)
Shot at the Seventh Veil Strip Club in Hollywood, Motley Crue's raunchy tribute to bikes, babes and booze could have just as easily been titled "Boobs Boobs Boobs." The video lap dance came as the band had reached its commercial peak, and while it was banned by MTV – for nudity, 'natch – it did little to thwart album sales, which eventually topped four million.

Madonna, "Like a Prayer" (1989)
Now regarded as groundbreaking, when "Like a Prayer" made its TV debut, the country let out a collective gasp. Using Catholic iconography to tell the story of a black man wrongly accused of murdering a child, Madonna bears witness to the injustice in the video, and is later shown kissing the Saint on the mouth. Critics of the clip insisted Madonna was locking lips with a black Jesus, and the ensuing controversy cost her a national Pepsi promotion — the commercial only aired once – but won her the MTV Viewer's Choice Award that year.

Madonna, "Justify My Love" (1990)
Never one to shy away from controversy, Madonna took MTV's banning of her 1990 video for "Justify My Love" all the way to the bank, releasing it as the first-ever VHS video single (packaged in a plain black slip, to resemble other seedy videos). Racy even by Madonna's standards, the video put sadomasochism, bisexuality and androgyny on full display, along with a host of explicit bedroom acts. The song did make its way onto broadcast, however, when ABC's Nightline aired it along with a Madonna interview. Weeks later, it topped the Billboard Hot 100 chart.

Garth Brooks, "The Thunder Rolls" (1991)
The country superstar used the music video for his 1991 hit "The Thunder Rolls" as a way to raise awareness to the growing problem of domestic violence. Deemed too graphic for CMT viewers, the network pulled it one day after its premiere, stating that the company was "in business to entertain, not to promote or condone gratuitous violence or social issues." The controversy centered around one scene in which a husband comes home and beats his wife to a pulp while their daughter looks on, which is about as gratuitous as a hole in the head.

Madonna, "Erotica" (1992)
MTV aired Madonna's post-"Justify My Love" video "Erotica" a total of three times, after which it pulled the sexually charged clip. Featuring cameos by Naomi Campbell, Isabella Rossellini, and Big Daddy Kane, the star is undoubtedly Madge as a masked dominatrix, in what are essentially scenes played out from her 1992 book, Sex. A more explicit version, containing full-frontal nudity, was released in Europe and Australia.

The Prodigy, Smack My Bitch Up (1997)
With a title like "Smack My Bitch Up," it's no surprise that The Prodigy's breakthrough hit would anger feminists, but the video took shock value to the next level (see the uncensored version here). Playing out like a mini version of Trainspotting, the clip dives in for a close-up of the toilet, a sink with vomit, a seedy strip club, warts — and breasts — and all. Relegated to after-midnight viewing on MTV (preceded by a disclaimer), it didn't hurt Prodigy's showing at the VMAs that year — the band was nominated for four awards and won two, including Breakthrough Video.

Enrique Iglesias, "Sad Eyes" (2000)
This rarely referenced early clip directed by David Lachapelle is as hot as the Latin heartthrob himself. Playing the part of a lonely pop star named, er, Enrique, it paints a picture of life on the road that includes picking up prostitutes, calling sex chat lines, pole climbing and lots of masturbation. The steamy video was promptly shelved, but has since been rediscovered online.

Madonna, "What It Feels Like For a Girl" (2001)
Madonna as vigilante is the theme of this 2001 clip, directed by her then husband, filmmaker Guy Ritchie. Relegated to overnight play by MTV and VH1 due to its violent content, Madonna and an elderly accomplice launch into a massive crime spree in which they blow up a gas station, kill an innocent bystander and then commit suicide, all under the influence of pills and liquor.

M.I.A., "Born Free" (2010)
In the YouTube era, M.I.A. carries the controversy flag with her ultra-violent video for "Born Free" (directed by Romain Gavras). Making reference to bloody rebellions like the Palestinian "Intifada" and the Irish Republican Army's decades-long campaign, the nine-minute clip also shows S.W.A.T. teams shooting a young boy in the head, raiding an elderly couple's bedroom mid-coitus and assaulting anyone and everyone who stands in their way. Removed temporarily by YouTube (it was later reposted with an age requirement), the war of words continued in the press, where the Sri Lanka-raised Maya found herself on the defensive.

Madame X is available in Box Set, CD, Vinyl and Cassette!
Get your copy HERE!