Pete Burns: Lady Gaga rung the death knell for Madonna!
Former Dead or Alive frontman Pete Burns gave an interview to UK magazine Boyz. In the process he mentioned Madonna and Lady Gaga…
When I got her album I couldn't believe it: Oh my God, that girl's got talent! She's rung the death knell for Madonna. That girl can actually sing and she can write, and if I could work with anyone, there are two people I'd love to work with – Gaga and Beth Ditto. And Beth Ditto's in the pipeline. God she's talented. And so's Beth Ditto. I tend to like only female singers.
Madonna and Lady Gaga Collaboration
Gatecrasher, New York Daily News' gossip column by Frank DiGiacomo, Carson Griffith and Adam Caparell, apparently heard a rumour about a possible collaboration between Madnona and Lady Gaga.
Here's what they had to say…
Stereo divas? We hear that Madonna and Lady Gaga have discussed performing together in a dual concert extravaganza similar to the Face 2 Face shows that piano men Billy Joel and Elton John did a few years back. Gaga's reps didn't respond to our requests for comment, but Madonna's spokeswoman Liz Rosenberg replied that the Material Girl's manager "laughed" when she ran our item by him. She then instructed us to "go to the title of Stevie Nicks' new album for the answer." That would be "In Your Dreams." D'oh!
Nicki Minaj wants to work with Madonna
Nicki Minaj went on ABC's "Good Morning America" where she performed a few songs and was interviewed by Robin Roberts.
Robin Roberts: You've worked with some wonderful artists. Is there anyone that you haven't worked with that you're looking forward to?
Nicki Minaj: Hmm…. Madonna!
And, and, and… the person that I was in love with since I bought my first album, Lauren Hill.
The Daily Mail already boycotting W.E.?
Is British tabloid The Daily Mail already trying to sabotage Madonna's upcoming movie W.E.?
Here's what Peter Buchanan wrote for the Examiner.com.
The Chicago test screening of Madonna's W.E. went very well, I am told. Most of the people surveyed gave the film a great rating and barely anybody said the film was bad. A recent screening in New York City and Westwood, CA provided the same results. Both Madonna and Harvey Weinstein, who is distributing the film, are said to be happy with the results.
The Daily Mail, a notorious British tabloid, tried to destroy the film last month by saying its original test screening results went wrong. However, it was soon revealed that the source of the bad test screening was an anonymous poster on a Gay sex site called Data Lounge. "The Daily Mail article was laughable from the start," a source from Movie Data Marketing told me. "They cut and pasted comments from a poster that couldn't even get basic facts about the film correct."
This morning, there were posts on several movie forum sites by a person with the user name bshff74, who was looking for people who saw test screenings of W.E. to reveal bad information about the film. Here is what part of the message says:
"I am a reporter who writes for a couple famous British newspapers and some in America. I already reported on the bad first test screening of the film and will cover the film and its (possible) negative reception for the next six months. I am looking for people who saw one of the test screenings. There may be some $$ involved if you let me interview you."
The post goes on to ask several questions which are obviously looking for negative answers. Many who have done some research are saying that the author is from the notorious British tabloid the Daily Mail. Authors from this tabloid have—in the past—posted similar content on message boards looking for negative information but have never been this blatant. Others are saying that the posts appear to be from an Internet "troll" who has too much time on their hands.
The 30 All-TIME Best Music Videos
Time Magazine takes a look back at the most memorable clips from three decades' worth of music television. Madonna made the list with her 1989's single "Express Yourself".
Madonna has always been a keen student of pop-culture history, and her creative powers were probably at their peak in the late 1980s on the album Like a Prayer. But while the title track generated the most controversy, the multimillion-dollar video for "Express Yourself" generated the most praise. Shamelessly ripping off the 1920s Fritz Lang classic Metropolis (the epigraph of the clip — "Without the heart, there can be no understanding between the hand and the mind" — paraphrases a recurring mantra of the movie), a young director by the name of David Fincher expressed himself by harnessing all of Madge's signature leitmotifs (the blond hair! her outfits! naked men! a running metaphor to do with a cat!). The video is as powerful to watch as the star herself.
MovieLine's top 7 acting pop stars
MovieLine posted their Top 7 acting pop stars and their best performances in music videos.
Here's what they wrote about Madonna…
Madonna
Best Performance: "Take a Bow"
It's hard to pick Madonna's finest acting moment in music videos – as she's veered from youthful angst ("Papa Don't Preach") to fiery revolt ("Like a Prayer") to utter solemnity ("The Power of Goodbye") – but "Take a Bow" combines a bit of everything. Madonna insisted on a Spanish theme since she was lobbying for the title role in Evita at the time, but her performance in "Take a Bow" is somehow more commanding than her stint as Eva Peron: She's a lonely, miserable, and desperate bullfighter's wife whose isolation leads her to one memorable lovemaking session with a television set. It helps that the video (along with Madonna, here) is gorgeous.
Runners-Up: "Open Your Heart," "Express Yourself," "I Want You"
The Billboard results are in
Billboard.com launched different polls to celebrate 30 years of music video television revisiting each decade's best.
The results are in:
Top 10 videos of the 1980s
1. Thriller – Michael Jackson (1983)
2. Like a Prayer – Madonna (1989)
The religious imagery in the 1989 hit quickly got Madge into hot water with Pepsi, whom she was doing commercials with at the time. But nevermind the fact that the Vatican condemned it, the scenes of crosses and Madonna getting cozy with a saintly character in a church have remained memorable for 20+ years.
3. Girls just wanna have fun – Cyndi Lauper (1983)
4. Take on Me – A-Ha (1985)
5. When Doves Cry – Prince (1984)
6. Sledgehammer – Peter Gabriel (1986)
7. Hungry like the wolf – Duran Duran (1983)
8. Walk this Way – Run-D.M.C & Aerosmith (1986)
9. Every Breath you take – The Police (1983)
10. Rythm Nation – Janet Jackson (1989)
Top 10 videos of the 1990s
1. Baby hit me one more time – Britney Spears (1998)
2. Scream – Michael and Janet Jackson (1995)
3. Vogue – Madonna (1990)
Madonna, like Jacksons Janet and Michael, knows that one way to make your video a must-watch is for it to couple a great song (check) with an irresistible dance routine (check). Add a black-and-white look that's straight out of 1940s Hollywood's glamorous silver screen era, and you've got "Vogue," which continues to remind all just how well Madonna knows how to strike a pose.
4. Freak on a leash – Korn (1999)
5. Smells like Teen Spirit – Nirvana (1991)
6. My Name is – Eminem (1999)
7. The Rain (Supa Dupa Fly) – Missy Elliott (1997)
8. Waterfalls – TLC (1995)
9. November Rain – Guns N'Roses (1992)
10. Virtual Insanity – Jamiroquai (1997)
Truth or Dare in HD!
Tomorrow night is Madonna night on Franco-German television channel ARTE.
They will be airing "Desperately Seeking Susan" at 20h40 and later that night they will broadcast "Truth or Dare". Both movies will also be broadcasted in HD!
Thanks to Basti (@djcooky78)
Evi Vine covers Lucky Star
Evi Vine covers Lucky Star on the "Queens of Pop" live show broadcasted on ARTE.
The 50 Degrees choir sings Sorry
The 50 Degrees choir Performing Madonna's 'Sorry' at The Port Eliot Festival 2011.
Madonna in Venice – Like A Director?
Liz Smith is excited about the Venice Film Festival which will feature Madonna's W.E.
Here's what she wrote…
But, the movie whose reception I am most anxious to hear about is "W.E.," directed by Madonna. This film weaves two corresponding tales – one about the kingdom-shaking romance of Duke and Duchess of Windsor; the other about a young modern woman, fascinated with the tale of Wallis Simpson and King Edward VIII. Nothing Madonna has ever done professionally – no album, no concert, no acting job – has consumed La Ciccone as has "W.E." She's poured everything she's got into the movie. To say it has been an exquisite labor of love would be vastly understating her effort, commitment and talents.

Aside from possibly a few of her four children and perhaps a gentleman to hold her hand, Madonna will surely be accompanied in Venice by Harvey Weinstein, whose company will release the movie, later this year. After "W.E." shows in Venice, it moves on to Toronto.

Some people might assume Madonna will be a little wistful in Venice, recalling the voluptuous girl, writhing along the fabled canals, in 1984's classic video, "Like a Virgin."

But they'd be assuming incorrectly. Madonna never looks back. She is totally in the now and in the future. She probably doesn't even remember the 1980's anymore -that was another life; she was another person. And so were the rest of us. Remember the shock waves caused by a pop song with the word "virgin" in the title?
Julie Burchill slams Madonna… again
Julie Burchill, English writer and columnist, better known for all her negative articles on Madonna, recently wrote something for The Sun.
Even though the article "Rest in peace, brilliant girl" was about Amy Winehouse and her tragic death she still managed to bash Madonna.
Three years ago I wrote a piece about Amy for The Sun. I may have drawn the wrong conclusion (in hoping she would survive), but I stand by every line. In my piece I described how bestriding the modern music scene like a pouting, bee-hived, fag-ashed King Kong, Amy was indeed the anti-Madonna – lividly young, extravagantly unhealthy and magnificently talented.
…
Without meaning to – and without trying – she made most other contemporary female singers seem pointless and phoney. You can't take that away from her.

Compare the lyrics of her songs with Madonna's – say, Tears Dry On Their Own with Hung Up – and try to work out who is the worldly-wise 50-year-old and who the callow 24-year-old.

We've been so used to/conned by female singers who are AMBITION-LED rather than TALENT-DRIVEN that we seem to have forgotten how truly gifted singers historically behave.

Edith Piaf, Judy Garland, Billie Holiday – for some reason women who have a great talent for singing also have a great capacity for reckless behaviour.

Whereas if your talent is an itsy-bitsy, teeny-weeny sickly little thing – see Madonna – then you have to behave the very opposite of recklessly in order to preserve it. Like going to the gym for three hours a day.

I think it's rather tragic and cretinous to EXPECT entertainers to be "role models" – hello, the clue is in the word ENTERTAINER.
Madonna's stalker pleads not guilty to burglary Charges
Back in March, when Madonna was in Bay City, Michigan, paying her respects to her late 99-year-old grandmother, Elsie Mae Fortin, who had helped raise the singer and her five siblings after their mother died of breast cancer, Grzegorz Matlok was arrested after breaking into Madonna's £10 million home in London.
On Wednesday (3 August 2011), a court heard how Matlok allegedly used a rope to climb up to Madonna's balcony and took a can of energy drink Red Bull.
The 30 year old pleaded not guilty to three counts of burglary and was remanded in custody. A trial date has been set for 12 September 2011, according to OK.co.uk.
Express Yourself: Michael Griffiths gets his Madonna on at Slide
Give Michael Griffiths a grand piano, some Madonna tunes, a microphone and a spotlight and you'll end up with one hell of a show.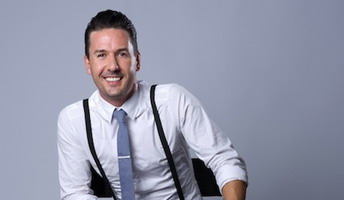 If you're ready to Strike A Pose and Express Yourself with Madge, head on down to Slide Bar in Sydney this Wednesday to see Griffiths' one man show, In Vogue: Songs By Madonna.
A current Jersey Boys cast member, classically trained pianist and consummate performer, Michael Griffiths is a self confessed Madonna fan, but quick to explain that this show is not your run-of-the-mill tribute.
"A Madonna tribute would traditionally suggest I wear a gold conical brassiere, blonde wig and BE her. Or that I, as Michael, tell stories like 'when I was six, my mother bought me Holiday on vinyl…' This is not that kind of show", he said.
"It's an exercise in camp in a lot of ways – it's like an alternate reality, really. Yes, it's about her life, but it's also about giving her credit as a song writer. I speak as Madonna in the first person, but I sit behind a grand piano and play all the music myself", he laughed.
In VogueGriffiths admits that the idea of Madge accompanying herself on a grand piano in cabaret is quite absurd, but the format enables him to truly celebrate her songs and her talent as a songwriter. The evening is about suspending one's disbelief for an hour in order to celebrate the music of the world's most re-invented pop star.
Written and directed by Dean Bryant (assistant to Simon Phillips at the MTC), the show premiered at the Adelaide Cabaret Festival in June with huge success. While branching away from the notion of a 'tribute' show, Griffiths explains that the show is most certainly a cabaret event:
"It's a cabaret show in the most simple, strict and traditional sense. It's stories told through cabaret and song. I don't just chat, do a song, chat, sing a song… it's all very integrated. There are 35 different Madonna tunes used in the show in some form. "
Madonna's songs are incredibly biographical, and Griffiths believes it is nearly impossible to discuss her myriad of material without also discussing her life.
"Moments which have informed her work come into the spotlight also. It's not a conventional show about her life, but her art is characterized by her life", he said.
So head on down to Slide in Darlinghurst for this one night only event, and see the very talented Michael Griffiths in action. This beautiful stranger will take you through the ups and downs of his Madonna CD collection (yes, every CD in the poster belongs to him, and that's just the start!) in a guaranteed great night out!
Venue: Slide Lounge, 41 Oxford Street, Darlinghurst
Date: Wed 10 August 2011
Prices:
Dinner and Show $60.00 7pm (pre purchased only)
Show Only $25.00 at 9pm (pre purchase and at door)
Bookings: T: 02 8915 1899 or email [email protected]

Madame X is available in Box Set, CD, Vinyl and Cassette!
Get your copy HERE!