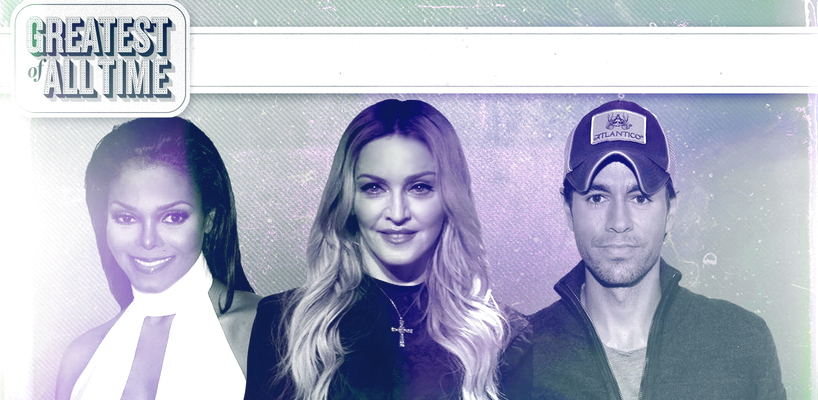 The icon is the queen of the chart's first 40 years.
Madonna is the No. 1 Billboard Dance Club Songs artist over the last 40 years, dating to the chart's 1976 inception. The icon reigns thanks largely to her record total of 46 No. 1s, the most of any artist on any single Billboard chart, and her consistently dazzling performance on the tally since her 1982 debut.
In the Dance Club Songs chart's history, in addition to her unmatched 46 No. 1s, Madonna owns the record for the most top 10s: 60. Janet Jackson follows with 33.
Fittingly, following Madonna on Billboard's Greatest of All Time Top Dance Club Songs Artists list is Ms. Jackson at No. 2. Rihanna ranks at No. 3, followed by Beyonce (No. 4) and Pet Shop Boys (No. 5), the top duo or group; Depeche Mode (No. 10), Erasure (No. 19) and New Order (No. 25) follow in the duo/group category. Enrique Iglesias, at No. 14 overall, is the top male soloist, followed by Prince (No. 24), Michael Jackson (No. 26) and David Guetta (No. 27).
Billboard's Greatest of All Time Top Dance Club Artists:
1. Madonna
2. Janet Jackson
3. Rihanna
4. Beyonce
5. Pet Shop Boys
The Greatest of All Time Top Dance Club Artists ranking is based on weekly performance on Billboard's Dance Club Songs chart, from its Aug. 28, 1976, inception through Aug. 27, 2016. Artists on the all-time chart are ranked based on the combined point totals of all their Dance Club Songs chart entries (with songs ranked based on an inverse point system and weeks at No. 1 earning the greatest value and weeks at lower spots earning the least; due to changes in chart methodology over the years, eras were weighted differently to account for chart turnover rates over various periods).
Across four decades, Madonna has kept her sound fresh, current and uniquely her own, all while collaborating with a flurry of writers, producers and remixers. Whether delving into disco, house, R&B, hip-hop, dubstep or EDM, Madonna has burned up Dance Club Songs for 34 years and counting.
Madonna, who rose out of New York City nightclubs like Danceteria, debuted on Dance Club Songs (then known as the Dance/Disco Top 80) at No. 40 with "Everybody," produced by Mark Kamins, on the chart dated Nov. 6, 1982. The song reached No. 3 on Jan. 8, 1983, the first of four top five hits from her self-titled debut album. On Sept. 24, 1983, Madonna hit No. 1 for the first time with the double-sided "Holiday"/"Lucky Star," which ruled for five weeks. In 2000, "Music" (also the most recent of Madonna's 12 Billboard Hot 100 No. 1s) tied "Holiday/Lucky Star" for Madonna's longest No. 1 reign.
Madonna has scored two sets of seven consecutive No. 1 Dance Club Songs singles. The first began with "Causing a Commotion" on Oct. 31, 1987, continued through three leaders from Like a Prayer, among others, and culminated with the MTV-banned, Lenny Kravitz-co-produced and William Orbit-remixed "Justify My Love" on Jan. 19, 1991. The second streak started on March 13, 1999, with Madonna's third topper from Ray of Light, "Nothing Really Matters," and lasted through her fourth No. 1 from Music, the promo-only, Peter Rauhofer-remixed "Impressive Instant" (Nov. 17, 2001).
Madonna's lone full-length remix album You Can Dance hit No. 1 on Dance Club Songs in 1988, as full-length albums (a la Michael Jackson's Thriller and many others) were allowed to chart as single entries at the time (until Feb. 23, 1991). Powered by the previously unreleased "Spotlight," produced by Stephen Bray and remixed by John "Jellybean" Benitez, along with remixes of album tracks like "Over and Over," a Nile Rodgers-produced Like a Virgin tune, and True Blue's "Where's the Party" (in addition to "Holiday," "Into the Groove" and more), Dance kept fans and DJs busy for months.
In 1990, Madonna, with Shep Pettibone, surfaced an underground dance trend while name-dropping movie stars whose careers largely predated her fans with the No. 1 "Vogue." In 1993, she transformed jazz-pop standard "Fever" (released in the U.S. as the B-side to ballad "Bad Girl") into a topper with Murk Boys mixes. In 1997, Madonna re-worked Evita classic "Don't Cry for Me Argentina," remixed by Pablo Flores and Javier Garza, into a Club leader, while, in 2000, she took Don McLean's classic rock story-song "American Pie," with its Richard "Humpty" Vission and Victor Calderone remixes, to the summit.
Madonna's record-extending 46th and most recent No. 1, the Diplo co-production "B**** I'm Madonna," featuring Nicki Minaj, topped the chart on Aug. 15, 2015. The third leader from her most recent studio effort, Rebel Heart, was remixed by Sander Kleinenberg, Sick Individuals and Fedde Le Grand, among others. On Dec. 9, fans can revel in a full broadcast of Madonna's Rebel Heart Tour on Showtime.
Next up, Madonna will be honored as Billboard's 2016 Woman of the Year. The 11th annual Women in Music event is scheduled for Friday, Dec. 9, in New York and will air on Lifetime Monday, Dec. 12.

Madame X is available in Box Set, CD, Vinyl and Cassette!
Get your copy HERE!
comments powered by

Disqus