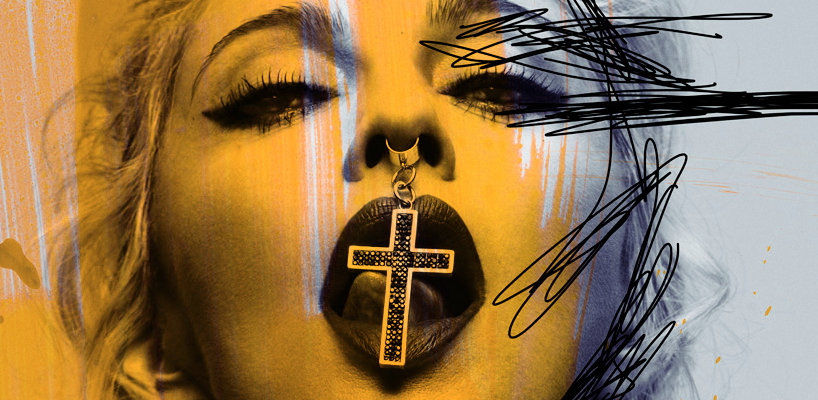 HuffPost Entertainment Editor, Matthew Jacobs interviewed Madonna for 30 minutes at Interscope Records' office near Times Square.
They talked about various topics… the early leaks, Kany West, Giorgio Armani, her Instagram posts and even a possible David Letterman appearance in the future.
On the early leaks…
It was really hard on everybody. Everybody became very paranoid. It was like, 'Oh, it could be anybody. It's got to be somebody close.' I was worried it was an engineering assistant or somebody that had access to everything.
When asked whether she agrees with Kanye West calling her "the greatest visual musical artist that we've ever had", Madonna answers…
That is a trick question. Um. I think Kanye is a … brilliant man. Brilliant, brilliant. He says some very pithy things sometimes..
On Armani saying she's very difficult to work with…
That was kind of disappointing because I don't think I was difficult to work with. I never blamed my cape for not being able to untie it. In fact, the day after it happened, I posted a drawing, a beautiful drawing, of the cape and thanked them for my costume. I didn't blame what happened on anyone, so I don't really know why they did that. I think that was a knee-jerk reaction on their part thinking they were going to get criticism, so they just had to make me the bad guy. Not very elegant, I don't think.
Madonna explains that she only apologizes "when I see that there's a huge fire that's about to blaze through the center of the universe and I have to put the fire out — especially if it comes to my children."
In the case of the N-word gaffe, Madonna says it was Rocco who told her how to caption the photo…
It was the one time that I listened to my son. It was his idea. I was like, 'What caption do you want me to put on it?' And I did. I wasn't thinking.
On being controversial…
There's a part of my character that's on automatic, that just likes to be a provocateur. And to a certain extent, maybe some of the things that I did didn't really have any thought process behind them necessarily, but they got attention. I wasn't really thinking of anything specific. I mean, I could even think of shows that I did on the Lower East Side, when I was first starting in punk-rock bands. I can't say that every creative decision I made was altruistic or came from the deepest part of my soul or with the best intentions or was really well thought-out or anything like that. Sometimes I just did shit, you know? Just to, like, throw a firebomb in the room.
On critics who might accuse her of borrowing other cultures' fixtures…
Oh, they can kiss my ass. I'm not appropriating anything. I'm inspired and I'm referencing other cultures. That is my right as an artist. They said Elvis Presley stole African-American culture. That's our job as artists, to turn the world upside down and make everyone feel bewildered and have to rethink everything.
Lightning round…
– Favorite Instagram Filter: X-Pro
– Five most iconic songs: "Like a Prayer," "Like a Virgin," "Ray of Light," "Express Yourself" and "Vogue"
– Katy Perry's Super Bowl halftime show looked "exhausting" ("That drunk shark!" she says)
– Madonna would "rather not" list which musical acts she's listening to at the moment
– Matthew Jacobs tell her it's David Letterman's final year on the air (she wasn't aware), and Rosenberg interrupts to say Madonna will be making an appearance because "she loves him." With one question left,
– The best party she's ever attended — excluding her famed Oscar soirée: "None. Only I throw good parties."
Full article at huffingtonpost.com

Madame X is available in Box Set, CD, Vinyl and Cassette!
Get your copy HERE!
comments powered by

Disqus