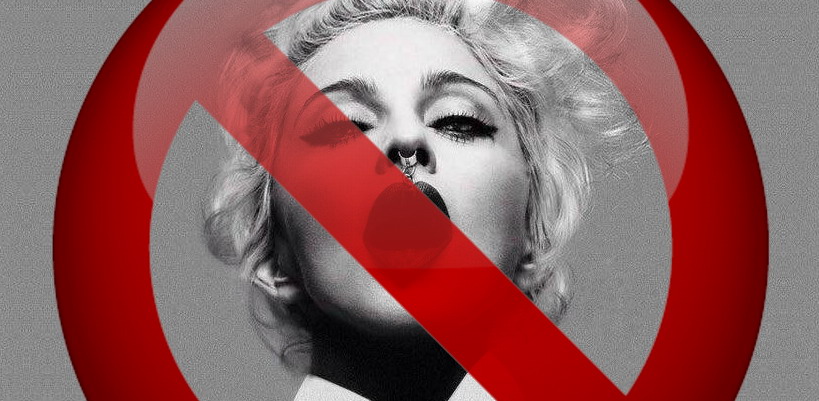 Update: DJ Scott Mills agrees with BBC Radio 1's Madonna ban
Talking to The Mirror, British radio DJ Scott Mills, who has his own show on BBC Radio 1, explains why he agrees with the ban…
I don't actually mind the new single. Do I think Radio 1 should play it? Probably not.

They're trying to get the average age of the listener down and, to be honest, most Madonna fans are in their 30s and 40s.

When you've got more relevant up-and-coming artists and bands and there's a space on the playlist, then it's in the BBC Radio 1 remit that it should go to a British artist anyway.

So although DJs have no say on what does or doesn't get played, I completely understand why they don't play her.

I've never actually interviewed Madonna but I am slightly terrified of her.
But hey, in a couple of years, I can go over and play Madonna on Radio 2!
—
Update: BBC Radio 1 Statement added
BBC Radio 1 denies banning Madonna and posted the following on their Facebook page…
Radio 1 does not ban anyone – please don't believe the papers.

The tracks played on Radio 1 are chosen on musical merit and their relevance to our young audience on a case-by-case basis, and whilst around 40% of the country's 15 to 29-year-olds tune into Radio 1 each week, an artist's age is never a factor.

In fact, Paul McCartney currently has two tracks – 'FourFiveSeconds' and 'Only One' – on the Radio 1 playlist.
We have hard time believing this statement, especially if you take into account that both tracks 'FourFiveSeconds' and 'Only One' are sung by Rihanna/Kanye West and only have Paul McCartney on as a featuring guest.
Also, Madonna isn't the only one having a hard time getting airtime on BBC Radio 1 as artists like Cliff Richard, Take That, Kate Bush and Robbie Williams are struggling too.
What do you think?
—
The original article continues below:
Madonna's new single "Living For Love" has apparently only been played once on BBC Radio 1. According to the Daily Mail, the only airtime the track received was on January 9th when DJ Annie Mac played it on her evening show. But that was after 7pm, when songs not on the playlist can be broadcast.
A Radio 1 insider said…
At the end of the day it's all about relevance. It's natural that as an artist gets older their audience goes elsewhere and Radio 1 has to reflect that.

The station has a duty to meet the needs of younger listeners. I don't think the audience is losing sleep that it is not playing Madonna in the same way that it used to.
The snub represents a remarkable fall from grace for the star who notched up 13 UK No 1s between 1985 and 2008. She finds herself alongside Sir Cliff Richard, Take That, Kate Bush and Robbie Williams on a long list of artists who struggle to get new material played on the station.
Madonna's single is being played on Radio 2, which caters for an audience aged over 35. By contrast, Sir Paul McCartney's new single will be played by Radio 1 even though the former Beatle is 72. This is because the track is a collaboration with rapper Kanye West, 37, and pop mega-star Rihanna, 26.
A Radio 1 spokesman said…
Tracks are chosen on musical merit, and while around 40 per cent of the country's 15 to 29-year-olds tune into Radio 1 each week, an artist's age is never a factor.

Madame X is available in Box Set, CD, Vinyl and Cassette!
Get your copy HERE!
comments powered by

Disqus