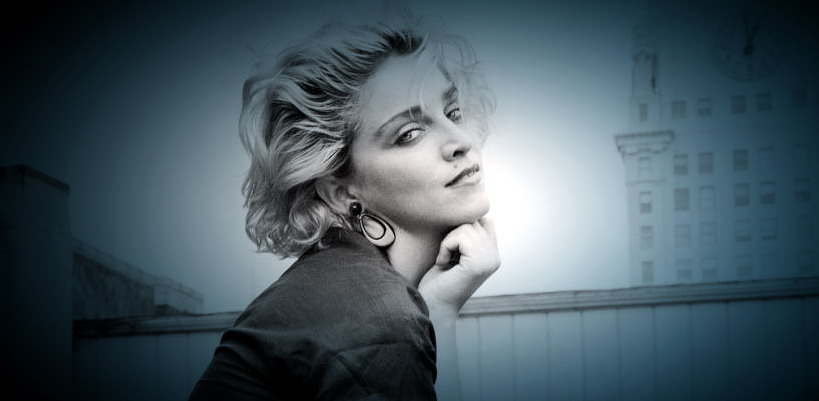 In the spring of 1983, Richard Corman photographed Madonna before the release of her first album. In an interview with Noisey, Richard looks back on meeting the singer after a casting call with Martin Scorcese and the wild New York of that period.
Noisey: How did you meet Madonna?
Richard Corman: My mother introduced me to Madonna. She was casting Martin Scorcese's The Last Temptation of Christ, and Madonna came in to audition for the role of the Virgin Mary. She did not receive the part in the film, but my mother said I had to meet this young woman. [She told me] 'I've never met anyone like her. She's an absolute original.' As I was beginning my career in 1983, I was consistently looking for interesting people to photograph, so of course I agreed to meet her.

Noisey: It was the beginning of both of your artistic careers. Did this help?
Richard Corman: For me, it was a very exciting time, as I was beginning to put my body of work together. Madonna was unlike anyone I had ever met or seen before—so charismatic, so fiercely determined, and so unique. Putting her in front of my camera made me a better photographer, as she was so fresh, sexy, confident and beautiful. Yes, it helped my career in that I was able to create an exciting body of work and gave me more confidence as a young artist. You would have to ask her if it helped her music career, but I know she supports these photographs, as they were taken at a very memorable time in her life.

Noisey: What do you feel when you look back on this photo shoot?
Richard Corman: It reminds me of what a creative carnival New York City was in the 80s. I was surrounded visually by astounding young artists (i.e. Basquiat, Haring) who, along with the energy in New York, inspired me to photograph and to be courageous in the attempt.

It's all good memories! The journey we are all on as artists is relentless and exciting. The experiences I had and have had as a photographer in many ways are more powerful than any photograph I could possibly take. Thirty years taking pictures has really been my own personal diary. When I look at any photograph I have taken, my emotions of that specific moment are very vivid.

When I met Madonna for the first time, I was told to call from a phone booth (no cell phones) from across from where she lived. She explained there were gangs patrolling her building and hood, and she needed to let the 15 to 20 [people] in front of her building know I was her friend or my physical welfare would have been in jeopardy. When I walked up to her building the sea of humanity parted, and they let me through.

Noisey: What's the story of the rooftop and the breakdance kids?
Richard Corman: Madonna was the Pied Piper of the neighborhood. Every day she would call out to the kids in the building to come up to the rooftop, where she would bring her boombox, and they would all sing and dance. She inspired them, and they inspired her. She really was like a big sister to these kids whose life at home was probably very dysfunctional. After we had taken initial photographs in her apartment, she said 'let's go up to the rooftop,' and as we left her apartment she screamed downstairs for the kids to join us on the roof. The images taken were very organic, as dance, song, play and photographs evolved. I have since been in touch with those kids today, who are 40-year-old men. Some are alive, some are in jail, and some are deceased.

Noisey: What was New York City like in 1983?
Richard Corman: New York City and the Lower East Side had its own rhythmic surge during this period. The art scene was alive and well. New York City and Madonna are part of a movement of creativity where the more you pushed, the more it yielded, and there were so many young artists pushing at once. I think this spirit is back today in New York, and this is why I have shared these images that were hidden for so long. Although Madonna has always been relevant, these photographs feel more relevant today than ever. There is an accessibility, a sense of modern style, and a sense of determination that exists today on so many levels. Madonna has always had so much to do with this, as her courage continues to speak volumes!

Noisey:Are you in touch with her still? Do you think Madonna is still a role model now?
Richard Corman:I'm in touch with her support team, not with Madonna directly. She will always be a role model, as her fearless approach to her life continues to inspire the world!

Madame X is available in Box Set, CD, Vinyl and Cassette!
Get your copy HERE!