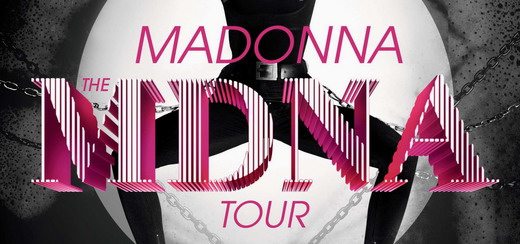 After Madonna accepted her Top Touring Artist award at the Billboard Music Awards on Sunday, she sat down exclusively with Extra's Jerry Penacoli, and opened up about her family, her Met Gala photo with Kim Kardashian and her feud with Elton John.
She also revealed that the MDNA Tour is being released on DVD and Blu-ray in September.
On family…
It was great to have a working family… to me that's my idea of fun, to be creative, to do what I love to do and see my kids working around me and earning their way in life. My daughter worked in the costume department and she loved it. My son was in the show, and he loved it.

I try to find the right balance between being there for them and guiding them and also being an artist. I'm trying to find enough time in the day to do those jobs well.

I try to be very clear with them. This is my persona for work. What we aspire to do is to work and to be good people. If you don't have those two things, fame is nothing, so I try to drill that into their heads.
On Kim Kardashian…
I met her years and years ago when she was a little girl, believe it or not. She told me she was a huge fan of mine, and it was during the time I was wearing all of the rubber bracelets on my arms. I took off all of the bracelets and gave them to her and then I completely forgot about it. She reminded me when I saw her the other night. Now she's a pregnant lady!
Madonna confirmed the reconciliation with Elton John at a restaurant in Nice, France…
After we kissed and hugged, he paid for my dinner, as he should.

Madame X is available in Box Set, CD, Vinyl and Cassette!
Get your copy HERE!