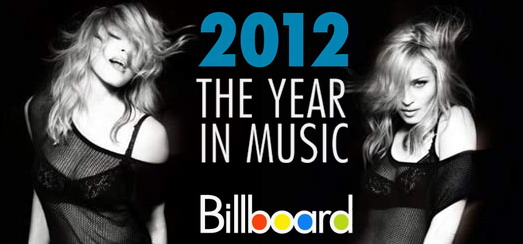 Once Billboard.com readers weighed in on their favorite artists, songs and albums of the year, Madonna emerged as the 2012 MVP and came out on top in four other categories.
Madonna's achievements included earning the most votes for favorite Billboard 200 No. 1 album with her chart-topping "MDNA"; winning the Best Tour crown for her MDNA trek, which grossed more money than any other run this year, according to Billboard Boxscore; nabbing favorite TV performance for her Super Bowl halftime show extravaganza last February; and even winning most memorable feud for her war of words with Lady Gaga. For that incredible year, Madonna was handed the MVP crown from last year's winner, Britney Spears; in doing so, she topped Frank Ocean, Taylor Swift and Nicki Minaj, who came in second, third and fourth in voting, respectively.
2012 MVP
1. Madonna (26%)
2. Frank Ocean (12%)
3. One Direction (11%)

Favorite Billboard 200 No. 1
1. Madonna, "MDNA" (12%)
2. 2 Chainz, "Based on a T.R.U. Story" (11%)
3. Adam Lambert, "Trespassing" (9%)

Best Tour
1. Madonna (43%)
2. One Direction (13%)
3. Justin Bieber (9%)

Best TV Performance
1. Madonna at the Super Bowl (38%)
2. Adele at the Grammys (20%)
3. One Direction on 'The Today Show' (9%)
Madonna was also featured in Billboard's Best of 2012 Year End Charts in many categories. You can check it out HERE

Madame X is available in Box Set, CD, Vinyl and Cassette!
Get your copy HERE!