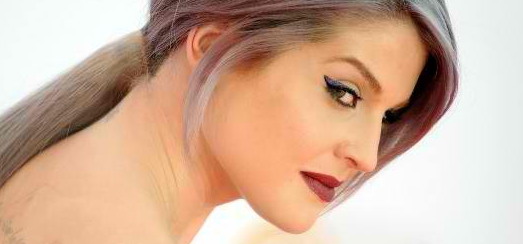 The great Kelly Osbourne was recently interviewed by FabulousMag and talked about her experience with Madonna and Lola as the face of Material Girl…
Me and Lola [that's Lourdes, Madge's 16-year-old daughter and Kelly's new best friend] call her the Voice of God," she laughs.

When we were shooting the campaign she wasn't there, she was thousands of miles away, but after every shot, the director would say: 'M wants you to put your arm like this', or: 'M wants you to change those shorts.'

It was really freaky because we couldn't work out how on earth she knew what was happening. Lola and I were just laughing our heads off. It turned out, she was having every frame of every picture sent to her as it happened and literally directing the whole shoot from a room in another country. It was genius. She's such a total pro.
On meeting Lola, Madonna's daughter…
I was standing at the side of the stage in Hyde Park watching Jay-Z perform and this girl came up to me and asked if her friend Lola could say hello.

Then she came back with Lourdes. I had no idea everyone called her Lola. She told me she loved my style and I told her that her mum was my ultimate fashion icon. I mean I wouldn't be me if it wasn't for Madonna.

We just got on really well. I guess Lola and I both have really strong mothers. She's clever, she's funny and she just buzzes with ideas. I love her.
On finding out she had been chosen as the new face of the Material Girl collection…
I was delighted. I couldn't actually believe anyone would want me as a model. And the fact it was Madonna… she's amazing.
Read the full article at FabulousMag

Madame X is available in Box Set, CD, Vinyl and Cassette!
Get your copy HERE!