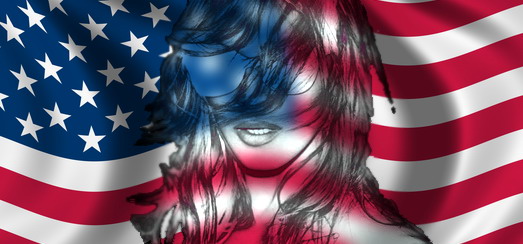 You took pictures, videos or just want to tell us about your MDNA Tour experience, do not hesitate to send us an email at [email protected]
—
Madonna dedicated her MDNA Tour concert last night in Phoenix to Amanda Todd, a 15-year old girl from British Columbia who committed suicide attributed to bullying.

Madonna also said: "That's what I call terrorism. Yes, terrorism exists, but this is worst."

Big thanks to Johnny R.
FAN VIDEOS

FAN PICTURES

CREW PICTURES

REVIEWS

If you had your doubts over the gay friendliness of the Greater Phoenix area, your opinion would quickly change if you were in attendance for the Madonna concert on Wednesday, October 16, at the US Airways Center in downtown Phoenix, Arizona.
A huge gay contingent turned out to hear the Diva, but they had to wait.
View slideshow: Madonna in concert in Phoenix , Arizona
The concert was technically scheduled to start at 8:30 but started a little after then with a deejay spinning Madonna music. His performance lasted a little over an hour. The crowd erupted into cheers just after 10:20 p.m. when the giant Madonna curtain came down revealing the full stage. The house lights went down at 10:29 pm to more cheers. As if on cue, Madonna took the stage at 10:30 p.m. with a gothic/religious theme. A giant fixture meant to symbolize incense was swayed down over the front of the audience by "monks" clad in red.
Lady Gaga made it into Madonna's act. Just after 11pm, Madonna took a swipe at Gaga as she sang her Respect Yourself standard interspersed with lyrics from GaGa's Born This Way. See video on the left.
Madonna turned political almost an hour into her show when she declared that Obama won the presidential debate tonight.
She told the crowd that she loved even Republicans. "I am a Democrat. But I love you if you are not, because we preach tolerance," the Diva said.
Madonna also made a dramatic statement against bullying. She showed off the name AMANDA written on her back. She explained that was in tribute to a15-year-old Canadian girl, Amanda Todd, who committed suicide because of antigay bullying. The star liked bullying to terrorism. She later showed slides of young people who have committed suicide because they were gay.
Briefly delving into the political dustup she got into in Russia the diva later joked to members of the audience, "Get a hotel room for that guys. You could get arrested for that in Russia." She later added, "No public displays of affection guys unless I am involved. "
As was evident in the Madonna concert, Phoenix has a huge gay population. For the gay traveler, Phoenix is one of the best kept secrets in the US. The city has it all. Of course, sunshine, some of the finest resorts anywhere in the world. Plus, the Greater Phoenix area has a vibrant LGBT nightlife and all the cultural attractions of any major city. The city's tourism office, by the way, maintains a section on its official Web site to welcome gay visitors.
The city also offers some of the greatest natural desert beauty just outside its downtown. For example, before attending the Madonna concert, this reporter went for a tour of the desert scenery less than an hour outside the city with the Green Zebra Adventures tour company. With the "Tom Cars" developed by the Israeli army, the Green Zebra leads tour groups two to a car over rugged terrain by those giant cactus that you've seen in the movies and that are the symbol of Arizona. The tour also goes by the Verde River, where you will likely see some of the wild mustang in the area who head down the river for a cooling drink.
For gay travelers, Phoenix is rich on hotel options. The very gay-friendly San Francisco-based Kimpton chain runs the Palomar Hotel just across the street from the US Airways. Rumor has it that The Diva herself stayed there. As typical of Kimpton Hotels, the property is first rate so Madonna would fit right in. The Palomar is also very conveniently located in the center of town in the city's newest neighborhood, City Scape.
If you don't mind being away from downtown, one of the Southwest's most exclusive hotel resorts is in Phoenix. The historic Arizona Biltmore Hotel resort is where some of the nation's most powerful leaders have gathered to get away from it all while enjoying the sunshine that has made Phoenix famous. The property also is very gay friendly and has a loyal gay following.
If you don't think you can get a healthy dose of culture in Phoenix, think again. The established Heard Museum in downtown showcases American Indian Culture. Phoenix's newest museum is the Musical Instrument Museum. It was founded by Target Store's former CEO Bob Ulrich and opened its doors in April 2010.
Don't visit the Greater Phoenix area without paying a visit to downtown Tempe. Of course, Tempe is home to Arizona State University, and the university undoubtedly helps contribute to its very vibrant downtown. Tempe's main street is Mill Street, appropriately enough, before it was a college town, it was a mill town. Now it is one of the most walkable cities in Arizona. Upscale and trendy shops and restaurants dot its downtown. You can ride the city's light rail line from the center of downtown Phoenix to downtown Tempe in minutes. Tempe is, of course, very gay-friendly. One if its former mayors is Neil Giuliano, who still maintains a residence there.
Neighboring Scottsdale, is of course, home to the San Francisco Giants during spring training. It is also very gay-friendly and is home to the landmark gay bar BS, which is in the heart of the city's old town. Scottsdale is also home to gay popular Valley Ho Hotel and the famous Scottsdale Fashion Square.
At this point in her career, no one would begrudge Madonna if she hit the stage in comfortable shoes and played 80 minutes' worth of her greatest hits. Even at these prices — more than $300 for the good seats — her die-hard fans, decked out in tutus and cone bras, no doubt would have felt amply compensated.
But even at 54, with nearly 30 years of pop mega-stardom under her belt, Madonna is anything but a variety act. Every dollar of every ticket purchased was visible onstage at the US Airways Center Tuesday, Oct. 16, in an audacious set heavy on tunes from her latest album, this year's "MDNA."
Madonna came out firing — literally. She shattered the ambience of a spooky Gregorian chant, taking the stage in a tight black cat suit and wielding a gun. Monks shed robes in a choreographed dance to a raucous "Girls Gone Wild."
The gun-wielding grand dame of pop then sauntered down the catwalk to "Revolver," pointing her weapon into fans' faces. The crowd went wild as she licked the barrel of her piece before laying waste to a horde of masked intruders during a blood-spattered rendition of "Gang Bang."
If the imagery seemed overly violent, consider the subject matter lurking beneath the heavy beats and autotune. Her first post-divorce record, "MDNA" is often a brittle listen as a woman so used to being in control tries to deal with love gone wrong. Who wouldn't want to blaze through that kind of pain with a semi-automatic or two?
But it was only the first of several acts in Madonna's production-heavy psychodrama. She eventually re-emerged as a majorette for "Express Yourself," wielding her baton like a scepter as she seamlessly spliced in bits of Lady Gaga's "Born This Way," punctuating the dig with "She's not me."
Midshow, Madonna took a break to hydrate and gloat.
"I'm sorry," she said, sounding not at all apologetic, "but Obama won the debate today."
She stopped to chat again a little later in the show after stripping her top half down to a bra during a steamy, thong-flashing version of "Human Nature," to reveal the name "Amanda" written across the small of her back.
It was for Amanda Todd, the Canadian teen recently in the news for committing suicide after enduring years of bullying (Madonna claimed it was for being gay, though that doesn't appear to be the case).
"That is what I call terrorism," she said before dedicating a stripped down, dirgelike version of "Like a Virgin" to Todd. It was a nice sentiment, even if she was a little loose with her facts.
If that was the evening's darkest moment, the brightest belonged to the set's penultimate song. Backed by a choir, Madonna took an entire arena to church with a rafter-raising rendition of "Like a Prayer." By the time she launched into a closer of "Celebration," it was clear that everyone in the room had already beaten her to it.
Nobody was resting on any laurels last night. The stage was positively a three-ring circus, complete with dancers, contortionists, tight-rope walkers and floating drummers. And at the center of it all, setting pace, was Madonna, with no less to prove than ever.
"There's only one queen," Nicki Minaj guest-rapped via taped recording early in the set, "and that's Madonna."
Madonna did her best to show everyone why.
With a long history of being a proven provocateur, it makes sense that Madonna has managed to piss a lot of people off since kicking off her MDNA tour.
There was that nip slip in Istanbul, and a reference to our current president as a "black Muslim," so one had to wonder what kind of shenanigans Madge would get up to as the tour made its stop at the US Airways Center last night.
Turns out, there wasn't much in the way of controversy, just one of the most over-the-top performances of the year.
Which isn't to say there wasn't plenty to be offended by if you're of the conservative sort. Religious imagery, gratuitous violence, and Spanish curse words were just a few of the things likely to raise a few eyebrows, and if you were a Republican you probably weren't thrilled that Madonna declared President Obama the victor in Tuesday night's Presidential debate.
Of course, conservatives probably aren't big on Madge's style, but it's worth mentioning: When she cited Obama as the debate's winner, the arena seemed to be fairly split between cheers and boos.
Last night's performance was a huge stage spectacle that felt more like a Broadway production than you're average concert. There were certain points during the show that you couldn't help but smile and laugh at the craziness happening on stage.
The stage show featured a little bit of everything. There was an army of backup dancers, tight rope walkers, choreographed fight sequences, a gun toting Madonna during "Girl Gone Wild," pre-recorded performances from Lil' Wayne for "Revolver" and Nicki Minaj for the song "I Don't Give A," and a marching band suspended in the air during "Express Yourself." It was wild, and in Madonna style, absolutely fun.
The only risk you run with such elaborate visuals is making the musical component of the show feel undercooked by comparison. Madonna's performance was fine — but the vocals were difficult to hear, and she seemed to have some help from pre-recorded vocals during the show. Considering how much was happening on stage, it would be hard to hold that against her.
It's likely that there was more than one person who went away from last night's show disappointed they didn't hear their favorite Madonna song. Rather than playing all of her iconic songs most of the songs in her set were from her recent album MDNA which has been labeled as her "divorce" record. For the most part, though, she did include a lot of fan favorites like "Papa Don't Preach," "Express Yourself," and "Vogue," among others.
One of the more intimate and personal moments of the night came just after Madonna's performance of "Human Nature." After stripping down to just her bra and a pair of pants the word "Amanda" was visible on her back. Madonna went on to tell the story of Amanda Todd, a Canadian teen who recently committed suicide as a result of bullying from her classmates. Madonna likened the bullying to a form of terrorism. She then dedicated the song "Like A Virgin" to the young girl. The song was rearranged, slowed down, making the moment feel more reverent than you might expect.
Being that the show last night got off to a late start Madonna played well past midnight. Despite the late hour everyone seemed to still be going strong as she performed "Like A Prayer," which was definitely one of the highlights of the night.
Overall, it was hard not to enjoy last night's show. Everything from the on stage spectacle to the music was a lot of fun. Pretty impressive for someone who has been doing this as long as Madonna has. If last night was any indication, Madonna has plenty more years ruffling feathers left in her.
Critics Notebook:
Last Night: Madonna at US Airways Center
Personal Bias: I've never been a huge Madonna fan but I've always been curious to see one of her concerts.
The Crowd: A strange mix of the gay community and older rich Scottsdale types.
Overheard in the Crowd: "Okay, who wants to spit in this guys drink?"
Random Notebook Dump: Madonna is really good at changing her clothes fast.
Thanks to everyone who shared their material!

Madame X is available in Box Set, CD, Vinyl and Cassette!
Get your copy HERE!