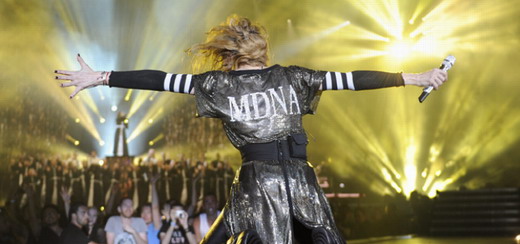 Colleen Nika gives us an exclusive backstage look at the MDNA Tour for Rolling Stone!
Madonna's enormously successful MDNA tour, slated to hit Yankee Stadium in New York twice next week, arguably features her most ambitious stage costumes to date. The dramatic gender-bending looks for the singer and her cadre of dancers push design conventions to their limits, with the cantilevering, crystalline, patent-leather footwear alone worth a hundred editorials. In this backstage tour video by Swarovski, whose glimmering gems adorn Madge's costumes an astounding 315,000 times, you can appreciate the exhaustive breadth of the MDNA design aesthetic.

In the behind-the-scenes footage, wardrobe supervisor Lana Czajka explains that preparation for each evening's show begins at 9 a.m., when 30 racks of clothes are steamed, pressed and retouched. "Most of our sparkle happens during 'Vogue,'" she notes, pointing to a noirish collection of Venetian masks, top hats and riding crops. An extremely impressive, armored chainmail look containing thousands of micro-crystals provides a true spotlight moment, as does the jeweled MDNA tee featured in the "Celebration" finale.

Such meticulous detailing befits a pop queen like Madonna. "She is involved with everything," head dresser Tony Villanueva emphasizes. "She has final say."

Madame X is available in Box Set, CD, Vinyl and Cassette!
Get your copy HERE!