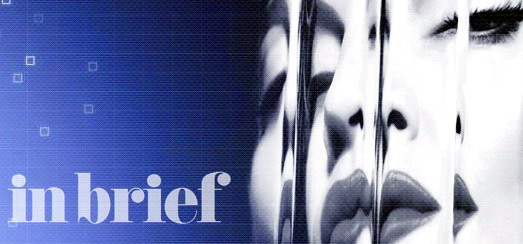 MDNA Tour truck involved in road accident
One of Madonna's tour trucks has been involved in a road accident in Sweden.
Police say a truck carrying the sound system for Madonna's concert in Gothenburg, tomorrow, overturned and blocked parts of a highway.
It is not clear what caused the truck to suddenly flip onto its side while driving and slide across several lanes, blocking rush hour traffic.
It was not immediately clear if the incident will affect Madonna's concert in the city on Wednesday.
Police said one person was injured and three passenger cars were damaged in the accident.
Madonna wears Moschino sunglasses in her upcoming video
In the video for her upcoming single "Turn up the radio" off MDNA, Madonna will be wearing Moschino sunglasses. They're available for 185€ in stores (reference: MO674).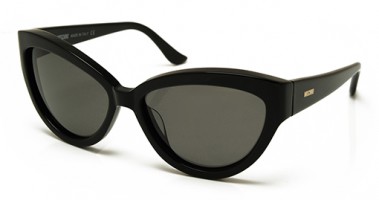 Madonna Rules Billboard.com's 2012 Mid-Year Music Awards
Madonna proved to be 2012's ultimate pop star in Billboard.com's Mid-Year Music Awards poll, which let fans weigh in on their favorite artists, songs, albums and performances of the first half of this year. After voting ended on Friday (June 29) and the hundreds of thousands of votes were tallied, Madge was declared the winner of the First-Half MVP trophy, edging out upstart boy band One Direction.
Madonna, whose 12th studio album "MDNA" was released last March, highlighted the first half of 2012 by performing at the Super Bowl halftime show, scoring another No. 1 on the Billboard 200 and getting involved in a war of words with Lady Gaga. In Billboard.com's poll, the pop superstar snagged the most votes in the Best TV Performance category; the third-most clicks for best Billboard 200 No. 1 Album; and an easy win in the Most Memorable Feud category. Her appearance alongside electronic star Avicii at Ultra Music Festival was also named Best Festival Performance in a romp.
First-Half MVP:
1. Madonna (30%)
2. One Direction (27%)
3. Nicki Minaj (9%)

Favorite Billboard 200 No. 1 Album:
1. Adam Lambert, "Trespassing" (56%)
2. One Direction, "Up All Night (15%)
3. Madonna, "MDNA" (11%)

Most Memorable Feud:
1. Madonna vs. Lady Gaga (65%)
2. Drake vs. Chris Brown (23%)
3. Nicki Minaj vs. Hot 97 (8%)

Best Festival Performance:
1. Avicii featuring Madonna at Ultra Music Festival (59%)
2. Tupac at Coachella (27%)
3. D'Angelo at Bonnaroo (5%)

Best TV Performance:
1. Madonna at Super Bowl (42%)
2. Adele at Grammys (36%)
3. Jordin Sparks/John Legend at Billboard Music Awards (5%)

Most Overrated Artist:
1. Justin Bieber (23%)
2. Madonna (11%)
3. Lana Del Rey (7%)
Katy Perry wants career like Madonna
Katy Perry talked about Madonna in a recent interview for L'Uomo Vogue…
She kept everybody interested because you never knew what she was going to do next, but whatever she delivered was a solid product.
I just hope to be the same. I hope to continually make people interested and hopefully in 10 years look back and have written songs that have become timeless.
Kylie Minogue on Madonna
Kylie Minogue is currently doing lots of TV promotion in the United States and of course, Madonna is often talked about…
Fashion Police
KTU
Who's been your inspiration?
The main person who's still doing it is Madonna.
She was my idol at fifteen. I was prancing around with my laced gloves on.
Waiting for the "Justify my Love" video later on… That was back in the day you didn't catch it on YouTube. You had to wait up and watch it on tv.
Watch What Happens Live
Who would you say has more talent: Lady Gaga or Madonna?
Ooooh! You've gone straight for the jugular.
I'm gonna go with… for hanging in there and still doing what she does… I'm gonna go with Madonna.
MDNA Fanmade Swarovski t-shirt
Japanese Madonna fan MadaMonshieur Rinda made this incredible t-shirt with over 5600 Swarovski crystals for the MDNA Tour!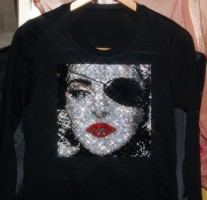 2012 PopSugar 100 List
For the sixth year in a row, Madonna made the PopSugar's 100 list of the year!
Between an Oscar nomination, a Golden Globe win, a Super Bowl performance, a world tour, and a No. 1 album, it's hard to imagine this year getting much better for Madonna. Madonna showed off her film W.E. around the world and enjoyed some award season success for that film. Madonna made headlines with her awesome Super Bowl performance, and her album MDNA debuted at the top of the charts. Now, Madonna kicked off her most recent tour in Tel Aviv, and it will take her all over the globe over the next few months.

On the love front, Madonna is dating 24-year-old dancer Brahim Zaibat. Madonna is still working with her daughter Lourdes on their Material Girl clothing line, and she, of course, is still a doting mom to Rocco, David Banda, and Mercy.
More at PopSugar…
Lola Backstage at the MDNA Tour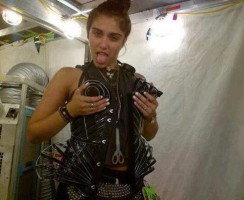 The new face of Material Girl
Here are some pictures of the new promo campaign for Material Girl featuring Georgia May Jagger…
Gang Bang – William Orbit Remix
Nero cancels MDNA Tour
London based dubstep duo Nero have announced that they will no longer be opening up for the Queen of Pop on her current MDNA tour.
The 'Promises' hitmakers were due to support Madonna on certain upcoming north American dates of her current tour, but have now pulled out and issued an official statement via both their Twitter and Facebook accounts earlier this evening (June 28) that explained:
We're sorry to announce we will not be touring with Madonna later this summer – apologies to any fans who bought tickets.
Instead we'll be spending the much-needed time in the studio working on our second album. New music coming soon.
Billy Eichner Reports From The Israel Madonna Show – CONAN on TBS
Billy Eichner travels to the Middle East to get his Madonna fix. We wonder why they didn't go with Ross Mathews, who did the Sticky & Sweet Tour report for Jay Leno back in 2008…
MDNA Tour VIP Party Sweden
Andrea Candy posted on Twitter @AndyDolla
We will dj and be the host of the #madonna vipparty sweden
Macy's 4th of July
The spectacular Macy's July 4th fireworks display will light up the sky over the Hudson River again in 2012. "Ignite the Night" is the theme of the 2012 fireworks spectacular. The score will feature songs chosen by Macy's Facebook fans — including Ray Charles' "America the Beautiful," Lee Greenwood's "God Bless the U.S.A.", Madonna's "Holiday," Whitney Houston's "One Moment in Time," and more.
Give me all your Luvin' by Anna Cuijpers
Madonna fan Anna Cuijpers has decided to cover Madonna's "Give me all your Luvin'" for a school project at the Academy of Rock in Holland.
David Letterman – Dave's Monologue – 6/28/12
Highlights from Dave's monologue for June 28, 2012 where he discuss the Madonna DNA erasing team rumour…
Kindergarteners Strike a Pose
Kindergarteners from Mr. Arturo Avina's class perform Madonna's "Vogue" for their culmination. No one can strike a pose quite like kindergarteners can!
Madonna Nipple Flash MDNA Tour Birthday Cake by Tony "The Pastryarch" Albanese
I made this cake 100% by hand with modeling chocolate of Madonna's infamous nipple/breast flash in Istanbul during "Human Nature" on The MDNA Tour for my Birthday. I'm going back to my "Cake Boss" 'erotic, exotic' roots and doing naughty things with modeling chocolate! 😉 Inside the cake was 2 layers of from-scratch brownie sheets with vanilla frosting in the middle…delicious! The whole thing was completely edible. One of my favorite cakes to date!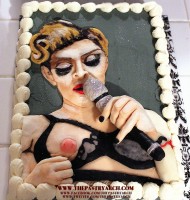 Madame X is available in Box Set, CD, Vinyl and Cassette!
Get your copy HERE!