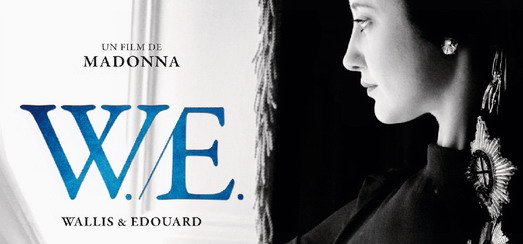 Madonna's W.E. will be released in US stores on Blu-ray Combo Pack and DVD May 1st!
Pre-order the DVD at Amazon US
Pre-order the Blu-ray/DVD Combo + Digital Copy at Amazon US
Madonna.com is also offering a chance to win your copy of the DVD…
Madonna's "W.E." movie will be released on DVD and Blu-ray in the US on May 1st. If you haven't done so yet, make sure to pre-order your copy now!

To celebrate the release, we are happy to give away 10 copies of the movie on DVD. For a chance to win, create your own review of the movie in 200 words or less. Please e-mail it to [email protected] along with your full name and mailing address before 11:59pm EST on April 8th, using "My W.E. Review" as your e-mail's subject line.

The top 10 entries will be mailed a "W.E." DVD and Madonna's favourite review will be featured on Madonna.com as the official fan review for the movie.

Please note: This giveaway is limited to US and Canada residents. This is an Internet offer only. All entries must be submitted via email to [email protected].

Good Luck!
Have a look at three new teasers of W.E., courtesy of the French distributor Pretty Pictures…

Madame X is available in Box Set, CD, Vinyl and Cassette!
Get your copy HERE!