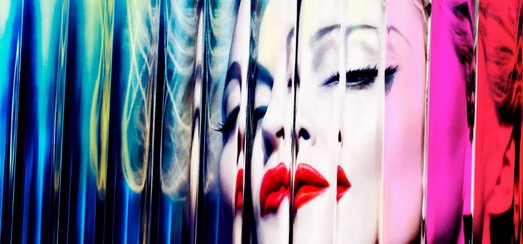 To celebrate the great sales of MDNA and the #1 in the USA charts, Interscope Records have issued a press release…
Madonna has returned for the 8th time to the top of the Billboard's Pop Charts with MDNA selling 359,000 albums according to Neilsen Soundscan and is the biggest selling first week debut this year. MDNA is The Material Girl's fifth No. 1 studio album in a row and her first album for Interscope Records.

On the Billboard Dance Club Play Charts, Madonna remains queen of the clubs with two songs from MDNA in the Top Ten including "Girls Gone Wild" which has gone to No. 4 and is the "greatest gainer" for the last three weeks. Her first dance hit from MDNA "Give Me All Your Luvin" after going to No. 1 remains in the Top Ten in the No. 8 spot.

The critical response to MDNA has been equally impressive:
"Madonna has made it through the wilderness to deliver one of the best albums of her career." Daily News
"Her best album since "Ray of Light'" Chicago Tribune
"Still the Queen of Pop" The London Times
"Some of the finest musical moments we've heard from the pop legend in the last few years" MTV News
"The woman is pop's most durable alpha female" USA TODAY

Other facts:
– MDNA debuted No. 1 on iTunes Charts in 40 countries and had the biggest one day pre sale on iTunes by any artist in history.
– Madonna's "Girls Gone Wild" video is her most viewed video on YouTube with 32 million views.
– Barbra Streisand is the only other female to have more No. 1 albums (9) according to Billboard's Keith Caufield.
– In the UK, the MDNA album puts Madonna in a league of her own. MDNA's No. 1 spot gives Madonna the most No. 1 albums of all time in the UK (12) by a solo artist – surpassing Elvis Presley. The Beatles are the only artists who have had 15 No. 1 albums in the UK.
– In Japan, MDNA is her 22nd Top Ten album passing The Beatles record of l9 Top Ten albums in Japan. MDNA entered their Oricon international charts at No. 1 and the combined Oricon Charts at #4.

To celebrate the first week success with her millions of fans , Madonna will once again be on Twitter this Wednesday, the 4th of April at l0:00 pm

The link is: @MadonnaMDNAday.

Madame X is available in Box Set, CD, Vinyl and Cassette!
Get your copy HERE!