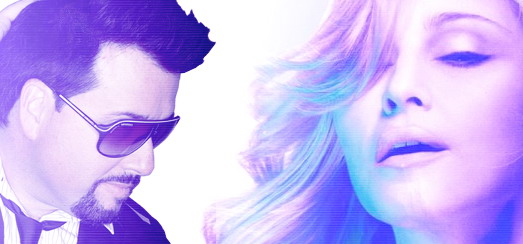 Dave Audé, who recently remixed Madonna's "Girl Gone Wild", was interviewed by PopServations…
While remixing some of music's heaviest hitters is nothing new for you, I have to ask about one of your latest superstar remixes, Madonna's "Girl Gone Wild." Did you feel any additional pressure, having been 'given the keys'? What was your goal, sound-wise, for the remix?

Dave Audé: I worked on two remixes for Madonna years ago, "Music" and "Don't Tell Me," but neither saw a proper release, so it's cool that I've been 'given the keys' again! I heard "Girl Gone Wild" and immediately fell in love with it. My goal was to produce a non-fluffy mix that rocked and I feel I nailed it!

It doesn't really get any bigger than Madonna, does it — The Queen of Pop and a club music legend. Of all of her remixes, do you have a favorite?

Dave Audé: My unreleased mix of "Music." LOL, sorry, it is!

Your remix of "Girl Gone Wild" has gotten a great reaction, with some suggesting it should be the official single version. One even said he's replacing the album version with yours when MDNA comes out.

Dave Audé: Wow, I appreciate that. My version is different than the original. It's probably too banging to be an album cut.
I do think the album cut could have sonically been mixed better, but that is simply my opinion and my taste. The fact that I hear things differently probably helps me produce records. Anyway, thanks for suggesting that!

What's your approach when doing a remix of an existing track like "Girl Gone Wild"? I imagine the process is different than when you're creating something completely from scratch, like your productions with Jessica Sutta, for example. (Amazing, by the way.)

Dave Audé: Thank you. My approach is really the same, except in this case I have the vocal so there's somewhere to start from. Remixing and producing these days are exactly the same, there's no difference really, it's all producing.
Source: Popservations.com

Madame X is available in Box Set, CD, Vinyl and Cassette!
Get your copy HERE!