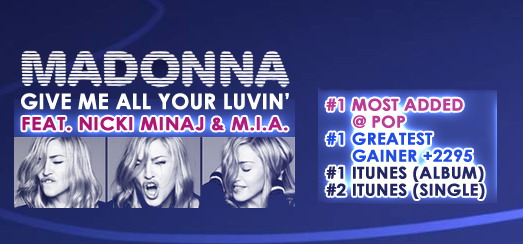 Madonna's flurry of media activity last week sparks her re-entry at No. 8 on Billboard's Social 50 chart, her highest rank ever on the year-old tally. Her video for "Give Me All Your Luvin'" premiered Feb. 3 on YouTube, while she performed at the Super Bowl halftime show on Feb. 5. For the tracking week, she earned a 479% increase in YouTube fans and a 685% leap in YouTube views.
The Social 50 chart's rankings are determined by activity monitored on YouTube, Vevo, Facebook, Twitter, MySpace and iLike, using a formula that blends weekly additions of friends/fans/followers along with weekly artist page views and weekly song plays.
Madonna's re-entry is even more compelling because she doesn't have an official Twitter account — the only act on the chart without one.
Hot on the heels on her Super Bowl spectacular (the most watched Bowl and TV program ever), the first single from "MDNA" charts Top 25 at Pop Radio Charts, and nabs Most Added honors in US Radio Stations including KAMP, KIIS, KLIF, WIHT, WKQI, KHHM, KTFM, KMXV!
Madonna's Super Bowl halftime partner, Nicki Minaj (who is also featured on her "Give Me All Your Luvin'" single), jumps 10-3 on the Social tally this week. She too is experiencing a Bowl-related gain, but also still reeling from her current hit with David Guetta, "Turn Me On." During the tracking week, Minaj saw a 27% jump in Facebook fans and a 10% charge in Twitter followers. Guetta also has a good week on the Social tally, as he rises to a new high of No. 4 (up four slots).
As for the rest of the top 10 this week, Adele holds at No. 1, Katy Perry is up a position to No. 2 and Justin Bieber falls back one to No. 5. Shakira moves 2-6, Rihanna shifts 5-7 and Michael Jackson is steady at No. 9. Closing out the top 10 is LMFAO, who descends four to No. 10.
Finally, a large percentage of "Give me all your luvin'" sales have been discounted from this week's chart.
Madonna offered fans a promotion which allowed them to download her new single for free if they pre-ordered her upcoming album MDNA on iTunes.
However, the Official Charts Company has now confirmed that the free downloads offered on Sunday and Monday (February 5 and 6) will not be put towards her chart ranking.
Fans were left confused when 'Give Me All Your Luvin" failed to make this week's midweek chart update yesterday (February 8th) and started to question the Official Charts Company on Twitter.
They responded by stating…
"It was viewed as an incentive to purchase the album before the single went officially on sale on Tuesday, so those sales were discounted.
Madonna is climbing up the Official Singles Chart after two days on sale. Should go Top 40 on Sunday."
Meanwhile, 'Give Me All Your Luvin" debuted at number 13 on this week's US Hot 100.
Source: Billboard, Digital Spy & Mediabase

Madame X is available in Box Set, CD, Vinyl and Cassette!
Get your copy HERE!