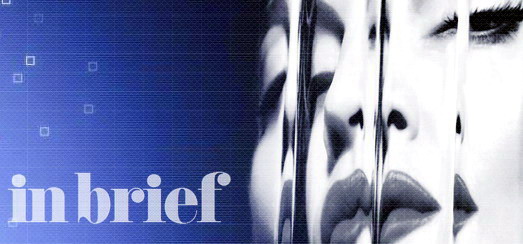 W.E. nominated for IFMCA
The incredible soundtrack of Madonna's movie W.E., composed, orchestrated and produced by Abel Korzeniowski, has been nominated for an International Film Music Critics Association (IFMCA) award for "Best Original Score for a Drama Film".
Thanks Panos
Exclusive Madonna interview with Ryan Seacrest
This Friday, Madonna will give an interview to Ryan Seacrest on KISSFM.
They just tweeted…
HUGE show Friday! The one & only Madonna will be @OnAirWithRyan! We're talking Super Bowl, world tour & everything in between!
Why did Interscope sign Madonna?
Interscope's chairman Jimmy Iovine told THR why exactly he signed Madonna this year…
She's a great artist. And she made really good albums. I heard her record before we made the deal, and I was really honored that she wanted to be on Interscope – stunned, to be honest, I didn't know her well. I know Madonna a little bit. Guy Oseary (Madonna's manager) is an incredible guy and one of the coolest people I've ever met in the business. The opportunity was there, and the people at 'Live Nation' were really supportive. Nowadays, everybody goes label shopping, and these people were, like 'I want to work with Interscope.' So I said "Yes, great!".
Madonna to appear on X Factor USA?
Katy Perry and Madonna could be set to take the vacant judging positions on the X Factor USA according to Simon Cowell.
Speaking on US TV show Extra, he was asked about working with Madonna, to which he replied…
Yeh I think she'd be great. In terms of experience and success – brilliant.
Anna Wintour Reacts to Madonna's Halftime Show
What did Vogue editor Anna Wintour think of Madonna's performance at the Super Bowl?
She told NYMag…
Oh, Madonna, how we've needed you! Thanks to her halftime show performance, y'all probably can't remember why last year's show was so disappointing. Your brain has probably erased the thoughts of the Black Eyed Peas being terrible with Madonna being amazing. Those twelve minutes were a wild ride of Confessions-era flashbacks, full-body chills, pom poms, melting ligaments, Vogue covers — and energy remained impossibly high, even though Madonna's clothes weren't all-over sparkly for the whole show.
Win tickets to Madonna's upcoming world tour
Want to win 2 premium tickets to Madonna in concert? Head over to Madonna's official Facebook page and try your luck at the "Truth or Dare by Madonna" sweepstakes…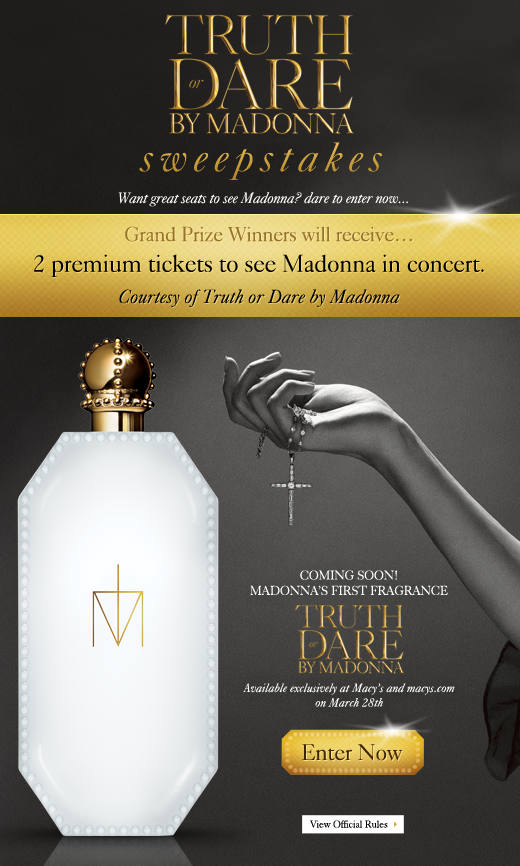 Give me All Your Luvin' (Party Rock Remix)
The "Give me all your Luvin' (Party Rock Remix) ft. LMFAO & Nicki Minaj" has been released on iTunes. So just head over there and enjoy!
Ryan Murphy Wants Another Madonna Episode On Glee
The Glee and American Horror Story co-creator spilled the beans on who he'd like to next see guest star on the Fox musical.
He told the Hollywood Reporter…
"I want to do another Madonna episode but I want Madonna to be on it.
She says she would do it.
I think, that's what I want to do."
Have a look at the Ricky Martin cover of Madonna's "La Isla Bonita"…
Junior Vasquez is proud to have worked with Madonna
In an interview with DJ Mag, Junior Vasquez says he's proud of his career and the fact that he worked with the most talented artists of this century like Madonna, Prince or Queen.
Was 'If Madonna Calls' you burning bridges? Do you feel she exploited you?
JUNIOR VASQUEZ: With regards to Madonna I just want to say that I am her biggest fan, I cherish the work we did together, I play my private mixes of her new records and I would love to work with her again. Few people know about this but I worked with her again after 'If Madonna Calls'. I did a couple of mixes of 'Hollywood' for a Versace show in Milano that stayed in my vaults ever since after being played at the show.
Madonna Wears Miu-Miu Boots During the Super Bowl
Madonna's wardrobe at the Super Bowl may have been specially created for her by Givenchy – but not M's rockin' sexy boots.
The Hollywood Reporter reports that these over-the-knee boots with gold metal buckle closures were made from stretch nappa leather, and you will not find them at a store. Miu-Miu made them for the big M – and they even have the letter M on the personalized heels, framed by two gold metal crowns.
Madonna's hair at the Super Bowl
Andy LeCompte, Madonna's hairstylist, told InStyle gave some details on Madonna's hair for the Super Bowl performance…
Madonna's look demanded something fit for a queen.
We played with the tightness and looseness of the curls, as well as the amount of volume to see what would work best.
He started by blowing out the pop star's hair, and then wrapped two-inch sections around a medium-barrel curling iron. He tousled and lifted strands slightly at the root to create volume. The secret weapon: A generous spritz of the Wella Professionals Stay Firm Finishing Spray ($15; wella.com) kept her Madgesty's curls in place in front of 111.35 million viewers, cartwheel after cartwheel.
Sky Ferreira pays tribute to Madonna
The latest issue of V Magazine features a Sky Ferreira in a Madonna in spired photoshoot by Mario Testino. We already posted the full spread (click here), so let's have a look at the behind the scenes video footage…
Laidback Luke's "Give me all your Luvin'" Remix
During a DJ set at the Groove Saint nightclub in Albury, Australia, last week, DJ Laidback Luke gave the audience a preview of his latest remix for Madonna's Give me all your Luvin'.
Have a listen…
Official French W.E. Trailer
Have a look at the official French trailer of W.E.

Madame X is available in Box Set, CD, Vinyl and Cassette!
Get your copy HERE!