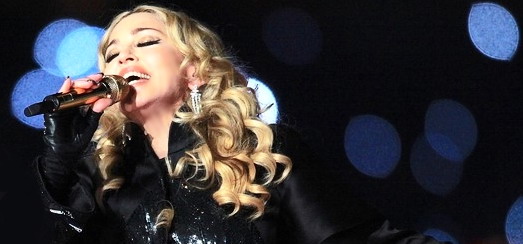 Super Bowl XLVI is the most-watched television program in U.S. history and the highest-rated Super Bowl in 26 years, according to fast national data released today by The Nielsen Company.
The game, in which the New York Giants defeated the New England Patriots, 21-17, was seen by a record 111.3 million viewers (6:31-9:58 p.m. ET), topping last year's 111.0 for Super Bowl XLV on Fox and is the biggest audience to watch a television program in U.S. history.
– 111.3 Million Watch Super Bowl XLVI, Tops Last Year's Super Bowl (111.0 Million)
– 47.0 Household Rating is Best in 26 Years, Since 48.3 for Super Bowl XX
– 40.5 Adult 18-49 Rating is Best for a Super Bowl in 16 Years
– 14% Higher Than Last Giants-Patriots Super Bowl in 2008
– 12% Higher Than Last NBC Super Bowl in 2009
– 7th Straight Year Super Bowl Audience Increases
HALFTIME SHOW FEATURING MADONNA IS MOST-WATCHED EVER:
The halftime performance by Madonna (8-8:30), was seen by 114.0 million viewers, and is the most-watched Super Bowl Halftime Show featuring entertainment ever (dating back to 1991).
The halftime viewership 18.3 million more than NBC's last Super Bowl.
The halftime show earned a 47.4 household rating, six percent higher than last year (44.7/68), and is the highest-rated halftime show featuring entertainment ever.
Madonna's performance during halftime of the Super Bowl also produced 10,245 tweets per second, one of the busiest moments in Twitter history, and averaged 8,000 TPS for five minutes. Less than a third of those tweets were negative while 59% were positive and 11% were neutral, WiredSet CEO Mark Ghuneim revealed in a tweet Monday morning.
The halftime performance topped recent events regarded for their online reaction. The 2011 MTV Music Awards – one of the most social TV events ever – had a peak TPS of 8,868, according to a Twitter recap of top 2011 events. Steve Jobs' resignation had a peak TPS of 7,064 while his death had a peak of 6,049. The BET Awards in June had a high TPS of 6,436.
The impact of Madonna's halftime show continues to ripple across the Internet. By Monday morning people were sharing links with dates for the singer's 2012 tour and discussing everything from the economic impact of the performance to her 48.1 rating (up 1% from the Black Eyed Peas last year). Interscope took advantage of the Super Bowl performance by taking to Twitter to remind Madonna fans to pre-order her album at iTunes and get an immediate download of "Give Me All Your Lovin'," one of the songs in her halftime medley.
Finally, Google has revealed the Super Bowl search trends.
Overall, the top trending searches on "Google" during the game was "Madonna."
Above all the players, Madonna took the spotlight as the most-searched term during the game.
sources: zap2it & Billboard & PRnewswire

Madame X is available in Box Set, CD, Vinyl and Cassette!
Get your copy HERE!