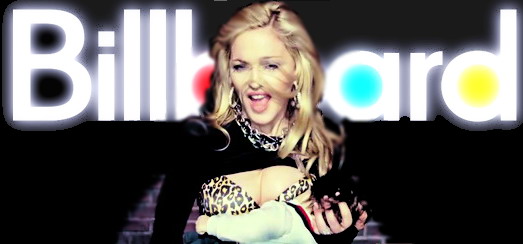 Madonna's new single, "Give Me All Your Luvin'," which she performed at the halftime festivities of last night's (Feb. 5) Super Bowl XLVI in Indianapolis, blasts onto multiple radio format charts.
Aided by Clear Channel's promotion of the song – participating pop stations in the chain played it at the top of every hour from Friday at 9 a.m. ET until the game's kickoff last night – "Luvin'," featuring Nicki Minaj and M.I.A., soars onto Billboard's Nielsen BDS-based Pop Songs chart at No. 24 as the format's Greatest Gainer (2,766 opening-week plays).
After less than three days of availability, the song registered airplay on 125 of the chart's 141 reporters. (The chart's seven-day tracking period closed, per usual, at midnight ET last night).
Notably, plays on Clear Channel stations accounted for 79% of the song's first-week airplay at the format overall (2,196 of 2,766 total plays). That percentage contrasts sharply with the company's 34% share of stations that report to the chart (48 of 141). (The new No. 1 song on the ranking, for instance, Flo Rida's "Good Feeling," logged 11,879 plays; a more proportional 40% of that total stems from Clear Channel stations).
"Luvin' " isn't the first occurrence of Clear Channel flexing its considerable muscle to bring new music to its listeners. On the Nov. 26, 2011, chart, Rihanna's "You Da One" stormed in at No. 26 with 2,133 first-week plays after the chain's pop stations similarly premiered it. (The Spanish Broadcasting System also recently highlighted Gloria Estefan's "Hotel Nacional," with significant airplay on the company's stations having helped spur the track's No. 1 bow on Latin Songs).
In perhaps a gauge of pop airplay next week for "Luvin'," Rihanna's "One" fell by 24% in airplay – and from No. 26 to No. 30 on Pop Songs – in its second week without the assistance of Clear Channel's promotion. Still, the song eventually rebounded, rising as high as No. 19 last week.
"Luvin'" previews Madonna's 12th studio album, "MDNA," due March 26.
A lofty Pop Songs launch has become the norm for Madonna, who tallies her seventh top-25 debut, the most since the survey premiered the week of Oct. 3, 1992. "4 Minutes" (featuring Justin Timberlake and Timbaland), the first single from her last album, "Hard Candy," also arrived at No. 24 the week of April 5, 2008.
The week of March 7, 1998, "Frozen," the lead single from Madonna's album "Ray of Light," scorched the chart at No. 16. To-date, the arrival remains one of the four highest in the chart's history.
Beyond Pop Songs, "Luvin' " simultaneously starts at No. 33 on the Rhythmic airplay chart, No. 35 on Adult Pop Songs and No. 20 on Dance/Mix Show Airplay.
Along with its impressive radio kickoff, "Luvin' " appears in line for a heady retail opening. As of this posting, the song shows at No. 2 on the iTunes Store's songs ranking, potentially setting up a strong debut on this week's Billboard Hot 100 chart (which measures airplay, sales and streaming).
Highlights of the Hot 100, on which Madonna will make her 56th career visit with "Luvin'," will be released Wednesday (February 8) on Billboard.com.

Madame X is available in Box Set, CD, Vinyl and Cassette!
Get your copy HERE!