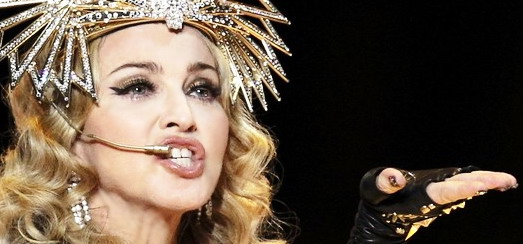 Taking to Twitter to dish about Madonna's performance, many celebrities kept praising the one and only Queen of Pop…
Adam Lambert
Loved the Madonna Half time show!! Feeling that Isis look!! Cee-Lo is so good. the middle finger? Cuz she "don't give a shit". Harmless.
Ashton Kutcher
Fact Madonna is crushing it!
Ru Paul
Madonna. Shante. U Stay. Condragulations!
Paula Abdul
So Happy for Madonna's triumphant HalfTime Show! 🙂 Nicki Minaj & M.I.A crushed it! Cee Lo Green & LMFAO added so much fun!
Hope you had a fun weekend! I'm still thinking about Madonna's superbowl performance. So phenomenal!! So much fun! :)) xoP
I was dancing &singing along w/ Cee Lo Green. Madonna Like A Prayer was AWESOME! Well played Superbowl WELL PLAYED-amazing HalfTime show!
Patrick Wolf
Madonna was incredible. End of."
Alec Baldwin
Two quarters of SuperBowl and the strongest performer is Madonna…
You gotta hand it to Madonna. No apologies …..
Will.i.am
I thought Madonna… that stage was amazing… I'm proud of my guys lmfao
Giovanni Bianco
Madonna rocked it!
Katy Perry
SPIRITUAL EXPERIENCE @ The Super Bowl. Never thought I'd say that…
Sharon Osbourne
Madonna is back! She's the queen. Just sensational!
Rosie O'Donnell
Madonna = perfection
Pink
She does less, and yet she's so much more…
Cyndi Lauper
Just saw half time. Common, visually OMG! And there is only one Madonna! Xx Cyn
Michael Moore
Wow! Madonna. Amazing! And to close with "World Peace." Michigan's own. That was something.
Paris Hilton
That was one of the best half time shows I've ever seen! Madonna was incredible! So proud of my boys. Epic. Love LMFAO.
Snoop Dogg
Madonna killen the superbowl her show is soo fresh. Wowoowowowowowoowowowowowow!
Eva Longoria
Madonna is amazing!!! Love her always! What a performer! All my fav songs!
Heidi Montag
Wow Madonna is still the Queen of pop! Great show!
Serena Williams
Wow best halftime show ever!!! Wow Madonna! Wow
Tracy Young
Often imitated but never duplicated!!!
Sherri Shepherd
I actually thought Madnna did a great job on the Half Time show. It looked pretty cool here on the field
Seth MacFarlane
The way they rhymed 'Madonna' with 'you wanna"'was terrific. Just tremendous. And a bunch of times! Which was also great. Music is great.
Bethenny Frankel
Holy madonna balls. That was epic.
Kris Jenner
Madonna was amazing!!!!!!! Perfection!!
Goldie Hawn
Watching the super bowl! Half time dancing with Madonna and company in my living room! World peace! Yes! Go Blue!!
Eliza Dushku
Madonna is the Queen of EVERY ball, game & sound right now. WELL DONE Madge!!
Adam Levine
my dude Cee Lo Green KILLING up there at halftime! What a trip!
Nicky Hilton
Let's be honest- Madonna killed it!
Kelly Ripa
Thank you MADONNA!
Drew Carey
Best half-time show ever! Wow. #Madonna #SuperBowl
Kirstie Alley
Could Madonna look any more gorgeous!!!!!!!!!!!?????? Jeez!!!!!!! This is AWESOME !!!!!!!!!!!! Genius!!!
Jimmy Kimmel
I feel like Madonna cares more about her own halftime performance than she does the game
Marc Anthony
Madonna kicked ass!!!
Fred Durst
Wow. Great game. Madonna just took love performance to the NEXT level!!
Carson Daly
Brilliant Madonna half time show
Ryan Seacrest
Loved the madonna performance, i think she nailed it. Great job!
Kourtney Kardashian
Nobody is better than Madonna. She was perfection. Like a Prayer was my favorite part. Did everyone LOVE it as much as I did?
Kim Kardashian
Madonna is EVERYTHING! She looks soooo good!
Denise Richards
Madonna looks amazing!! Great halftime show!!!
Andy Cohen
MADONNA WON THE SUPERBOWL

Madame X is available in Box Set, CD, Vinyl and Cassette!
Get your copy HERE!