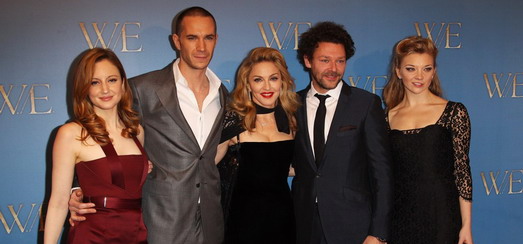 Congratulations Arianne Phillips! She has just received an Oscar nomination for "Best Achievement in Costume Design" for her work in Madonna's movie W.E.
—
Madonna's latest movie "W.E." failed to chart in the Top 10 of the UK Box Office in its opening weekend.
The drama, which has attracted mixed reviews from critics, took only £182,914 from 172 screenings since its opening on Friday, January 20.
'J. Edgar', starring Leonardo DiCaprio, joins 'W.E.' outside the upper end of the list, as it makes its debut at a disappointing No. 12.
1. (1) War Horse – £3,202,493
2. (-) Haywire – £1,197,866
3. (-) Underworld: Awakening – £1,114,327
4. (3) Sherlock Holmes: A Game of Shadows – £956,434
5. (2) The Iron Lady – £949,517
6. (-) The Sitter – £910,382
7. (4) Mission: Impossible – Ghost Protocol – £815,330
8. (7) The Artist – £770,403
9. (8) Alvin and the Chipmunks: Chipwrecked – £568,758
10. (9) Puss in Boots – £568,590
—
Madonna has said it is a shame the royal family aren't revered like movie stars any more.
She told Grazia magazine she thinks royality such as Prince William and Kate Middleton should be treated like A-listers, not ambassadors for the country.
I think the royal family of the '30s and '40s were the stars of their day.
Edward VIII was really like a movie star.
People were in love with him.
Now, with the royals, their role in society seems to be reduced to being ambassadors.
I think it's a shame.
I like the old-fashioned way.
But royal fan Madonna admitted she doesn't move in the same circles as the Windsors.
I don't get invited to any of their parties!
Source: Associated Press

Madame X is available in Box Set, CD, Vinyl and Cassette!
Get your copy HERE!