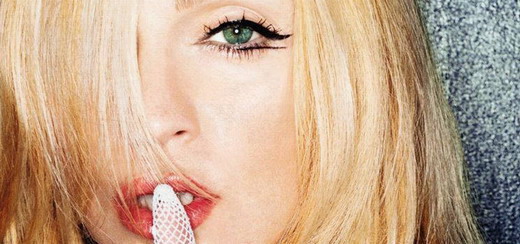 Madonna on Jay Leno
Last week, Madonna was a special guest during one of the tapings of The Tonight Show with Jay Leno. The official website has been updated and the episode will be broadcasted on January 30th on NBC.
Janelle Monáe on Madonna
Back in 2010, Madonnarama had the privilege to ask the amazing Janelle Monáe her opinion on Madonna. Here's what she said…
I really like Madonna.
I think that she has been able to stay afloat for… you know, all that's going on.
Her brand has been very consistent.
She definitely helped redefine what a woman in music could look like, dress like, sound like, act like.
So I think that's cool.
I love the fact that she rides horses.
I think that's a very brave thing. I know she was hurt before. For her to get back on the horse, she's very brave.
She's very bold. I respect that.
I think she's a strong woman and a very fine artist.
Last week, Janelle Monae was interview by Hollyscoop at the NBC after party for the Golden Globes and also commented on Madonna.
Have a look…
David Furnish attacks William Orbit
In his Facebook rant, where he bashed Madonna multiple times for winning the Golden Globe for "Best Original Song" with Masterpiece, Elton John's husband David Furnish also attacked William Orbit…
William Orbit:
I adore Elton, he has won many awards, and will win many many more, because he is brilliant. But this post has an mostly unpleasant tone. CONGRATULATIONS MADONNA. And @FrankSean Skye Collins (comment above) puts it graciously, you are both winners in this life.

David Furnish:
Well, to all you optimists out there thanks for your comments, to Darrell Seeger, Lord Gavin of whatever and William Orbit, what can I say? You wouldn't know a good song if it hit you over the head. And William Orbit, you are the biggest hypocrite of all. Madonna cast you into pop wilderness after you produced the brilliant All Saints single for "The Beach". She cut you adrift as she has done with so many other talented collaborators in her career. Obviously, your bank balance means more to you than your artistic integrity.

William Orbit:
David I am surprised at you, I didn't think of you as a man of rancour. The amount of hostility and negativity in this forum doesn't suit you. Or perhaps it does, I don't know you that well. And as for my being 'cast adrift,' my career path has been my own choice at every stage. You do'nt know me that well either, clearly. I certainly do know a good song. And nothing I do has ever had anything to do with my bank balance. That should be obvious. M and I had so much fun making her new album, and her talent blew me away every day. You'll be able to jugdge for yourself when it comes out. Altough I won't be here to witness the likely angry buzzing of discontent, as I'll, with regret, bypass this page from now on, (however that is done). It's just way too bitter. It's music, that we all do for the love, right? Please everybody have a nice cup of tea and calm down. Save energy for the real injustices in this world. And we all know what they are. Peace.
Afterwards he apologized on Facebook, but the damage had already been done…
Wow! What a tempest in a teapot. My comments regarding The Golden Globes have been blown way out of proportion," David wrote. "My passion for our film "Gnomeo & Juliet" and belief in Elton's song really got my emotional juices going. But I must say for the record that I do believe Madonna is a great artist, and that Elton and I wish her all the best for next week's premiere of the film "W.E."."
Nicki Minaj releases Stupid Hoe video
A few weeks ago, Nicki Minaj released a new track from her upcoming album "Pink Friday: Roman Reloaded" set for release on Februay 14, 2012. Yesterday she released the video on YouTube.
At around 2min30 she makes a reference to the Super Bowl, which seems to confirm Nicki Minaj will be one of the guests on stage with Madonna during here Super Bowl halftime performance.
Have a look…
Piers Morgan just can't get enough of Madonna
Piers Morgan on Madonna… AGAIN!
Here's the latest bit about the Golden Globes written by Piers Morgan for the Daily Mail…
Worst Dress: Madonna. Well, worst everything really. A lot of female stars currently seem to think that the 'sexy' look involves pumping iron like Schwarzenegger. It doesn't. Ever.
Ms Ciccone perfectly exemplifies this crazy new body-sabotaging regime, with a gruesome display of muscle-bound pecs-twitching that actually made me physically gag.
My revulsion towards the Material Girl – currently banned from my CNN show for a lifetime of oral and sartorial offences – is only matched by Elton's.
He declared confidently before the show that, 'Madonna has no fucking chance of winning' the best movie song gong.
His face at the precise moment she was later announced as the winner was a masterclass in how to play a simmering volcano.
When he appeared on The View, America's version of This Morning, which is co-hosted by a gaggle of smart, sassy ladies, the conversation quickly turned to Madonna…
'Is she still banned from your show?' asked Barbara.
'Yes,' I replied, 'even more so after those arms last night.'
She laughed. 'What about if she covers them up?'
I paused for thought.
'Possibly, but we'd need to have guarantees.'
Now he claims he never wanted to interview Madonna…
The truth is I've actually never wanted to interview Madonna. I've always thought of her as a highly annoying creature, and I know the feeling's mutual.
Poor old Piers Morgan still can't get over the fact Madonna never gave him anything for his gossip magazine back in the day…

Madame X is available in Box Set, CD, Vinyl and Cassette!
Get your copy HERE!