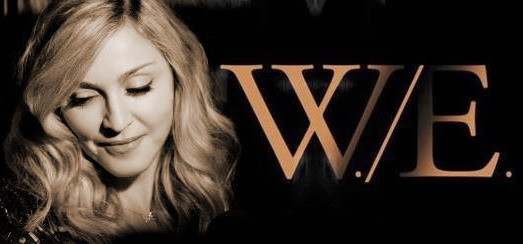 Madonna gave an interview to the Telegraph about directing the film of a story that had fascinated her for years.
She surmounted the challenge and the result is W.E., a lavish depiction of the love affair between Edward VIII and Wallis Simpson set against the backdrop of the auction of items from their estate and told in conjunction with the story of Wally Winthrop, a contemporary New York woman who is obsessed with the life of the Duchess of Windsor, through whom she lives vicariously.
W.E. is Madonna's second directorial effort; the first, 2008's Filth and Wisdom, met with lukewarm reviews and had only a limited release.
Madonna spent two years researching the life of Wallis Simpson and writing the script. She wallpapered an empty room in her house with pictures from auction catalogues and photographs of the Duke and Duchess throughout their lives.
Here's what she had to say…
"I had to learn to deal with disappointment gracefully.
Every day I heard the word no a thousand times. 'No, that can't happen. No, we don't have time for that. No, that's too expensive. No, no, no.' Trying to work with those kinds of restrictions and being creative too is a real challenge.
I've long been intrigued by Wallis Simpson, but I didn't want to make a straightforward biopic because I'm always disappointed when I watch movies about historical figures: they either don't tell the whole story or they don't tell the story I know. So I thought it was important to tell this story from the point of view of a contemporary woman who goes on her own journey in search of love and happiness.
I'm not sure what expectations people have of me as a director, but I think they are more critical of me because I've been successful in other areas if my life, and I feel the pressure.
I was sitting in a room that was completely and utterly inundated with their images so I could soak up their energy. I was trying to understand the nature of their love story and trying to figure out for myself if there is such a thing as perfect love.
I know what it feels like to be loved a lot, but no one's ever given up their kingdom for me."

"For the role of Wallis Simpson, I was looking for a certain quality: something fragile, androgynous and yet feminine in a really old-fashioned way. When I saw Andrea, I knew immediately she was the one."

"I also knew Mohammad Fayed was in possession of many of the letters between the Duke and Duchess, and he was extremely generous and forthcoming with them. As soon as I came into his office he opened up books and pages of letters for me to look at. I found them very insightful because people reveal a lot about themselves in a letter – things you don't get from a book, like the way they speak to each other and the nicknames they gave each other.It was a trade-off and I think it was a fair trade."

"He's here? Excellent! (she declares when told that Antonio Banderas was in the same hotel giving interviews)
I used to have a terrible crush on him, it's true.
But I think he's taken."

"I talked to Sean about making the film, and he's always been supportive of me. I gave the screenplay to Guy and shared the concepts and the stories and the ideas with him because he was interested in it from a historical point of view.
They never really gave me specific advice about telling the story, but Guy would give me technical advice about cameras or using digital versus film or one cinematographer being better than another – just technical things."

"I'm thinking about possible subjects for another film, but I am a hopeless romantic, so I'm sure that romance and love will be part of the story."
Source: Telegraph

Madame X is available in Box Set, CD, Vinyl and Cassette!
Get your copy HERE!