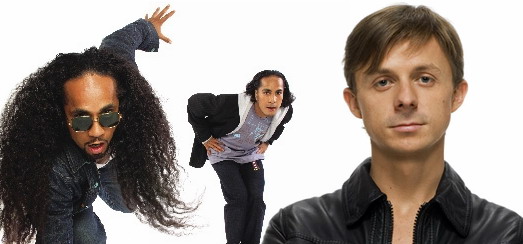 Back in July, we at Madonnarama revealed that Martin Solveig was one of the producers working on Madonna's new album.
In an exclusive interview with Marian Tuin for Examiner he openly talked about it…
It's a little bit confused at this time because I've had this crazy opportunity to collaborate with Madonna on her new album and so that kind of thing is so crazy that it implies massive changes of organizations and stuff. And of course I went for it 100% because that's probably the best artist you can work for as a producer and it's such a great adventure.
Another person working with Madonna also recently talked to the press… Rich Talauega, Madonna's choreographer, told the UK edition of OK! magazine…
She's a quick [leaner] and we choreograph for a woman that dances in heels! That's our pet peeve, but she makes that sh*t work and makes it sexy.
She hates us sometimes and says, 'You know I'm in heels,' I'm like, 'I know baby,' and she goes, 'You should've been born a woman!'
Rich admits he and his brother sometimes clash with the star. He explained Madonna is very head-strong when it comes to her work ethic. When asked if they've disagreed before…
Oh yeah, quite a few times.
Once I was under the weather and I was close to saying something to her that would've been very disrespectful. I was about to boil up. But later I realised she was doing nothing but pushing us.

Madame X is available in Box Set, CD, Vinyl and Cassette!
Get your copy HERE!