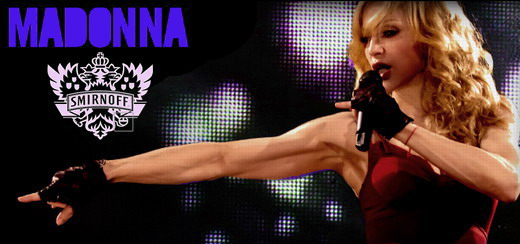 Madonna will be in New York on November 12th to audition the finalists of the Smirnoff Nightlife Exchange Project and pick one of them by midnight to be her next dancer!
Smirnoff and Live Nation Entertainment today announced that Madonna and Smirnoff will be celebrating the best nightlife experiences around the globe including discovering the best dancer to join Madonna's dance crew at Roseland Ballroom on Saturday, November 12th, 2011.
This incredible dance party is part of the Smirnoff Nighlife Exchange Project, an unparalleled cultural exchange where an anticipated 10 million people will get to discover, share and swap the most original nightlife experience in 50 countries.
The global dance celebration will feature dance performances from each of the eleven finalists who were selected from the hundreds of dancers from around the globe from countries including Belgium, Japan, Great Britain, the US and The Netherlands, all of whom submitted videos and auditioned to join Madonna's dance crew.
With Shay Normann as the artistic director and choreographer for the event, the eleven finalists have also been working with Madonna's long-time choreographers "Rich + Tone", in hopes of winning the top prize.
Madonna has hand picked DJ and Producer Martin Solveig to headline the event.
Solveig has been collaborating with Madonna in the studio for her upcoming album.
Hardy "Indigo" Muanza and Vikter Duplaix will also be spinning custom mixes.
Madonna has never strayed far from her dance roots in New York City…
"Even with my crazy schedule, any chance I get to be on a dance floor in New York with fabulous music and incredible dancers is still my idea of a perfect evening.
I can't wait for November 12th"
Wanna spend that special moment with Madonna?
Icon, Madonna's Official Fan Club, is giving away tickets to 200 members and a guest each!
To enter, all you need is a valid membership with Icon (free or Legacy) and the answer to a special question.
Make sure your are logged in and click here to access the devoted page now!
Not a member of ICON? Sign up for a free Classic Icon membership and take part in this special opportunity.

Madame X is available in Box Set, CD, Vinyl and Cassette!
Get your copy HERE!